Size 8 emotionally narrates the struggles she has been through with her Pregnancy (Video)
 The baby was delivered through C-section and rushed to Neonatal Intensive Care Unit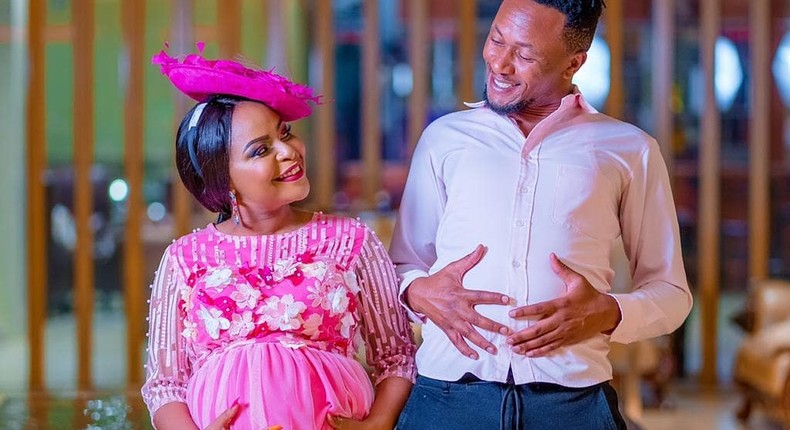 The couple shared the experiences and struggles they have been through with the pregnancy, to the delivery room in an emotional 12 minutes video on YouTube.
In the video, a tearful Size 8 disclosed that upon learning that she was pregnant again, months after experiencing a miscarriage she panicked a lot.
"I won't lie I panicked a lot and I told my husband ile ingine ilitoka, what if hii ingine pia itakee kutoka. So tuka rush Hosy kuona daktari and I was given some precautions. But three weeks late nikapata pressure attack. After a few weeks the pressure maintained a bit. Then I started feeling some pain in my uterus, so I went to the hospital, nikidhani ni ball inatoka ama nini, they did a scan and they found out it was fibroids. I was devastated, like sasa tumetoka pressure sasa tunapaata fibroids. But Dr. Thuo really encouraged me affirming that ilikuwa imepita part inaweza haribu mtoi. Kuna time nilikuwa naamka nikama oxygen is not going in my brain. At some point nilikuwa mpaka napata minor strokes," narrates Size 8.
The Mateke hit maker noted that she was rushed to the hospital (emergency) several times just to check if there was any organ damaged out of her recurrent blood pressure.
Pulse Live Kenya
I was rushed into the emergency room
In her narration, Size 8 pointed out that last week the twitching became unbearable, and she could not feel her baby move anymore.
"So they finally decided for me to be re-admitted. So I came here at RFH . I came here and i couldn't breath and couldn't walk, I was completely off, I was rushed up for checkup, checked my pressure and of course that of the unborn baby. They put me on oxygen to help with the neurons, as they said they were the ones that were dysfunctional, then I felt better."
Pulse Live Kenya
Baby rushed to Neonatal Intensive Care Unit
"At around 3 o'clock, the fetus heart rate went high again, past 170. There was an emergence in the room making sure the heartbeat goes back to normal. The next day Dr. Thuo came with his wife and they were trying to buy more time, because the scan we had was saying it was 34 weeks 4 days. So when they tested the heart rate ya mtoi was so high and they couldn't buy more time. So they decided that we have to go to the theater because I was already at RFH so they decided I get ready for a C-section," added Size 8.
After the caesarian-section the baby was rushed to the Neonatal Intensive Care Unit (NICU).
A neonatal intensive care unit, also known as an intensive care nursery, is an intensive care unit specializing in the care of ill or premature newborn infants. Neonatal refers to the first 28 days of life.
Pulse Live Kenya
Pulse Live Kenya
Recommended articles
Mbusi heaps praises on wife with cute message as she celebrates birthday
Sanaipei, Abel Mutua and Phillip Karanja shine at 2022 Kalasha Awards [Full list of winners]
NTV's Lofty Matambo, Fridah Mwaka named 2022 journalists of the year
NTV unveils new anchor days after sacking Mark Masai in ongoing restructuring
Raquel Muigai wins award for election feature story aired on Citizen TV
Arap Uria finally meets Peter Drury in Qatar after viral plea [Photos]
Thee Pluto excited as he graduates and reveals the challenges he overcame
YouTube names Thee Pluto & Pastor Ezekiel among top content creators in Kenya [List]
Kenyans roast Nancie Mwai after pranking fans about closing her business