Several multi-million prime properties and buildings spread across the city and reportedly owned by Kiambu Governor Ferdinand Waititu are the focus of an ongoing investigation by the Ethics and Anti-Corruption Commission (EACC).
Nation reports that the EACC is looking at 35 different prime properties and buildings located in prime locations that are believed to belong to the embattled governor.
Among them are luxurious mansions reportedly under construction in Runda, Delta hotel building located in Nairobi CBD and a luxurious hotel in Naivasha.
Delta Hotel in Nairobi CBD linked to Kiambu Governor Ferdinand Waititu
It is not clear when and how Waititu acquired the property in question and investigators will be keen to establish whether they were acquired from proceeds of corruption.
Reports further indicate that EACC is interested in at least 50 bank accounts associated with the embattled governor, his family and proxies.
The financial institutions have reportedly been asked to provide a break-down of all transactions including balance sheets of the not less than 50 bank accounts spread across different banks.
Below is the video on the progress of investigations, Courtesy of NTV.
Waititu's immense wealth has been a controversial subject amidst reports of massive corruption in Kiambu County during his tenure at the helm.
Among those who have raised the red flag on the worrying state of affairs in the County is his predecessor William Kabogo.
Waititu was arrested on Thursday after EACC detectives raided his two homes in Runda and in Garden Estate recovering crucial evidence.
EACC reveal crimes Waititu is suspected to have committed
EACC says Governor Waititu being probed over Sh588m irregular award of tenders, fraud, conflict of interest and money laundering.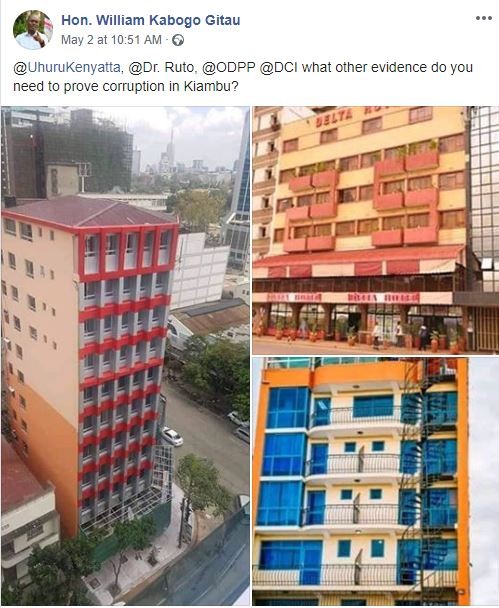 Kabogo's post alleging corruption in Kiambu and showing some of the buildings reportedly owned by Waititu
Reports have indicated that Governor Waititu is being investigated for the irregular award of tenders valued at Kshs588 million to companies associated him.
EACC also confirmed that Waititu's family members, directors of private companies, and ten senior employees of the County Government were being investigated.