This is where all Football fanatics will be congregating over the weekend. You need to be there
Immense energy, brightened up faces and high levels of testosterone, we all like that during the weekend don't we?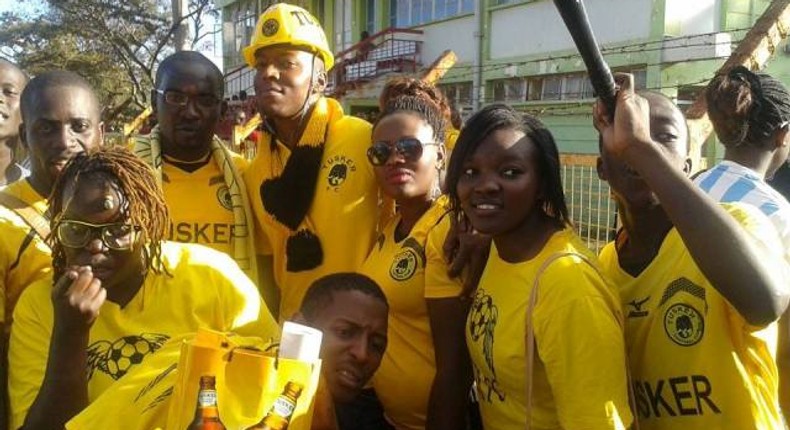 How about road trips? I don't why I'm even asking.
Well, there is that and so much more happening this weekend and you can't afford to miss it. It's all going down at Afraha stadium on Sunday where Tusker FC is facing off with AFC for the ultimate duel of the season.
Tusker will be looking to win this match as they seek to cement their position as title contenders. With only 4 point ahead of Gor Mahia, this match is definitely a deal breaker for them so they will be looking to bring their A game.
AFC on the other hand is looking to turn around their reputation so a win for them will inject the much needed morale to push them forward in preparation for next season so expect the place to be action packed.
Tusker lager who are the official sponsors of Tusker FC don't want you to miss this great opportunity so they are inviting to be part of the exciting crowd travelling in their bus. All you have to do is send in your support message to the team using the hash tag #DaboDabo and you could be one of the 100 fans to win a spot on their bus!
Now if that's not exciting, then I don't know what is. As a matter of fact, this calls for a cold tusker later on after work. Le's meet at the local!
More from category
Gor Mahia edge out Tusker

Jose Mourinho delivers harsh verdict against Man City

Mangeni fires Kenya Police past City Stars
Recommended articles
Gor Mahia edge out Tusker
Jose Mourinho delivers harsh verdict against Man City
Mangeni fires Kenya Police past City Stars
The King is now a legend - LeBron James sets new record in NBA
Gor Mahia coach McKinstry expects tough match against Tusker
Frenkie de Jong's girlfriend cheeky response to United fans & other stories making headlines today
Former Chelsea and Newcastle star found in debris after earthquake in Turkey
Gor Mahia out to plunder Tusker
Wanjiku excited to represent Kenya at World Championships as she eyes Olympics