Beach Rugby heading to Ukunda
Touch Rugby, the beginning of fun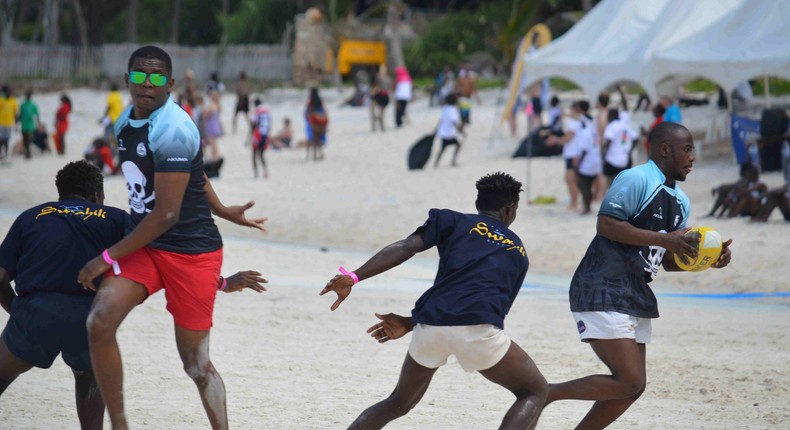 The three-day tournament will start on Friday evening under Flood lights and the final games on Sunday afternoon.
Championship side South Coast Pirates are the host of the popular touch tournament as
Touch Rugby is a fast, skilful and action packed team sport, played in a fun and social atmosphere, without any of the tackling you see in a traditional game of Rugby.
Each team will have eight players per team with only five on the field and three on the bench while teams have been asked to come with a referee.
The hotels those attending the 2016 will spend the nights are Diani Sea Lodge, Stilts Backpackers, Flamboyant hotel, Villa Savannah, South Coast Backpackers, Kombe House among others.
South Coast Pirates II won the 2016 edition of Diani Beach Rugby after beating South Coast Pirates I 2-0, Les Gaulois won the plate after beating South Coast Pirates III 2-1 Nationwide side Comras claimed Bowl with 4-3 win over Dik Trille of Tanzania while Les Gaulois II bagged the plate courtesy of a 1-0 win over Young Guns.
This is the rugby event that comes with lots of fun as it is played in along the beach.
More from category
Israel Adesanya reveals Jared Cannonier's biggest weapon ahead of title fight

Former Arsenal star Jack Wilshere set to return to club

'Missed these conversations' Champions League winner reminisces about his time at Anfield
Recommended articles
Israel Adesanya reveals Jared Cannonier's biggest weapon ahead of title fight
Former Arsenal star Jack Wilshere set to return to club
'Missed these conversations' Champions League winner reminisces about his time at Anfield
Former Champion issues apology to Lewis Hamilton over racist remarks
Top 5 transfer hijacks in Premier League history
Conor McGregor responds to Jorge Masvidal fight proposition with adult joke