Everybody knows what is going on - Thomas Tuchel on referee Anthony Taylor after Tottenham match
Anthony Taylor showed both Thomas Tuchel and Antonio Conte red cards for argument in a dramatic match between Chelsea and Tottenham Hotspur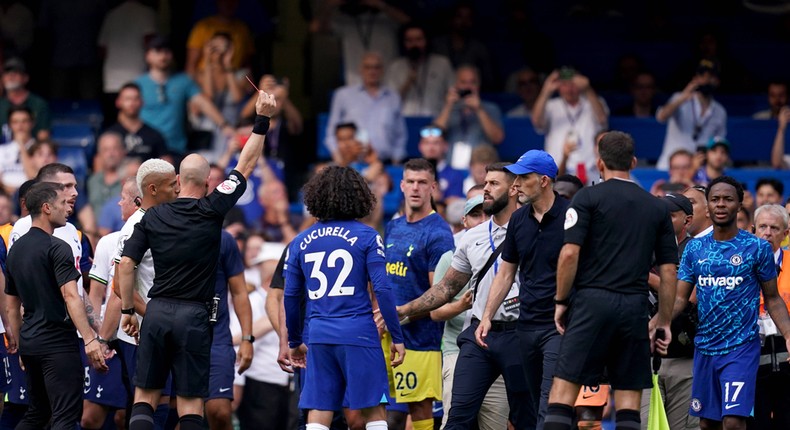 Both Tuchel and Tottenham manager Antonio Conte were shown yellow cards and then subsequently red cards by the referee for argument.
In his post-match press conference, Tuchel stated that it was not only him that has an issue with referee Anthony Taylor, suggesting that even the fans and the players 'know what is going on'.
Thomas Tuchel slams referee Anthony Taylor
As reported by Football London, Tuchel suggested that it was unfair that he might not be able to coach his team because of the red card but Anthony Taylor can still referee next weekend.
ALSO READ
Tuchel said: "Not only the fans. The players know what is going on. They know it. I cannot coach but the referee can whistle the next game?"
The German tactician went on to highlight some of the calls made by referee Anthony Taylor which he believed were in favour of Tottenham Hotspur.
Tuchel complains about Reece James' yellow card
Tuchel cited the yellow card given to Chelsea fullback Reece James for a tactical foul while alleging that Tottenham midfielder Pierre-Emile Hojbjerg committed the same tactical fouls but was not given a caution.
Tuchel lamented: "We have some rules and I'm very surprised when a 50/50 challenge with Harry Kane and suddenly it's worth whistling because none of the players expected a free-kick and suddenly it's a free kick.
Imago
"When Reece James did a tactical foul it was a yellow card, how many tactical fouls did Hojbjerg do today? What about the foul about Kai Havertz?"
The draw means Chelsea and Tottenham Hotspur both have four points from their two Premier League games but Tottenham are fourth on the log while Chelsea drop to seventh due to goal difference.
More from category
'Just like Arshavin' - Trossard scores 3 as Brighton pile pressure on Klopp, Liverpool with 3-3 draw at Anfield

'In Arteta we Trust' - Reactions as Arsenal crush Spurs in London Derby

Catch up with today's top trending football news
Recommended articles
'Just like Arshavin' - Trossard scores 3 as Brighton pile pressure on Klopp, Liverpool with 3-3 draw at Anfield
'In Arteta we Trust' - Reactions as Arsenal crush Spurs in London Derby
Catch up with today's top trending football news
Goliath V David: The £1b showdown
Manchester derby combined XI reveals the best players from City and United
Sadio Mane scores 1st goal at home as Bayern Munich beat Leverkusen 4-0