"He's didn't contribute to the Scudetto this season" - Why Calhanoglu is right about Ibrahimovic
Inter Milan midfielder Hakan Calhanoglu has taken several brutal shots at his ex-teammate, Zlatan Ibrahimovic.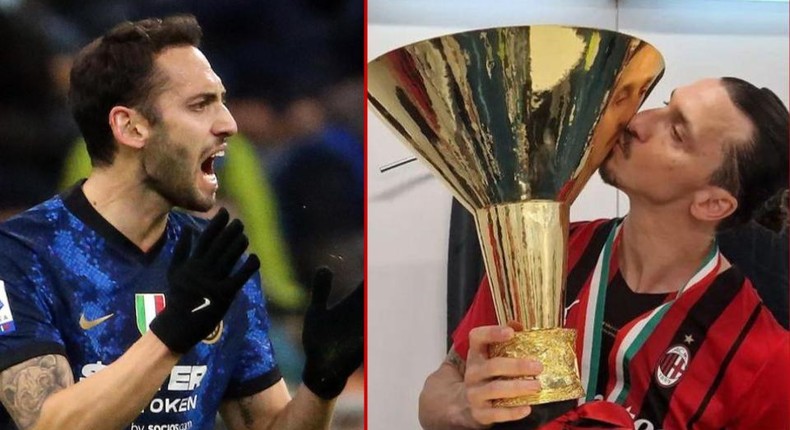 Inter Milan's Turkish midfielder Hakan Calhanoglu has launched a verbal attack on AC Milan and Swedish legend Zlatan Ibrahimovic.
Calhanoglu criticised Ibrahimovic for his behaviour in relation to AC Milan's recent Scudetto triumph and made comments about the character of his former teammate.
The 28-year-old has now fired back as cited by FcInternews, Calhanoglu wanted all the smoke and minced no words in attacking 40-year-old Ibrahimovic.
ALSO READ
Calhanoglu wants all the smoke
"He's a 40-year-old man, I wouldn't have done that if I was his age, he's not 18. He likes to be at the centre of attention," Calhanoglu said.
Pulse Nigeria
The mercurial midfielder didn't stop there, "This year he didn't contribute to the Scudetto, he practically didn't play at all. But he does everything to attract the attention of the fans."
"I don't care at all, it's not fair for a person who always calls me when I'm in Milan, who wants to go out for dinner and ride a motorcycle with me," the Inter player said.
Calhanogl rounded up his passionate rebuttal on a personal note, "I respected him. He also wrote about me in his book, he had to write these things otherwise his book would've been empty. I won't answer him, it's better not to answer. "
Calhanoglu was right
There is no denying the fact that AC Milan fans and players have the right to feel betrayed by Calhanoglu, he was a key player and he left to join their direct rivals who had just won the league, his ridicule was very much expected and deserved.
Pulse Nigeria
But the Turkish International is 100% correct about Zlatan Ibrahimovic's role in the Scudetto and how the Swede has clung on to the headlines far more than he should have.
The 40-year-old striker missed a good chunk of the season with injury and scored eight goals in 27 games across all competitions last season.
That is a decent contribution, especially for someone his age and should be applauded as such but it appears Zlatan views himself as the catalyst for Milan's success.
Pulse Ghana
Not only is that untrue, it is also unfair to the players who actually helped Milan win the Scudetto, the likes of Mike Maignan, Theo Hernandez, Sandra Tonali and of course Rafael Leao pretty much carried the team to the title with stellar individual displays.
Ultimately it was a team effort and they couldn't have won without everybody, Zlatan included but the 40-year-old clearly believes he still is the star of the show, which is what Calhanoglu was right about.
Topics:
More from category
Gameweek 2: Here are 5 players you should give the captain's armband

Chelsea to beat Tottenham and other sure bankers in the Premier League this weekend

Cameroon-born 17-year-old striker Moukoko scores late winning goal for Dortmund against Freiburg
Recommended articles
Gameweek 2: Here are 5 players you should give the captain's armband
Chelsea to beat Tottenham and other sure bankers in the Premier League this weekend
Cameroon-born 17-year-old striker Moukoko scores late winning goal for Dortmund against Freiburg
Yaya Toure makes Premier League return with Tottenham Hotspur
Ballon d'Or: Adeyemi, Saka and Musiala nominated for 2022 Kopa Trophy
Guardiola, Ancelotti and Klopp nominated for UEFA Coach Of The Year