Key Simbas players to miss out on Enterprise cup
Simbas International season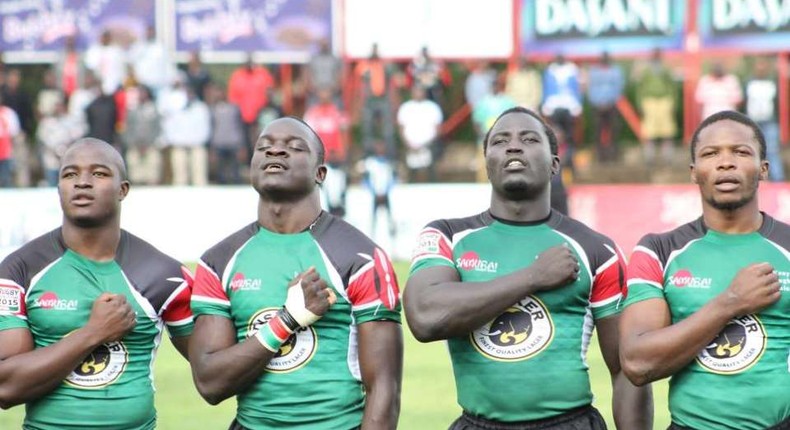 The Kenya 15s team Simbas have named the squad that will be representing the country in this year's International season.
The 40 man squad will see a number of key players miss out of the Enterprise Cup that is coming up.
Simbas assistant coach Dominique Habimana confirmed the players will not be able to feature for their clubs as per a pre-season agreement between the national
"The boys are very positive and they have been very motivated. We did a lot of progress and we will be looking to continue from there on Saturday." Dominique Habimana said,
Enterprise Cup kicks-off on Saturday May 6 where Mwamba plays Blak Blad, Nondies host Machine, Quins entertain Nakuru and Homeboyz travel to Western Bulls. KCB, Strathmore, Impala and Kabras all received byes.
"Germany are a very good side, ranked 22nd now and the match will be very good for us and of course physical. It's a turf one but we'll try to match them and add a bit of speed," added Habimana.
Simbas will kick-off the Rugby Africa Gold Cup campaign with successive home fixtures against Uganda ( 24 June),Tunisia (8 July) and Senegal (15 July) before playing away to Zimbabwe (22 July) and Namibia (29 July).
The Simbas will also host 26th ranked Hong Kong in a two match test series in Nairobi. The first fixture takes place on Saturday 19 August with the second fixture taking place on Saturday 26 August.
Enterprise Cup defending champions KCB will miss the services of Peter Karia, George Asin, Moses Amusala, Davies Chenge, Martin Owila, Peter Kilonzo and Darwin Mukidza.
Homeboyz on their side will be without Philip Ikambili, Bramwell Mayaka, Emmanuel Mavala, Steve Otieno, Kelvin Masai and Tony Onyango.
Quins will be without eight players, Kabras miss four while Impala will be without five key players.
A 40-man squad has already been named by head coach Jerome Paarwater to do duty in 2017.
Philip Ikambili (Homeboyz),Peter Karia (KCB),George Asin (KCB)
Mclanhan Shikuku (Quins),James Kubasu (Impala Saracens),Moses Amusala (KCB),Bramwell Mayaka (Homeboyz),Dennis Karani (Impala Saracens),Joseph Odero (Kabras Sugar),Hillary Mwanjilwa (Kabras Sugar)
Wilson Kopondo (Quins),Emmanuel Mavala (Homeboyz),Eric Kerre, Simon Muniafu (Saracens),George Nyambua (Kabras Sugar)
Elkeans Musonye (Strathmore Leos),Davis Chenge (KCB),Humphrey Kayange (Mwamba),Roxy Suchi (Quins),Steve Otieno (Homeboyz),Martin Owila (KCB),Edwin Machanje (Mwamba)
Kelvin Masai (Homeboyz),Samson Onsomu ( Saracens),Edwin Achayo (Kabras Sugar)
Isaac Adimo (Quins),Nato Simiyu ( Impala Saracens).Biko Adema (Nondecripts)
Patrice Agunda (Quins), Nick Barasa (Kabras Sugar), Benjamin Marshall (Nondescripts), Brad Owako ( Mwamba), David Ambunya (Quins), Peter Kilonzo (KCB), Leo Seje (Impala Saracens)
Dennis Muhanji (Quins), Alex Olaba (Strathmore Leos), Darwin Mukidza (KCB), Kevin Keegan (Quins), Tony Onyango (Menengai Cream Homeboyz)
Kenya v Germany- Nairobi, Saturday 27th May 2017
Kenya v Uganda – Kampala Saturday 10th June 2017 (Elgon Cup 1st leg)
Kenya v Uganda – Nairobi, Saturday 24th  June (Rugby Africa Gold Cup/Elgon Cup 2nd leg)
Kenya v Tunisia – Nairobi, Saturday 8th  July (Rugby Africa Gold Cup)
Kenya v Senegal – Nairobi, Saturday 15th  July (Rugby Africa Gold Cup)
Kenya v Zimbabwe – Harare, Saturday 22nd July (Rugby Africa Gold Cup)
Kenya v Namibia – Windhoek, Saturday 29th July (Rugby Africa Gold Cup)
Kenya v Hong Kong – Nairobi, August 19th  2017
Kenya v Hong Kong – Nairobi, August 26th  2017
More from category
5 worst performers for Liverpool in defeat to Real Madrid

Why Benzema's goal against Liverpool was ACTUALLY offside

Courtois frustrates Salah, Mane as Real Madrid defeat Liverpool to clinch Champions League trophy
Recommended articles
5 worst performers for Liverpool in defeat to Real Madrid
Why Benzema's goal against Liverpool was ACTUALLY offside
Courtois frustrates Salah, Mane as Real Madrid defeat Liverpool to clinch Champions League trophy
How to make money from the UEFA Champions League final
UCL final will be the Ballon d'Or decider between Benzema, Salah and Mane
Five unfulfilled child prodigies in world football