Oklahoma City's Westbrook bags sixth triple-double
Westbrook moved to within one game of equaling Michael Jordan's seven consecutive triples in 1989 when he secured his 10th assist midway through the third quarter.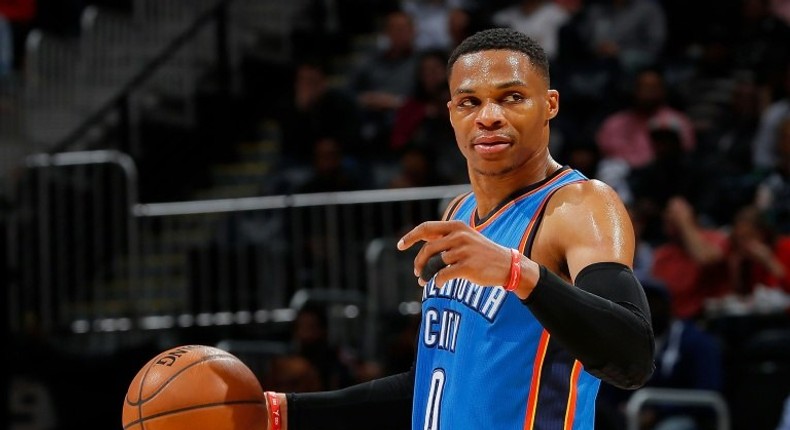 Russell Westbrook motored to his sixth straight triple-double as the Oklahoma City Thunder squeezed past the Atlanta Hawks 102-99.
Westbrook eventually finished with 32 points, 13 rebounds and 12 assists as the Thunder improved to 14-8.
The 28-year-old is now three away from matching the legendary Wilt Chamberlain's all-time record of nine consecutive triple-doubles set in 1968.
Westbrook has compiled 11 triple-doubles so far this season -- the same number as the rest of the NBA combined.
"What Russell is doing is incredible, remarkable. It's something the league hasn't seen like this in a long, long time," Thunder coach Billy Donovan said. "But I also give Russell, and our guys, a lot of credit. We're a team... They're all trying to make each other better."
The Thunder were left grateful for Westbrook's steadying influence after they fought off a late Atlanta rally on Monday.
The Hawks had suffered blowout defeats in their previous two games, losing by 36 and 44 points.
However they fought back from 15 points down to move within three at 90-87 midway through the fourth quarter.
Westbrook reasserted control with seven unanswered points before adding two free throws with 1:18 remaining to put Oklahoma City into a winning position.
Westbrook, who is averaging triple double numbers for the season of 31 points, 10.9 rebounds and 11.3 assists, made 10 of 22 from the floor and 9 of 14 from the foul line.
"He does so many different things," said Thabo Sefolosha, Westbrook's former Thunder teammate who was given the thankless task of attempting to guard him.
"He has such a high energy level. You have to try to take his air space, contest his shot. He made a bunch tonight."
Donovan meanwhile praised Westbrook's ability to read the game before choosing when to strike.
"I think he was just kind of biding his time, seeing what was going to be open," Donovan said.
"He's reading the game in his mind and then he's going to take advantage of the opportunities that he thinks are there."
Hawks star Paul Millsap top-scored for the hosts with 24 points while Dennis Schroder had 17 points and eight assists. Kyle Korver appeared from the bench to chip in with 15 points.
Anthony Morrow scored 15 points and Victor Oladipo 14 for the Thunder, while Kiwi Steven Adams added 12 points and 10 rebounds.
More from category
Instagram testing a new feature that will warn you before an outage

What can be said about the 22bet promo code for Kenyan punters

Your communication with the stars of football and fashion!
Recommended articles
La Liga Preview: The race for Europe and relegation battle go down to the wire
More footballers should call pundits out as Richarlison did to Carragher
Hyundai Motorsport confirm line-up ahead of Safari Rally
15 things to know about women to referee at World Cup, Africa represented
World Cup history! Rwandese female referee to officiate in Qatar
Everton dig themselves out of relegation scrap