I attempted suicide twice-the touching story of ex Kenyan footballer
He lost his leg while on military duty in 2009.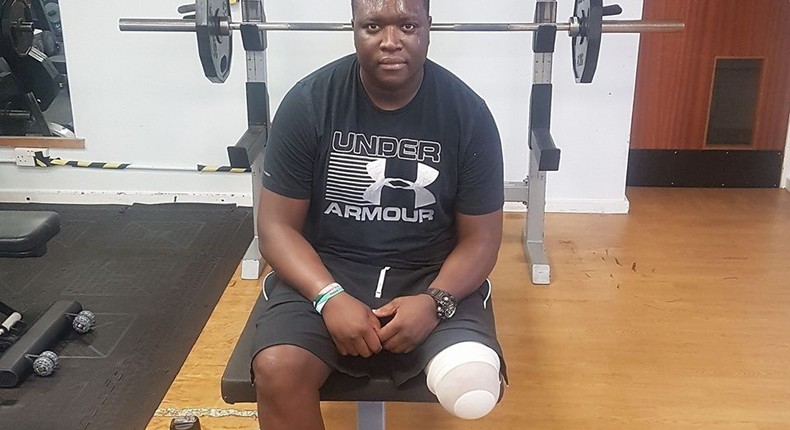 Former Kenyan striker David Etale is for sure a person to admire after escaping death in Afghanistan.
The 31-year old sports enthusiast played for KCB and Kenyan Premier League side Tusker before moving to Britain in 2006 where he joined the country's military.
Three years later, while on duty in Afghanistan, Etale drove on Improvised Explosive Device (IED) and lost his left leg. He suffered from depression thereafter and attempted suicide twice as he has vividly explained on his social media page.
"So around 6pm (on 18th October 2009) the Taliban started shooting. The next two hours was intense. Gun fire, shooting and what have you. Then it kind of became quiet and we started our journey back to our base. I drove into an IED. Bang! It had been planted by the Taliban and my mind and memory went blank.
"The next thing I remember; in hospital bed, injuries everywhere, too much pain and depressed. I had seen friends die in action and even lose limbs in the war but I couldn't reconcile and even imagine all that could happen to me.....but here I was.
"Amputation, Post Traumatic Stress Disorder, depression coupled with lots of negative thought I attempted suicide twice. I was out on suicide watch and labeled a high risk patient."
Etale retired from British military in 2017 and is now a motivational speaker.
More from category
How Wojciech Szczęsny embarassed Messi in the World Cup

Winner takes all as Croatia and Belgium go to war in search of qualification

'Your GOAT could never' - Reactions as Messi's Argentina defeat Poland to qualify for World Cup knockout stage
Recommended articles
How Wojciech Szczęsny embarassed Messi in the World Cup
Winner takes all as Croatia and Belgium go to war in search of qualification
'Your GOAT could never' - Reactions as Messi's Argentina defeat Poland to qualify for World Cup knockout stage
FIFA World Cup 2022: All results, fixtures, scores, live standings
World Cup Day 11 Live Blog - Poland vs Argentina, Saudi Arabia vs Mexico
'It's absurd' - Serbia star Dušan Vlahović rubbishes rumors of sleeping with his teammate's wife
Tunisia crash out of World Cup despite dramatic shock win over World Champions France
Top 10 Video games that made our 2022 [Pulse Sports List]
Qatar 2022: 2 easy betting tips and correct score for Cameroon vs Brazil