6 times controversial Gospel singer Ringtone has pulled stunts for attention
A serial attention seeker?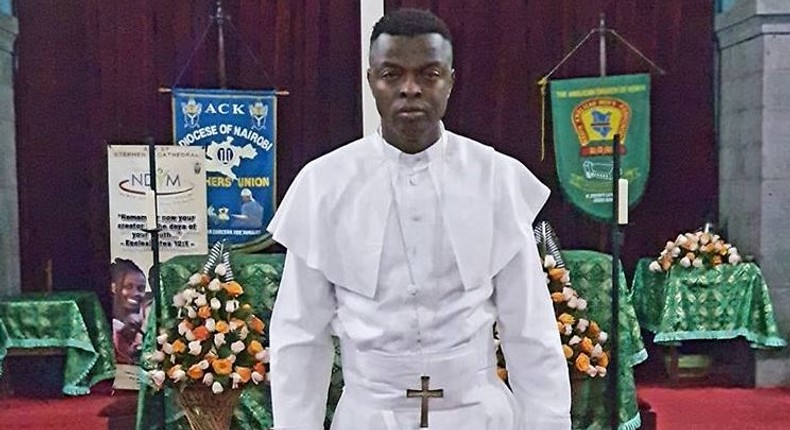 Gospel singer Alex Apoko popularly known as Ringtone is not a stranger when it comes to controversy.
The singer who seems to have hunger for media attention has not once but multiple times pulled little stunts just to make headlines in the blogs.
Some of the stunts the 'Pamela' singer has pulled as he seeks clout is confessing to have fallen in love with women in troubled relationships, claiming to hold high positions in the Gospel industry and faking warning letters which he claimed have been sent to him among other outlandish claims.
Here are six of his most recent stunts that have made him the talk of the town;
Sometime last year, Ringtone publicly confessed his love for South Africa-based Ugandan socialite and business woman Zari Hassan. This was after her breakup with her then boyfriend singer Diamond Platnumz. Ringtone claimed that he was the right man for her and he would lead her to God.
ece-auto-gen
During Zari's visit to Kenya, the singer claimed to have bought her a brand new Range Rover which he wanted to 'bless' the mother of five with, but Zari declined the gift saying that she had her own Range Rover. She also said that they had never been in contact and she didn't know Ringtone.
2.    Pretending to be a priest
Ringtone claimed to have become a priest and went ahead to share several pictures in a clerical garment. He insisted that he had officially become a priest but it turned out that he was only shooting a music video.
Pulse Live Kenya
3.    Bahati and Mr. Seed fallout
Ringtone hit the headlines again for revealing the real reason Bahati's EMB signed artiste Mr. Seed quit the record label. Ringtone claimed to be a good friend to Seed and that he could not let Bahati to continue doing the bad things he was doing to people by keeping quiet.
After his confession gained traction on social media, Ringtone hopped from one radio station to another sharing the story with anyone who cared to listen.
4.    DK Kwenye Beat and Hope Kid saga
The singer once again hopped on to a scandal when fellow Gospel singers DK and Hope Kid were involved in a threesome scandal that saw a 20 year-old girl get infected with HPV. He was the first one to break the news of DK Kwenye Beat getting hospitalized after the heat around their scandal became too much.
In Ringtones own words, DK had collapsed from the pressure and was rushed to hospital.
5.    Imposing himself as the chairman of Gospel artistes in Kenya
ece-auto-gen
While Ringtone was riding on the fallout between Bahati and Mr. Seed and the DK and Hope Kid saga, he attended various media interviews claiming to be the Chairman of Gospel singers in the country.
He claimed that he broke the news in both instances courtesy of being the chairman of Gospel artistes, but when he was asked who appointed him to the position, Ringtone said that he assumed the position because it has no one.
6.    Karen Residents Association
The last one of his stunts and possibly the funniest, Ringtone was on the spot over a fake letter he shared on Instagram which he claimed to have come from the Karen Residents Association.
According to the letter, legal action would be taken against him for keeping 40 cows at his residential home in Karen.
Pulse Live Kenya
However, a spot check done by Pulselive.co.ke established that the letter was fake, as the body that represents Karen Residents is known as the Karen Lang'ata District Association (KLDA), and not Karen Residents Association.
In 2016, Ringtone was on the spot again for claiming his Karen home was a place where he reared his chicken.
The Pamela hit maker has been profiled as an attention seeker in his attempt to remain relevant.
Get our Top Stories delivered to your inbox
Recommended articles
Which lie? - Nasra Yusuf responds after Sh59K breakfast bill went viral
Madini Classic breaks silence on breakup during Pritty Vishy's birthday
Nonini invites fans for 40th birthday bash in Dallas
DJ Mo surprises wife in Kibwezi [Video]
Youthful MP Peter Salasya searching for a wife with these qualities
Ed Sheeran may have to pay $100m, if found guilty of plagiarising a song
Size 8 casts out demons from possessed girl in Kibwezi [Video]
Bahati is battling depression, Diana has called me twice-Ringtone
Jamal Rohosafi throws shade at ex-wife Amira with cryptic message