Kenya Rugby 7's Player Dennis Ombachi opens up on his battle with Bi-polar & Depression
Many years I have struggled with this & depression- Ombachi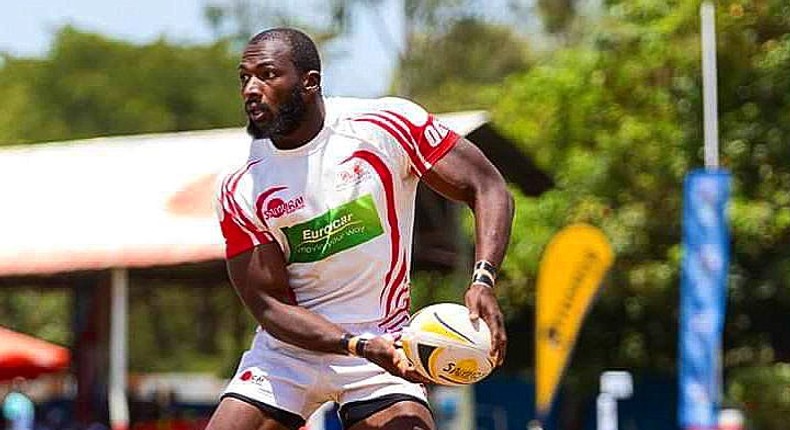 Ombachi narrates that he was medically diagnosed with bi-polar disorder some years back and he has been suffering in silence with only a few people aware of his struggles.
In the thread, the rugby player mentioned that his struggle with bi-polar and depression resulted to him disappearing from social media and occasionally missing flights.
"I am Dennis Ombachi, kind of an International rugby player and a guy who's passionate about cooking, what many people don't know is that in a medically diagnosed with bi-polar disorder"
"Many years I have struggled with this & depression. I would usually disappear from social media & occasionally miss flights when I had made the team. This behaviour was always blamed on me "just being Dennis" What my coaches and team mates didn't know was how much pain I was in" said Ombachi in part.
Rugby player Dennis Ombachi opens up on his battle with Bi-polar & Depression
Bipolar- is a disorder associated with episodes of mood swings ranging from depressive lows to manic highs.
"For those who don't know Bi-Polar disorder means my moods can swing from elation to depression without warning, however, as long as I take my medication, I'm usually good. This has taken a toll on my family life over the years and I am thankful for the support I have received
When I say family, Include the friends who have stuck by me and walked with me through the darkness all these years" he noted.
Ombachi also mentioned that he opted to share his story to raise awareness and remind those struggling with Mental Health that they are not alone.
Rugby player Dennis Ombachi opens up on his battle with Bi-polar & Depression Pulse Live Kenya
"You may ask why I am saying this on Sunday morning, the answer is simple. Mental Health is affecting so many people but no one will come forward and talk about it because it's considered taboo in our culture. For me, let me be the one
Many athletes and many ordinary people are facing this daily and they need help and understanding.
If we talk about this more, then more people will no longer suffer in silence, the way I have all these years. I don't need pity, I just want us to be more open to seeking professional help when we need it
I have had spells with therapists, psychiatrist and spent time at Mental Health wellness centres. Again, thank Goodness for my friends who became family. They too can sigh with relief and now answer truthfully when people ask them "Where's Dennis" said Ombachi.
Rugby player Dennis Ombachi opens up on his battle with Bi-polar & Depression Pulse Live Kenya
Ombachi's openness has attracted lots of love from Kenyans on Twitter, some confessing that he had inspired them to also open up.
Radio Personality Lynda Nyangweso joined the conversation revealing that she also has a major depressive disorder and without medication she can barely function.
"I love this so much. thankyou for speaking your truth and we all should normalize talking about mental health and getting http://help.My name is Lynda Nyangweso,kind of a bubbly media personality,I have major depressive disorder. without medication I can barely function" shared Lynda Nyangweso.
Recommended articles
Young Thug's defense lawyer said his name stands for 'Truly Humble Under God'
Claudia Naisabwa's media dream becomes reality in London
Jada Pinkett Smith says she and Will Smith are 'staying together forever' despite separation
DJ Kalonje talks about his side hustles after 12 years in the industry
Karen Nyamu declares war on 'Aluta Sunday' entertainment joints
Kenzo steps ahead of Cindy as he talks copyright with Museveni
Busta Rhymes describes working with Burna Boy as an incredible experience
Pastor Ng'ang'a surprises hawkers with Sh410K cash donation and business tips
Laika says Harmonize slid into her DMs; paid for Zanzibar, Dar trips