I'm not married - Bena Wa Malines' responds to family neglect accusations
A woman named Lydia alleged that Bena neglected her(his wife), and their two children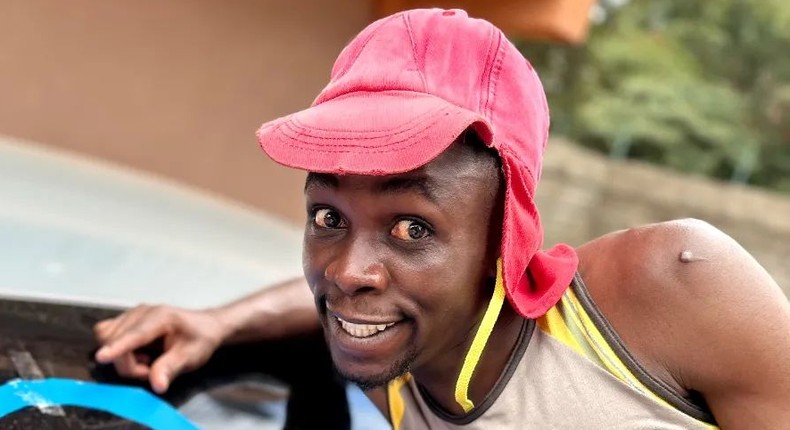 TikTok sensation Bernard Kamulu, popularly known as Bena Wa Malines, has refuted allegations of neglecting his family.
During a phone interview with this writer, Bena clarified that he is not married and is unfamiliar with the woman claiming to be his wife.
Bena acknowledges he has a child, but no wife
While acknowledging that he has a child, Bena stated that his kid is under the care of his mother, and there is no romantic involvement with any woman in the current scenario.
"Mi simjui. I don't have a wife, and I only have one kid. My kid ihata ni mamangu anamchunga," Bena said.
When asked about the motivation behind the lady's claims, Bena dismissed it as a clout-chasing attempt.
According to him, this isn't the first instance of a woman seeking attention by associating herself with him since he gained fame.
"Hizo ni clout chasing tu. Unajua ukiwa famous utaona vitu kama hizi. Hata kuna time ilihappen pia," he said.
The accuser, Lydia Waithera, who claims to be Bena Wa Malines' wife, alleges that he has not been fulfilling his responsibilities as a father to their 3-month-old and 2-year-old children.
Pulse Live Kenya
Bena Wa Malines accused of being a deadbeat dad
In the video shared by Nicholas Kioko on November 16, the lady introduced herself as the wife of Bena Wa Malines and unfolded a troubling narrative of their relationship and parenting struggles, shedding light on the challenges she allegedly faces with the TikTok star.
Lydia revealed that she and Bena initially became friends in Juja. At the time, she already had a 3-month-old daughter, and Bena eventually took on the responsibility of caring for the child.
"Bena tulipatania huku Juja tukakuwa friends for a while. Wakati tulikuwa tunapatana nilikuwa na mtoto mwingine, msichana who was three months then. She is now 2 years old. Tulipatana na sasa akakuwa ni yeye anatake care of my child," she said.
Pulse Live Kenya
However, the dynamics of their relationship changed when Bena gained fame, moved out, and took them to his place.
Everything seemed fine until Lydia gave birth to their second child, a revelation that marked the beginning of their ongoing disputes.
"After a while, alikuja akatrend,akamove out from kwao na akatupeleka kwake. mambo ikakuwa tu poa up to sasa vile nilipata mtoto wa pili, huyu mwenye nilipata juzi. Tumekuwa tukisumbuana for a while, anakuwa ako na mambo mengi yenye haileweki..." she said.
Lydia accuses Bena Wa Malines of involving friends in their issues
Lydiah describes the difficulties she faces when requesting support from Bena for their children.
Pulse Live Kenya
According to her, conversations about financial assistance often turn into arguments, with Bena claiming to have no money.
She expresses frustration about Bena involving his friends in their issues, creating a strained atmosphere in their relationship.
The situation escalated to the point where they no longer live together. Bena took Lydia and their children to her parents' home, but he has not officially addressed the issues with Lydiah's family.
"Ukimwambia asaidie mtoto ni kama mnavurutana... Anakuambia hana pesa. Saa zingine anaingiza hadi marafiki zake. Anaenda anaambia marafiki zake our problems. So mi ilifika point nikaona ananibeba ufala. Sahi hatuishi pamoja, alinipeleka home. But sasa hakuclear up things kwa wazazi wangu," she said.
Pulse Live Kenya
Lydia's appeal to Bena Wa Malines
Lydiah appealed to Bena to take responsibility for their children. She emphasizes the importance of focusing on family and urges him to reconsider his actions, especially given the gravity of the situation.
"Kitu naeza sema, kama ataona hii interview, vile alinichukua nikiwa na mtoto wangu wa kwanza, apende ata huyu mwingine, juu ni wake. na awache hizo vitu anafanya, aangalie familia yake. Hatuwezi build home na marafiki," she said.
In a previous interview with Presenter Ali on July 24, Bena disclosed that he recently became a father.
Pulse Live Kenya
He humorously warned fans not to approach him romantically, emphasising his commitment to his partner, whom he said he was intentionally keeping out of the public eye.
Recommended articles
Gospel star Evelyn Wanjiru opens up on how to remain relevant & Praise Atmosphere
Akothee's daughter Fancy pampers boyfriend with love on his birthday [Video]
Radio legend Fareed Khimani wraps it up at Capital FM in emotional parting shot
Davido honoured in a special way by US State of Georgia
Wajackoyah: Why I stormed out of Masinde Muliro University Graduation Ceremony
Andrew Kibe lights up social media with action at JKIA after returning to Kenya
Watch Diamond dispatch security to recover valuable after encounter with rowdy fans
Dbanj officially cleared of controversial rape allegation from 2020
DP Gachagua graces Samidoh's big day at Parklands Sports Club [Photos]