What pleasure does a person find in watching girls having sex with other girls? - Ezekiel Mutua
The ban on 'Rafiki' film was lifted on Friday albeit temporarily.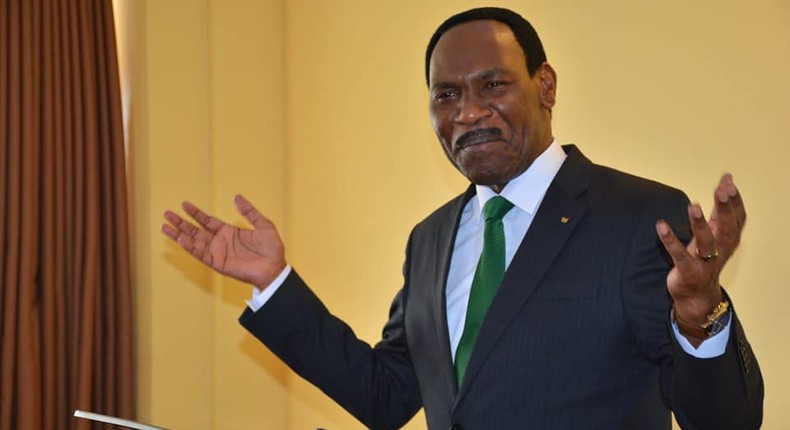 KFCB boss Ezekiel Mutua has
And he has not received the news well judging from a series of tweets he sent out.
"What pleasure, pray, does a person of a sane mind find in watching girls having sex with other girls?" read one tweet while another read "If people want to screen the homosexual film in their houses that's fine. We are watching to see which public theatre will exhibit it without the Board's approval."
He also called it a 'tragedy' and a 'shame' to have homosexual films defining the Kenyan culture as apparently homosexuality is not our way of life.
On Facebook, Ezekiel wrote:
"So I hear the High Court has temporarily lifted the KFCB ban on the homosexual film "RAFIKI" to allow it to be screened for seven (7) days to fulfil the requirements for nomination to the Oscar's. Although we have not been served with the orders, we are meant to understand that the lifting of the ban is for seven (7) days and the screening is RESTRICTED to ADULTS only. After 30th of September 2018 the ban by the Board resumes as earlier announced.It's a tragedy that anyone in their sane minds think that homosexual content is the one to market Kenya's film industry in the global market. Films and art in general should reflect the dominant values of the Kenyan people. Homosexuality is not our way of life and is against our values. Anything that threaten or undermines the institution of family, which is derived from a union between two people of the opposite gender must be condemned.The attempt to normalise homosexuality is akin to air-conditioning hell!"
JOIN OUR PULSE COMMUNITY!
Recommended articles
Swicth TV's ChatSpot makes comeback with Joyce Maina, Nana Owiti & Mary Mwikali
Singer Simi named Spotify's Equal ambassador of the month
Caroline Mutoko clears the air after comment on Expressway angered Kenyans
Victony becomes 2nd artiste featured on COLORSxSTUDIOS & Spotify's partnership
Accused of being illuminati - Akothee on why she took daughter Fancy to Braeburn
Diana Marua reacts after hubby Bahati was chased away from Azimio rally
Marvel comics to introduce new gay Spider-Man character
Cast mourns Olwenya Maina who died days before release of Netflix series [Video]
Caroline Mutoko under fire for remarks on Nairobi Expressway accident