Fiona Apple's Essential Songs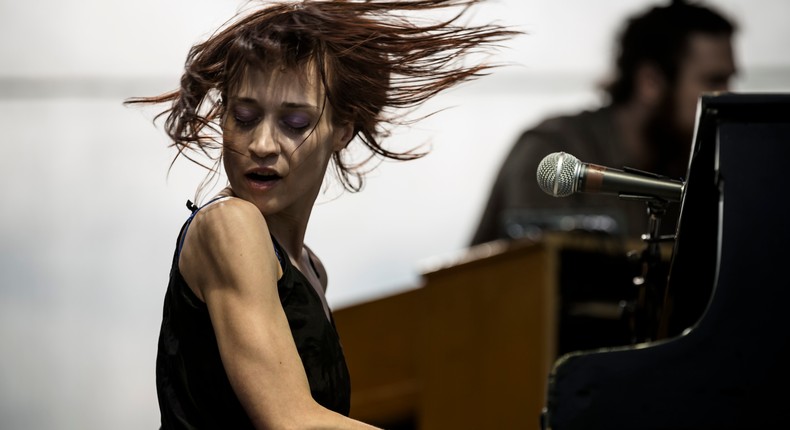 For an artist who has been releasing music for 2 1/2 decades, Fiona Apple's catalog has remarkably little filler.
As her career has progressed, the time between her albums has grown longer — her first in eight years, "Fetch the Bolt Cutters," will be released Friday — honoring Apple's exacting personal standards for her art. Recalling the fallow period between her masterful 1999 record "When the Pawn..." and its long-delayed but ultimately beloved 2005 follow-up "Extraordinary Machine," she told Rolling Stone, "The first couple of years, I didn't have anything left in me to write about. That was a good thing, because it meant I'd done my job on the last batch of songs."
Apple emerged as a precocious industry darling — she wrote most of the songs on her volcanic 1996 debut "Tidal" when she was 17 — but, much to the delight of rebel girls everywhere, quickly proved herself to be an outspoken iconoclast. She's long battled with record executives who wish she'd streamline the textured complexities of her songs and write a lucrative "sequel" to her 1997 radio hit "Criminal."
But Apple has doggedly followed her own muse, at her own pace: Her magnificent 2012 LP "The Idler Wheel..." includes her most uncompromising and independent-minded music yet. In anticipation of her first new album in almost a decade, here's a quick trip through some of her best songs.
The "Tidal" opener is a sparse, earthshaking statement of purpose: "You say love is a hell you cannot bear, and I say give me mine back and then go there, for all I care!" The arrangement trembles in her voice's wake. Jon Brion, who became a friend and frequent collaborator, plays guitar and vibraphone. The moody, restless video, directed by Stéphane Sednaoui, earned Apple the 1997 MTV Video Music Award for best new artist — for which she'd give that still-infamous acceptance speech declaring of the music industry's glitz, "This world is [expletive]."
This wise-beyond-its-years torch song allowed Apple to show off not just the elegant lyricism of her songwriting but the smoky depths of her voice. (Note the opalescent tone she gives the final word in that anguished line, "To save the pain of once my flame and twice my burn.") In the context of the late '90s, this would-be standard felt like a glorious anachronism: It is still probably the closest thing to a Nina Simone song ever to receive alt-rock airplay.
The notoriously sultry hit that Apple said she wrote about "feeling bad for getting something so easily and taking advantage of your sexuality and just using it to get whatever you want," "Criminal" (and its controversial, Mark Romanek-directed music video) was responsible for some of Apple's greatest successes and also for some of her most demeaning criticism. In more recent years, she has reclaimed the track's power by turning it into what she calls her "little help-out-people song": Apple relishes approving rights requests from "any college dancer or 'So You Think You Can Dance' [contestant]," and last year — after Jennifer Lopez unforgettably danced to it in "Hustlers" — Apple pledged to donate two years' worth of the song's proceeds to help refugees at the southern border of the United States. "I'm not that scared girl in underwear anymore," she told Vulture last year. "The song isn't that to me anymore. It's my way of paying for things that I want to get done."
Apple has a knack for turning sonic elements usually associated with grace and lightness into blunt-force objects. On the opening track of her searching, defiantly verbose sophomore album, "When the Pawn...," she uses the piano as more of a percussion instrument and flings declarations of love like damning accusations. "You're all I need," she growls during the chorus, before adding just a sprinkle of playful self-awareness: "And maybe some faith would do me good."
Her second album's leadoff single wasn't the "Criminal Part II" her record company was clamoring for — it was something much more complicated and thrilling. The video for "Fast as You Can" was directed by Apple's boyfriend at the time, filmmaker and "When the Pawn..." muse Paul Thomas Anderson, and it perfectly captures the song's antic, motion-smeared energy. "Sometimes my mind don't shake and shift," Apple sings, "but most of the time it does." This song now feels like a precursor to Apple's later work on "The Idler Wheel...," which similarly translated her busy interiority into abstract and expressive sonic compositions.
One of Apple's most sprightly songs is a poetic ode to rose-colored glasses and their removal: "I thought it was a bird but it was just a paper bag." The romance depicted in the song doesn't fare much better upon closer inspection. Brion's production is at once grand and light on its feet, suffusing the song with a Cole Porter-like atmosphere, but Apple's electric vocal performance pulls the song into the present tense.
'Extraordinary Machine' (2005)
"If there was a better way to go then it would find me," Apple sings with a shrug — a decent if abridged summary of the six years between her second and third albums. After some scrapped versions of new songs that Apple had recorded with Brion leaked in 2003, her fans were so eager to hear her new record that they launched a grass-roots campaign to "Free Fiona" from Sony, rumored to be holding "Extraordinary Machine" in purgatory because executives hadn't heard a viable single. In the meantime, Apple was busy rerecording much of the album with the producers Mike Elizondo and Brian Kehew (and, occasionally, a session drummer by the name of Questlove), tweaking the songs until she was ready to share them with the public. The weightless title track is one of two Brion productions that remained on the album when it was finally released in October 2005. His marimba hits roll like water off a duck's back as Apple sings her paean to carrying on: "Be kind to me, or treat me mean, I'll make the most if it, I'm an extraordinary machine!"
'Tymps (The Sick in the Head Song)' (2005)
Some die-hards worried that Elizondo — who was then best known for working with 50 Cent and Eminem — was ill-matched with Apple, but his production adds a playful, galloping energy to this track, named after its demo's timpani drums. Chronicling the back-and-forth of a relationship's end, "Tymps" finds Apple slyly toying with, and as always complicating, the trope of the "crazy ex-girlfriend": "I'm either so sick in the head I need to be bled dry to quit, or I just really used to love him — I sure hope that's it."
This wrenching piano ballad is a dizzying catalog of glances — "I took off my glasses while you were yelling at me once more than once/So as not to see you see me react" — reportedly inspired by the end of Apple's relationship with Anderson. One of the few solo piano numbers in her catalog, it was also the final song she recorded for "Extraordinary Machine." Legend has it she nailed it in a single take.
'Every Single Night' (2012)
Apple has always blazed her own trail, but with the leadoff track and single from her fourth album, "The Idler Wheel...," she seemed to have reached a new level of independence. She didn't inform her record company that she was working on a record until she finished it, having learned the hard way that she "didn't want her work to be mishandled amid corporate disarray," as Jon Pareles wrote in 2012. Although it has a sparse composition, "Every Single Night" contains a shuddering intensity, as Apple unsparingly depicts her daily "fights with [her] brain." Still, this combat is in the service of an ambitious artistic mantra, which she lays out in the refrain: "I just want to feel everything."
"The Idler Wheel..." is alive with found sound and repurposed instruments. Apple samples the whir of a bottle factory's machinery on the searing "Jonathan," clangs an industrial pipe when playing "Anything We Want" live, and, for the album's stirring centerpiece "Werewolf," added the texture of some children's playground screams — she'd searched for the specific vibe for over a year. Although unsparing, it's a benevolent breakup song, a mature confession of mutual guilt ("I admit that I provided a full moon") and the unsentimental fact that sometimes relationships just don't work out: "Nothing wrong when a song ends in a minor key."
Accompanied by little more than those tymps and some layered backing vocals sung by her sister Maude Maggart, "Hot Knife" is the raw, sensuous track that closes Apple's adventurous "The Idler Wheel..." (Apple has said she is notorious for staying friends with her exes and sometimes even their new partners; her former flame Anderson directed this video.) It is also a bit of foreshadowing: A recent New Yorker profile revealed that "Hot Knife" was the Apple song most akin to the sound of the forthcoming "Fetch the Bolt Cutters."
King Princess featuring Fiona Apple, 'I Know' (2019)
In recent years, Apple has become a role model to a younger generation of artists looking to navigate the music industry on their own terms. (An NPR article last year dubbed her "the godmother of 2019," likely suggesting her influence on the unruly poetics of artists like Billie Eilish and Lorde.) Although Apple claims not to be familiar with much contemporary pop music, she has become a mentor to the swaggering 21-year-old Brooklyn singer and songwriter Mikaela Straus, who records as King Princess. Last year, Apple even contributed backing vocals to her cover of the smoldering "When the Pawn..." closer "I Know." Straus was less than a year old when that record came out, but her affinity for Apple's music shows that it's timeless — and usually worth the long wait.
Recommended articles
African countries with the highest divorce rate
Machoka at 70: Emotions run high during Citizen TV presenter's birthday [Video]
Diwali 2022: Is Monday a public holiday in Kenya?
Akothee finally reveals reasons for separating from Omosh 1 month after wedding
Man, once a 'billionaire', recounts how he lost wealth, now sells his book on streets [Video]
Details of Ngina Kenyatta's luxurious restaurant
Zero Chills! Jackie Matubia's advice for Milly Chebby amid the unfollow drama
Nigerian royal dignitaries, including four kings and a queen, expected to attend Museveni's 50th wedding anniversary celebrations
Mzee Kibor's will made public, revealing how vast wealth and millions will be distributed