5 things I wish someone had told me before joining ALX Africa
#FeatureByALXAfrica - In an interview at the Pulse Kenya studio, ALX students shared their first-hand experiences and how the program has helped them excel.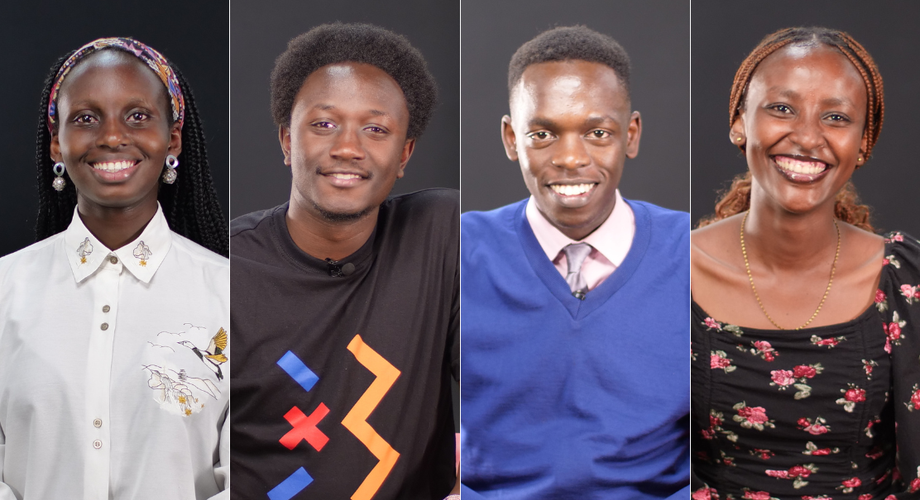 Imagine a world where you wake up every morning with a sense of purpose and direction.
A place where you're surrounded by a community of like-minded individuals, all working towards the same goal: to become the best versions of themselves in the tech industry.
This is the reality for Software Engineering students at ALX Africa where they can expect to be challenged and pushed to be their level best.
Joining a new program or training can be exciting, and there are always things to learn from those who have successfully conquered.
They will also share some key aspects about the program that future students will particularly find useful.
While speaking with the ALX students, they advised that discipline, dedication, and open-mindedness are necessary to successfully navigate the program.
Why discipline matters
Ochieng Odongo, an ALX Software Engineering student in his final sprint, emphasised the importance of discipline and dedication in the program.
He said, "I had to set aside a good part of my day, literally to focus on the program. The curriculum is extensive and it is not easy to go through all the documents and resources, but with discipline and hard work, the results are worth it."
It's easy to get overwhelmed by the workload and to lose sight of the end goal, but discipline helps students to stay focused and to maintain their motivation, even when faced with challenges or setbacks.
Discipline is also important for building good study habits. The course requires a lot of self-study and independent research, and students need to be able to stay focused and to maintain their concentration for extended periods of time.
Learning on the go
Pulse Live Kenya
Dennis Nderitu, another Software Engineering student, attested that the program taught him how to learn on the fly and solve more challenging problems than he did in university.
He said, "In university, you're given a problem but you don't discuss it extensively, at ALX you're given a topic and problems that are very challenging that you have to solve with reference to that topic. ALX has given me the ability to learn on the fly and solve more challenging problems than I did in university. At ALX I have learned more in two months than I learned in 2 years in university."
Learning on the go means being open to new experiences and taking advantage of every opportunity to learn. It means embracing the unknown and stepping out of your comfort zone. It means being proactive and seeking out new challenges.
You will also build a portfolio of experiences that will make you stand out in the job market and help you to land your dream job.
Learning on the go helps students stay current, engaged and prepares them for the ever-changing landscape of technology. Being open to new experiences, taking advantage of opportunities to learn, and seeking out new challenges will lead to a successful and fulfilling career in the field.
Time management
Pulse Live Kenya
She said, "The 70 hours per week required in the program is no joke, it requires discipline, but with hard work and dedication, the program is easier."
Daniel Kariuki, Stephen Mukoma, Abigail Gathigia, Duncan Ngugi, and Victor Reno all echoed similar sentiments about the program's intensity.
One of the key strategies for effective time management is setting clear and realistic goals.
This means breaking down large tasks into smaller, manageable chunks, and prioritizing them based on their importance and deadline.
By breaking down tasks into smaller manageable chunks, students are able to focus on one task at a time and not get overwhelmed by the workload.
By following a consistent routine and staying organized, students are able to manage their time and meet the demanding requirements.
Plan to learn and learn to plan
Pulse Live Kenya
Stephen Mukoma advised, "When joining ALX, come with an open mind and be prepared to hit the ground running. Be efficient in researching a project and have a good strategy for learning."
Pulse Live Kenya
On her part, Abigail Gathigia said she found out that learning at ALX requires more than being taught because it involves extensive research and determination. She added that with grit and perseverance, the rewards are well worth it.
Duncan Ngugi noted that learning the fundamentals early enough made things easier for him.
"Everything seems hard when you're learning something new. Right now everything seems so smooth. I have made significant progress without knowing it, by being consistent daily. That struck me because it reminded me that sometimes when you want to achieve something you look at the big picture and forget it is step-by-step progress that gets you there," he said.
Pulse Live Kenya
With the constant evolution of technology, it's important to stay up to date with the latest tools and techniques in the software engineering field, and having a dedicated time for self-study and research can help students achieve that.
One way to build a learning schedule is to create a weekly or monthly calendar that includes all the tasks, classes and deadlines. This allow students to see the big picture and make adjustments as needed.
Prepare to #DoHardThings
Pulse Live Kenya
Victor Reno described the culture at ALX as "pushing yourself to do hard things", which for him, was dedicating 10 hours a day to the program, but with hard work and determination, the learning and skills gained have been invaluable.
At ALX, you'll be challenged to think critically, solve problems, and work collaboratively. But you'll also be given the tools and support to excel in your field and launch a fulfilling career.
Imagine being able to say, "I graduated from ALX Africa's Software Engineering Program."
That statement alone carries weight and opens doors to opportunities that you never thought possible.
So, if you're ready to take on the challenge and be part of a community of like-minded individuals who are on the same journey as you, then join ALX Africa's fully funded program and be prepared to work hard, learn a lot and achieve your goals.
JOIN OUR PULSE COMMUNITY!
Recommended articles
Ghana takes advantage of AfCFTA to boost trade relations with Kenya
China's investment in Tanzania reaches $1.8 billion after 10 years
Uganda expects its debt load to reduce and its economic growth to increase by 7%
Top 10 African countries with the most transparent GDP data
Here's why Unilever Nigeria is exiting from Nigeria's home care and skin cleansing markets
Maturity testing: Key to improving post-harvest losses in avocado farming
Top 10 African countries with the most extreme wealth disparities
Nigeria is planning to unlock revenue from the sale of tickets on international airlines and launch Nigeria Air by May
Discover Africa's best tourist attractions and beach destinations of 2023
Ferdinand Omanyala storms to 100m world-leading time, makes February history
Report: Erik ten Hag rules out trophy parade if Manchester United win
Ranking Xavi's European exits with Barcelona
Video: Christian Atsu's remains arrive in Ghana
Atsu's body to be brought home for burial - Ghana Embassy
Sad news: Christian Atsu found dead in Turkey
How well do you know your favourite La Liga club?
Messi gives in to Alphonso Davies' demand after 3 years
Why Greenwood could have played his last match for United