Mixed reactions after priests showcase dance moves to Ohangla beat [Video]
The priests are seen all smiles dancing to Ohangla Luo singer Odongo Swag's 'Linda' song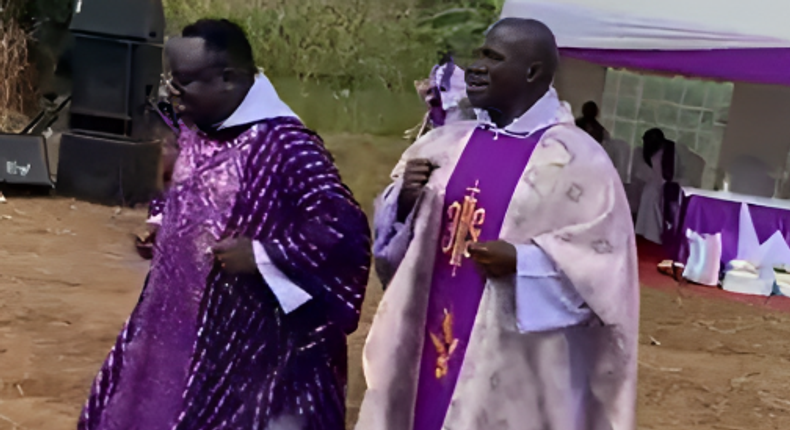 A video featuring Catholic priests showcasing their dance moves to secular music has taken the internet by storm.
The lively clip was shared on TikTok via Jalang'o Mwenyewe on Saturday, capturing the attention of netizens.
2 Catholic priests go viral after dancing to Ohangla
The video portrayed a vibrant scene, seemingly taking place at a wedding. However, the atmosphere quickly transformed into an energetic dance floor as the upbeat Ohangla music by the renowned artist Odongo Swag started playing.
The priests, unable to resist the infectious rhythm, moved their bodies in synchronised dance moves that brought smiles and cheers from the onlookers.
The video soon went viral, gaining massive reactions from people who couldn't help but express their amazement in the comment section.
Diverse reactions after priests dance to Ohangla
Many were thrilled by the priests' joyful display, commending their ability to break away from societal expectations and embrace the moment's joy.
The dance moves and the smiles on their faces were seen as a beautiful representation of the universal love for music and dance.
On the other hand, some expressed reservations about the priests dancing to secular lyrics.
They believed that as religious figures, priests should adhere to certain guidelines and abstain from participating in activities that might be seen as contradictory to their spiritual role.
Here are some of the reactions to the video.
momahzcuttie my home priests for Peter and Father Opondo much love,
christineotiende Being a Luo is something else, whether you are father, bishop, old or young gini ring'o e Remo, my people aol yawa
Dennoh Either be hot or cold but not warm in the journey of faith
stelafinsky do those priests know what they are dancing to, lyrics are dirty
Recommended articles
MCA Tricky shares his master's grades as he enters final year of study in engineering
John Allan Namu's brainchild marks 8 years, he reveals major lessons learnt
10 male singers who immensely benefitted from collaborating with Sheebah
Kate Actress outshines 9 top African thespians to be crowned Actress of the Year
Sonnie Badu criticises absentee fathers, says they are 'useless'
Wakadinali biggest winners as Spotify unveils most streamed artists in Kenya [List]
Proud mummy moment for Pierra Makena as daughter's talent secures her a movie deal
Iyanya advices happily married couples to keep off social media
Yvette Obura recalls pre-birth struggle as she marks daughter's 8th birthday