Photos of Wakanai kissing his wife triggers wild reactions
Who knew he was this romantic?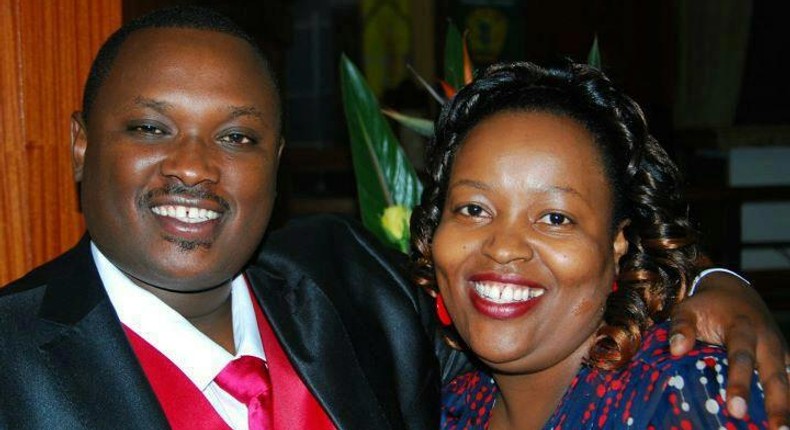 He is one of the loudest voices on radio even though he is not a radio presenter.
He is Wakanai Waka Waka aka Big Poppa Pumping and he often gets ladies hot under their collars with his misogynistic comments often delivered in an exaggerated booming voice. He also often uses the phrase "Kaaaaareee kiiiiiiii????" to drive the point home further vexing the female listeners.
However, don't be misled by his statements on radio or rather take them with a grain of salt as the Wakanai on radio is not the Wakanai in real life. While his comments women have wrought controversy and have been termed as disrespectful, Wakanai seems to have a soft spot for his wife. And it's not that 'for-social-media-likes' kind of relationship.' It's the real thing, something that one can spot from a mile away.
Wakanai recently sparked wild reactions after he was spotted locking lips with the love of his life during what looked like a romantic getaway. This was on a KLM Royal Dutch Airline flight.
The caption read "Maisha kwagiraaaaaa" which means life is good!
Here are more photos from their romantic trip which he shared:
And here are some reactions to these photos:
Gathoni Isaac wrote "Uyu muhiki nionire thina ukimukua ta mbathi (Your wife has seen trouble by marrying you, it has even carried her like a bus) to which Wakanai retorted with "Menyaa ciaku cia gwakwa ndungitoriiiaaa (Mind your own business, you can't handle mine.)
Here are some more crazy comments:
Frank Fiancé: Ucio mwanuranite nginya mukahanana mayaû nomwirwo muri a nyina omwe (You guys have smashed so much that you look alike, some might even say you are siblings.)
Nyash Mimi: nyonya yeye kabisa mpaka asikie ovyo...then aanze kukubembeleza like...plz waka twende unidunge...haha maisha raha boss wangu. (Kiss her so much until she can't get enough of you and all she will do is ask you to smash her all the time. Life is good my friend.)
Rosemary Githua: Murio ni wiriyaga only time will tell (Even if you are in love something bad will happen, but only time will tell)
Recommended articles
Murugi Munyi buys herself new multi-million SUV [Photos]
iAm Marwa builds 3-bedroom house for helpless neighbour [Photos]
Bebe Cool: Competing with Chamelone, Bobi Wine cost me a fortune but it was inevitable
'Die Hart': Kevin Hart's new movie is coming to Prime Video
Recording artist Emmanuel Jal launches food store in Nairobi [Photos]
Ex-Citizen TV reporter among 3 winners of KAS Media Africa award
Zari, Shakib quash break-up rumours in new video
My heart beats for you - Prophet Carmel celebrates wife Lucy Natasha on 1st anniversary
Bien defends wife Chiki Kuruka after grinding incident