4 common gym injuries & how to prevent them
Understanding common gym injuries and adopting preventive measures can help ensure a safe and productive training experience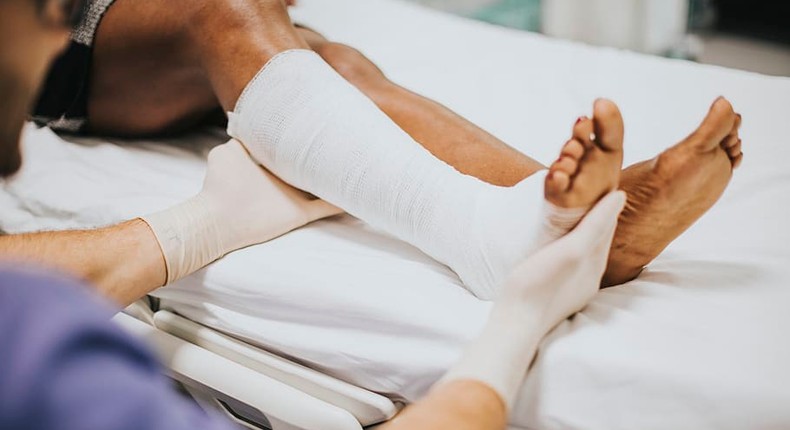 Engaging in regular physical activity at the gym is an excellent way to improve fitness, strength, and overall well-being.
However, it is important to be aware of the potential risks and injuries that can occur during workouts.
Shoulder injury
In the gym, one common injury that individuals often encounter is damage to the rotator cuff, which can result in shoulder pain and limited mobility.
Overhead exercises, in particular, can place excessive pressure on the shoulder joint, potentially leading to tears.
When such an injury occurs, it is crucial to prioritize rest and allow the shoulder to heal properly.
To minimize the risk of a shoulder injury, it is essential to focus on developing a strong upper body through targeted shoulder movements.
By incorporating exercises that specifically target the shoulder muscles, individuals can enhance the stability and strength of the joint.
These exercises may include shoulder presses, lateral raises, and external rotations, among others.
Knee injuries
Knee injuries are indeed quite common in gym settings and can result from a variety of movements.
One specific condition that often arises is called patellofemoral pain syndrome, which involves persistent stress on the knee joint.
Symptoms typically include a dull pain that arises during activities such as squats or stair climbing.
To effectively prevent knee injuries, it is crucial to prioritize proper form and alignment during exercises that place stress on the knees, such as squats and deadlifts.
Pulse Live Kenya
Maintaining correct posture, including proper alignment of the legs and core stability, helps distribute the load evenly across the knee joint.
This involves engaging the glutes, hamstrings, and quadriceps, which provide support and stability to the knee.
Working with a qualified fitness professional or coach who can provide guidance and ensure proper technique is highly beneficial.
Elbow injury
One prevalent elbow injury is known as tennis elbow or lateral epicondylitis. It manifests as pain and tenderness on the outside of the elbow, which can extend down the arm. Gripping objects may also become challenging.
To effectively prevent elbow injuries, it is essential to prioritize proper technique and form during weightlifting exercises.
Pulse Live Kenya
Maintaining a neutral position of the elbow throughout movements helps distribute the load evenly and minimizes stress on the joint.
This involves avoiding excessive extension or flexion of the elbow and ensuring that the weight is lifted with controlled, smooth movements.
Rushing through repetitions or using momentum can increase the risk of injury, so it is important to perform exercises at a moderate and controlled pace.
General equipment injuries
In the gym environment, it is crucial to exercise caution and maintain awareness of the potential risks associated with the equipment.
Gym equipment, such as heavy weights and solid machines, can pose hazards if not handled properly.
By adopting a safety-conscious mindset and following a few guidelines, you can significantly reduce the chances of accidents and injuries.
Pulse Live Kenya
When working with free weights, particularly when putting them down, it is important to be mindful of your surroundings and handle them with care.
Avoid dropping weights on your toes, as this can lead to serious injuries. Instead, focus on maintaining control and lowering the weights in a controlled manner.
If you find yourself struggling to handle the weight safely, it is advisable to seek assistance or opt for a lighter weight that you can manage comfortably.
JOIN OUR PULSE COMMUNITY!
Recommended articles
Africa Day 2023 Nairobi celebrations illuminate Africa's remarkable journey [Photos]
5 African countries where snow falls
Data reveals Nairobians' obsession with burgers
Africa Day: Some cultural & traditional practices that make the continent unique
13 ways to celebrate Africa Day
UnKut Day Party: A fusion of beats, breaks, & culture
These 5 things happening on your wedding day may mean bad luck
7 skincare myths almost everyone believes
Dark side of wedding MC jobs - Daddie Marto opens up
Thika Sports Club, next stop for NCBA golf series
Big Ted's inspiring message to Kenya's rugby community
Fitness influencer Shiv Simani joins fight against sports neglect by gov't
Kipchoge wins Sh7.4M prize in Spain
Ombachi shares how career-threatening injury pushed him into content creation
Ruto donates millions after AFC Leopards beats Gor Mahia for 1st time in 7 Years
Ulinzi Stars midfielder returns from four-month injury layoff
Kenya's thriving sports culture: A deep dive into the country's passion for sports betting
The 8 largest events in Las Vegas 2023