5 foods that you should eat if you love going to the gym
If you're a fitness enthusiast who loves hitting the gym, you know that proper nutrition plays a crucial role in supporting your active lifestyle and optimizing your workouts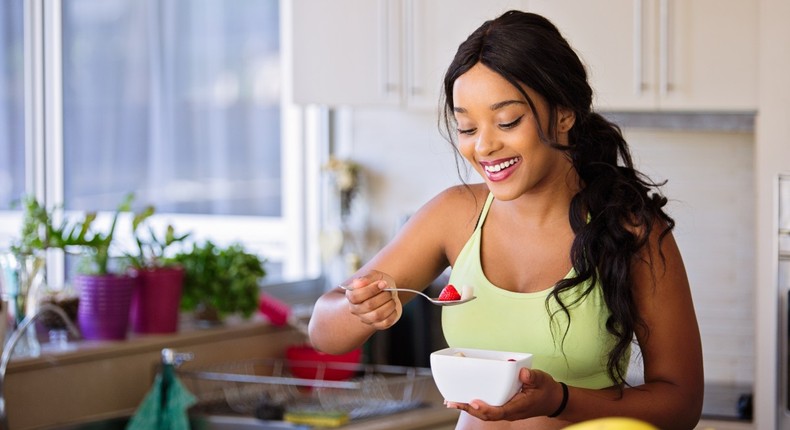 To fuel your workouts and aid in post-exercise recovery, it's essential to focus on consuming the right foods.
While individual nutritional needs may vary, there are five key foods that are generally recommended for gym-goers looking to enhance their performance and achieve their fitness goals.
These foods provide a combination of essential nutrients, energy, and support for muscle repair and growth.
Milk
Milk, a naturally occurring protein-rich beverage, serves as an excellent supplement to support muscle repair and growth due to its high biological value and essential amino acid content.
With approximately 10g of high-quality protein in a 300ml glass, milk can be a valuable addition to smoothies, milkshakes, or enjoyed on its own.
Its versatility allows it to be utilized effectively both before and after exercise or as an additional source of protein, carbohydrates, vitamins, and minerals.
Pulse Live Kenya
Milk provides a wide range of benefits beyond its protein content. It contains essential nutrients like carbohydrates, which serve as a readily available energy source, aiding in maintaining optimal performance during workouts.
Eggs
When it comes to nutrition, eggs are often regarded as a highly valuable source of protein.
They contain all the essential amino acids required by the human body, making them a complete protein.
Pulse Live Kenya
This high biological value protein found in eggs can be particularly beneficial for active individuals who engage in regular exercise or physical activity.
Protein is essential for muscle repair, growth, and maintenance, making eggs a convenient and effective option to meet your protein needs.
Oranges
Oranges and other citrus fruits have long been recognized for their potential benefits in alleviating symptoms of the common cold due to their high vitamin C content.
Oranges are rich in antioxidants that contribute to overall health and well-being. These antioxidants, including vitamin C, play a vital role in protecting the body against oxidative stress caused by intense exercise.
When we engage in physical activities, our bodies produce free radicals, which can lead to cell damage and inflammation.
Pulse Live Kenya
The antioxidants found in oranges help combat these free radicals, aiding in the body's recovery from exercise and reducing exercise-induced oxidative stress.
Moreover, vitamin C found in oranges also plays a significant role in iron absorption. Iron is an essential mineral involved in transporting oxygen throughout the body, including to the muscles during exercise.
Oats
Porridge, a warm and comforting breakfast staple, offers more than just a delicious start to your day. It boasts several nutritional benefits that can provide you with sustained energy and support your overall well-being.
One of the notable benefits of porridge is its low-fat content, making it a healthy choice for those mindful of their fat intake.
Pulse Live Kenya
The primary ingredient in porridge, typically oats, is naturally low in fat while being rich in complex carbohydrates, which provide a slow and steady release of energy throughout the morning. This can help keep you feeling satisfied and fueled for a busy day ahead.
Beans
When it comes to post-workout nutrition, beans can be a valuable addition to your meal plan, offering a combination of carbohydrates and protein that supports your body's recovery and muscle-building needs.
While individual tolerances may vary, if your stomach can handle it, incorporating beans into your post-workout meals can provide numerous benefits.
Pulse Live Kenya
Beans are a versatile and nutrient-dense food that contains a balance of carbohydrates and protein, making them an excellent option for post-workout nutrition.
Carbohydrates are the body's primary source of energy, and consuming them after a workout helps replenish glycogen stores that were depleted during exercise.
JOIN OUR PULSE COMMUNITY!
Recommended articles
Africa Day 2023 Nairobi celebrations illuminate Africa's remarkable journey [Photos]
5 African countries where snow falls
Data reveals Nairobians' obsession with burgers
Africa Day: Some cultural & traditional practices that make the continent unique
13 ways to celebrate Africa Day
UnKut Day Party: A fusion of beats, breaks, & culture
These 5 things happening on your wedding day may mean bad luck
7 skincare myths almost everyone believes
Dark side of wedding MC jobs - Daddie Marto opens up
Thika Sports Club, next stop for NCBA golf series
Big Ted's inspiring message to Kenya's rugby community
Fitness influencer Shiv Simani joins fight against sports neglect by gov't
Kipchoge wins Sh7.4M prize in Spain
Ombachi shares how career-threatening injury pushed him into content creation
Ruto donates millions after AFC Leopards beats Gor Mahia for 1st time in 7 Years
Ulinzi Stars midfielder returns from four-month injury layoff
Kenya's thriving sports culture: A deep dive into the country's passion for sports betting
The 8 largest events in Las Vegas 2023