Top wonder tricks to making your manicure last longer
Top tips and tricks to long lasting nails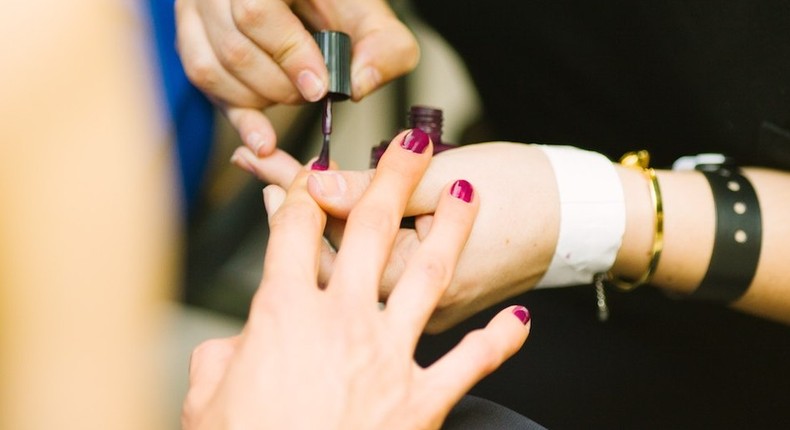 When you're in school, the most pressure about your nails is to keep them trimmed and short and clean.
That inexplicable black line of dirt was always cause for punishment and it was to be avoided at all costs. And that was about it.
Later on, as you escaped the confines of school rules, you entered a world where nails were as essential a part of your personality as your Ankara handbag or your preference for faux snake skin shoes.
And taking care of a manicure can be either expensive or a short-lived endeavour.
Here are top ten tips and tricks to keep your manicure lasting as long as possible.
Use cotton buds to rub vinegar on nail beds before applying the base coat.
This helps remove any oils on your nail bed.
Use cuticle oil instead of water to soften cuticles and remove them.
Using water makes nails brittle and makes them contract once the water absorbed leaves the nails. When polish is applied, it's more likely to break.
File your nails in the shape of your cuticles.
This makes them less prone to breaking.
This makes the colour polish more likely to last. Apply two layers.
Dip your nails in ice water for a minute to help.
Reapply top coat every three days.
This helps with maintaining sheen.
This keeps your nails moisturised.
Wear gloves when working with harsh chemicals and water.
For instance when cleaning dishes or farming, wear leather or latex (where applicable) gloves that have a cotton lining inside.
When you smudge polish, smooth the rough edge with a bud dipped in polish remover.
Remove the edge then reapply the polish in the affected area and finish with a top coat.
File the edges where the polish get chipped.
Then reapply a layer of top coat.
JOIN OUR PULSE COMMUNITY!
Recommended articles
3 reasons you should apply lime juice on your face
NTV anchors Ben Kitili & Lofty Matambo promoted to senior roles
15 of the wildest animal specimens I saw hidden underneath one of the world's largest natural history museums
Cucumber: The health benefits of this fruit will leave you speechless
KTN anchor holds dreamy beach wedding ceremony on her birthday [Photos]
Fairytale bride: The 3 dresses Rita Dominic wore on her wedding day in detail
Check out how Rita Dominic and her husband looked at their white wedding
The way of men - How the 1st inaugural men's event went down
DIY Recipes: How to make Sausage salad