You got to try this soft mini-mandazi recipe by Chef Raphael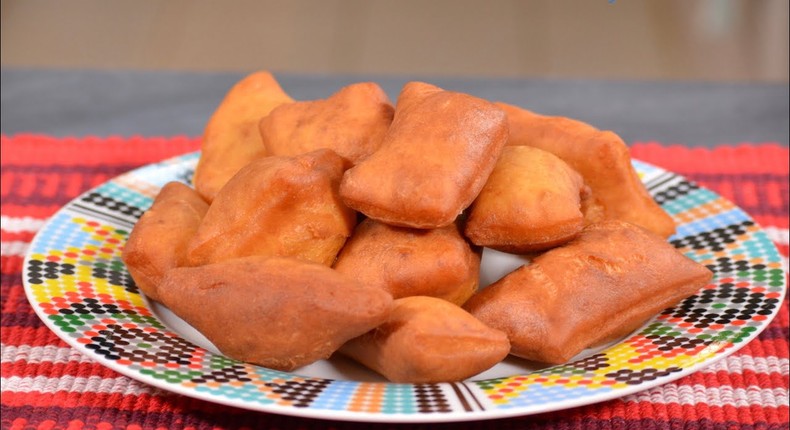 Kenyan Chef Raphael never disappoints when it comes to sharing recipes to some of the most favorite Kenyan dishes.
Recently, Chef Raphael shared a very simple mini-mandazi recipe and if the response the video got is anything to go by, then Kenyans are really loving the results of the recipe.
It might actually save you some money especially now that schools are closed. You don't have to buy bread every day for the kids while you can make these soft mandazis for breakfast and snacking between main meals.
Anywho, let's share the recipe first:
Baking powder – 6 teaspoonfuls
Margarine – 1 tablespoonful
ece-auto-gen
To the flour, add baking powder, sugar and margarine then mix them. If you don't have margarine, you can always use butter. Margarine is supposed to make the mandazis soft.
In a different bowl, mix milk the eggs. Then add this mixture to the flour and make your dough.
Your dough should be soft but not sticky. Once you are done kneading it, cover and let it rest from 30 minutes or more. This gives the baking powder enough time to react with the flour.
After that, roll the dough and it into small pieces. Meanwhile, your oil should be heating.
Pulse Live Kenya
When the cooking oil is hot enough, deep the pieces into the oil and let them cook until both sides are evenly brown.
And there you go, your mandazis are as good as ready! Leave them to cool a little bit them serve them with tea, milk, the list is endless. Just depends on how you like to serve your mandazis.
JOIN OUR PULSE COMMUNITY!
Recommended articles
5 traditional qualities money has replaced in modern relationships
Is love transactional? - First episode of Pulse LSL premiers [Video]
5 things you can do if you are stuck in a queue for hours
5 reasons you should consider having a court wedding
The perfect nail color to wear when your boyfriend proposes
4 side effects of eating peanuts in excess
Miracle Baby's girlfriend treated to surprise baby shower [Photos]
Badagry Slave Route: Slaves passed these 5 notable stops on their journey of no return
Here's why sleeping with your phone in bed can affect your health