How long should s3x last?
According to studies, your hour of pump and grind is way too extra.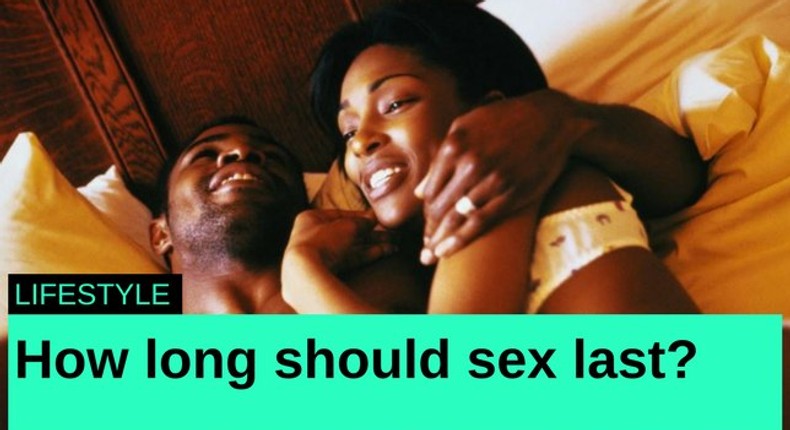 How long should sex last?
This is a question that any one who's ever had sex has one time in their life asked themselves. It's probably the reason why Dr Brendan Zeitsch along side his group of researchers studied 500 couples having sex while recording their timing on a stop watch.
"That is as practically awkward as it sounds: participants pressed 'start' at penile penetration and 'stop' at ejaculation. You may note this could affect the mood somewhat, and might perhaps not exactly reflect the natural flow of things. But science is rarely perfect, and this is the best we've got, " he said.
The results indicate that sex normally lasts between 33 seconds and 44 minutes. The median time being 5.4 minutes.
The research also found out some other interesting things.
One, contrary to what most people think sex gets shorter for couples as they grow older. This also means that the older the man the shorter the fun time while condoms and circumcision do not affect a man's performance.
However, another study showed that obese men last longer in bed because of an increased female hormone in their bodies.
JOIN OUR PULSE COMMUNITY!
Recommended articles
5 foods that help wounds heal faster
Signs people think mean he's in love with you but don't
5 best romantic gestures when you want to apologise
Tear gas safety guide: 9 ways to protect yourself, others, according to AI
How to break up with someone without regret
Tusker partners with Wakadinali for Kenya's biggest Easter festival
40 best Mother's Day quotes of all time
Miracle Baby and Carol Katrue announce pregnancy 1 month after welcoming newborn
6 things I learned after taking my crush to MKO on our 1st date