Joy Juma: My mom paid for me to tattoo Ruto on my body [Photo]
University student Joy Juma explains why she tattooed Ruto's face on her body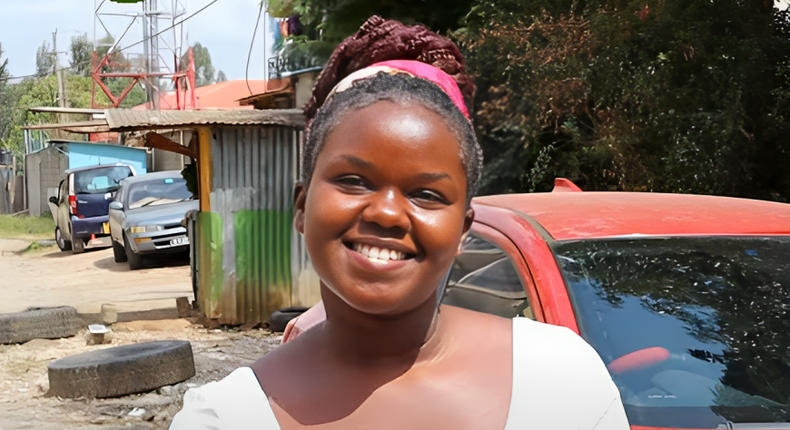 Co-operative University student Joy Juma expressed her love for President William Ruto whom she has tattooed on her back.
In an interview with YouTuber Commentator, she said that she decided to get a tattoo of President Ruto's face with the blessings of her mom.
"I shared the idea with my mom and because she is also a supporter of President Ruto, she agreed and supported me financially," Joy said.
The 2nd Year student from Rongai revealed that she was inspired to get Ruto's tattoo earlier in the year when the opposition called for anti-government protests.
Co-operative University student Joy Juma
According to Joy, the gesture was a way of expressing her confidence in the head of state, saying that she supported the agenda of self-reliance which President Ruto was pushing.
"It was the best thing I could do at the moment. So many people were against the president but I felt that many Kenyans loved him than those against him," she stated.
Commenting on President Ruto's scorecard after one year, Joy stated that despite the rise in the cost of living, the country was headed in the right direction.
"The cost of living has gone up but it is not because of Ruto. What Ruto has done is say he will not take loans. We are the coming generation. When we are in our 50s we will be where Ruto is and those who are complaining about him will not be there," she said.
Joy said she understood the importance of repaying the country's loans and increasing internal revenue collection.
Co-operative University student Joy Juma Pulse Live Kenya
She defended that her decision to tattoo Ruto was not an attention-seeking gimmick because she was content with the outcome and did not care whether anyone noticed it or not.
Nevertheless, Joy would like to meet the head of state one day and engage him on a conversation.
JOIN OUR PULSE COMMUNITY!
Recommended articles
If you feel insecure about your boobs, read this
Why guests had to squeeze between 2 naked models to enter an art show
Cardi B fawns over husband Offset on their 6th wedding anniversary
Dear Pastor Dr Dorcas Rigathi, you can be the voice [An Open Letter]
5 not-so-obvious signs you're a horrible boss and employees probably hate you
Why you should dump friends who crack 'jokes' that make you uncomfortable
It's harder to get pregnant during these three months - Research
MoH recalls paracetamol solution from shelves: What you need to know
Everything you should know before eating edible gold