Moi University in trouble after governments' controversial announcement
Vice Chancellor Laban Ayiro maintained that its Bachelor of Laws (LLB) degree course meets national and regional standards.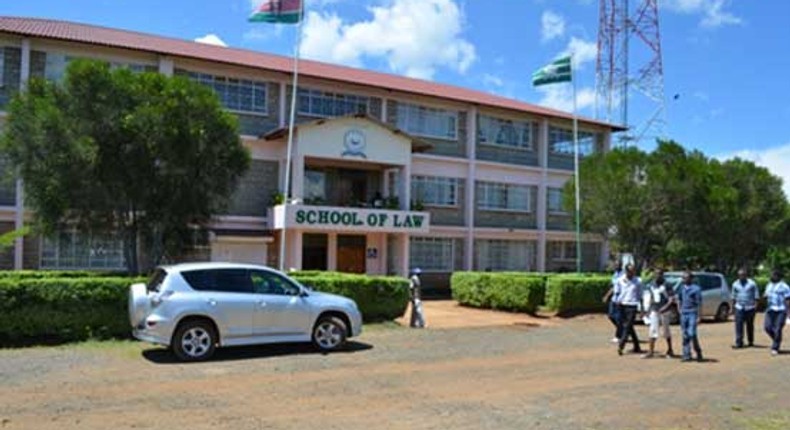 Moi University is set for a legal battle over the illegal offering of Law courses.
The Council of Legal Education has instructed the Director of Public Prosecutions (DPP) to open a file against the institution for undertaking law classes despite not being licensed to do so.
Council's Chief Executive Officer Prof Kulundu Bitonye argued that Annex based Moi University School of Law at the institution is severely incapacitated and cannot effectively deliver the program.
In a statement, Prof Bitonye stressed that any activity undertaken by the school of law is criminal and appropriate action should be taken.
"The Council would like to bring to the notice of the Council and Management of Moi University the provisions of Section 43 and 44 of the Legal Education Act. Section 43 subsection (1) (a) and (c) in particular criminalises false statements, representations, documents or information which are false," he said in a statement published in the government special publication on Tuesday.
He further dismissed an earlier statement by Vice Chancellor Laban Ayiro who maintained that its Bachelor of Laws (LLB) degree course meets national and regional standards.
"The press releases issued by the Moi University Council and Vice-Chancellor Prof Laban P. Ayiro on the 22nd, 23rd, and 28th March 2017 are therefore simple and plain falsehoods and are misleading to the public and in particular the students at the Moi University of law," he said.
He explained that on April 15, 2016, the Council published a status report of legal education providers where clearly Moi University's School of Law was absent since it is not a legal education provider.
"The status report which appeared on the 21st March 2017 is the second consecutive report by the Council. Because Moi University has not taken any corrective steps to comply with the Law, its name is of course missing from the list," he indicated.
Earlier, the Council issued a notice that did not include the university among those allowed to teach law with only 10 institutions allowed to undertake the course.
In September 2015, the university was once again declared unfit to teach law for being poorly equipped and failure to have staff.
In April 4 last year, High Court Judge George Odunga nullified the council's finding that Moi University should stop offering the course.
The judge criticised the council for violating the law when it closed the universities, adding that its role was restricted to setting standards.
Following the ruling, the Council moved to the court of appeal and a determination on the matter is still pending.
The legal education council regulates legal education and training and also licenses universities offering law courses.
JOIN OUR PULSE COMMUNITY!
Recommended articles
Promising doctor dies by suicide, union issues demands
Muhoozi supporters endorse Museveni for 2026 presidency
Chebukati responds to Raila after remarks in Jacaranda rally
DCI officers ambush thugs to save kidnapped university girl
Kibicho reveals moment when Magoha almost resigned from office
Why people thought I was crazy in marrying Magoha - Dr Barbara
Report shows decline in biometric fraud attempts in Kenya
Gov't announces changes in issuance of birth & death certificates
Court frees 4 suspects in Edwin Chiloba murder case