After a pastor fed snakes to his congregants, another 'Prophet' makes his followers drink fatal rat poison (Photos)
You have probably heard of the phrase "Cocaine is a hell of a drug." A phrase coined from Dave Chappelle's skit called 'Charlie Murphy's True Hollywood Stories' .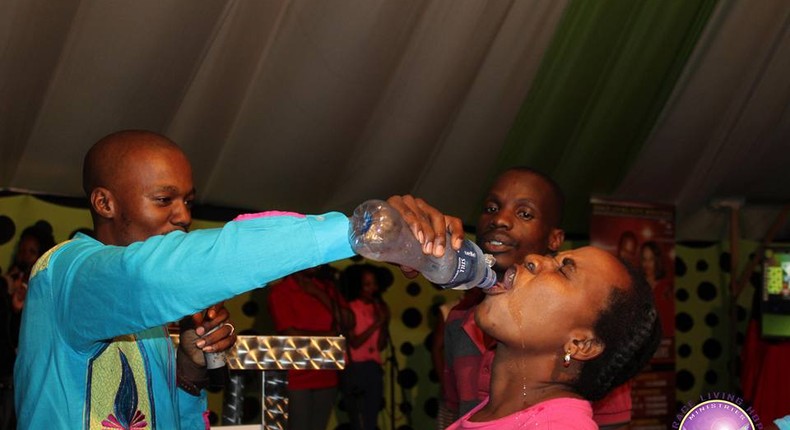 This is because of the debilitating effect of cocaine over time which includes accelerated
But it seems that Cocaine has nothing on religion which is responsible for some of the most bizarre and horrible things humans have done thought history.
Thanks to religion, people have killed, killed themselves, slavery and colonialism has been encouraged and we have even witnessed suicide of epic proportions such as the infamous Jonestown massacre of November 18, 1978.
And in all the goodness that religion provides such as providing sanctuary for the damaged souls, there is also a dark side of religion that takes advantage of wide-eyed people.
Such as this pastor who ordered his followers to drink rat poison to show their faith in God. Prophet Light Monyeki of Grace Living Hope Ministries South Africa has caused mass outrage on social media when he tried to demonstrate the saving powers of God by making his followers drink Rattex, a rat poison.
"The man of God, Prophet Light Monyeki demonstrates power of faith by causing congregants to drink Rattex; deadly poison to show forth their faith. As he was doing that he said "we do not need to proclaim faith because we are believers. If nyope boys can smoke Rattex for more than 8years, who are we? Death has no power over us". Read part of the Facebook post.
It went on to reveal that the Prophet ,(It's always the prophets that pull these stunts) "declared life from above upon the water mixed with Rattex; and spoke nourishment unto bodies and healing unto the sick. A multitude of congregants voluntarily ran to the front to have a drink of the deadly poison. After declaring nourishment and healing, Prophet Light was the first one to drink. TO GOD BE THE GLORY .2017: THE YEAR OF THE OPEN DOOR."
Thankfully, no one died from the deadly poison, because it was probably a placebo of the deadly poison or the amount taken wasn't deadly, but people on social media are pissed off with some even calling for his arrest.
Have a look at what people are saying on Facebook about prophet light's dangerous dance with death:
Mimi Makapela: I blame these idiots of people who believe every Tom, Dick and John for healing them. Such deserve to be slaughtered. There is no pastor in his right mind who would endanger his congregants all in the name of faith and healing. That is utterly nonsense. And his followers who are quick to line up for such useless and baseless faith. May they be burnt in hell 100 more. Yherrr. This is sickening. Sies!....Wait for it. There will be another bogus pastor who will pour petrol on their heads and set them alight. I wonder if that will be called faith and miracle when they are toasted like KFC. Bunch of fools!
Matladi Tholo: Go to hospitals and demonstrate the power of healing on people with strokes and people who are comatosed. Do not poison people n call it act of power.The Lord said His people will be misleaded for they lack knowledge, let us b careful of false prophets!
Brenda Crooks:How dare you endanger people's lives with poison. You are nothing but a sadistic charlatan. Shame on you. It's time you were charged for this. Disgraceful.
Tumelo Kutumela: This is the devil trying to destroy the works of God, unfortunately to those whom do not read the bible they will fall fir this nonsense og doom, ratex etc.
JOIN OUR PULSE COMMUNITY!
Recommended articles
Details of Ruto's meeting with Atwoli at State House
Parliament committee recommends suspension of 4 IEBC commissioners
Hustler Fund: How much Kenyans borrowed hours after launch
Matatu saccos win 1st round against Sakaja in battle for Nairobi CBD
Billionaire Stanley Githunguri dies
Why judge was dissatisfied with application to drop Aisha Jumwa's murder charges
Cohen family's next step after planned withdrawal of charges against Sarah Wairimu
Herbalist beheads lotto operator for accusing him of stealing his money
How to apply for Hustler Fund loan via mobile app, USSD