Fear Museveni had before attending Blue Economy Conference
The Ugandan president said he had second thoughts about attending the conference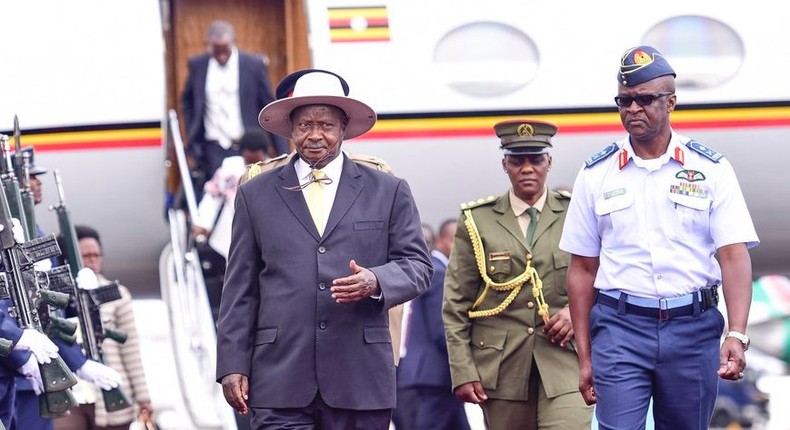 Ugandas President Yoweri Museveni on Monday outlined that he had a major reservation against attending the regional Blue Economy Conference.
Speaking during the official opening of the conference, Museveni noted that he had feared that the conference would propergate the agenda of "external people".
"I first had reservations about this summit, fearing that it was another of cliche arrangements spearheaded by our external friends," he said in his address to the delegates.
Museveni has, in the past, blamed foreigners for funding his political opponents to undermine his rule in Uganda.
In the case of MP Robert Kyagulanyi alias Bobi Wine, the Ugandan Head of State insinuated that "foreign money" had been channelled through an NGO to "show the world Uganda is not stable".
Museveni's Change of Heart
"However on deep scrutiny, I noticed this is about our survival, linked with the Sustainable Development Goals. The linkage between our water resources and survival cannot be over-emphasized.
"The greatest challenges to a sustainable blue economy are; soil erosion, pollution, population pressure, bad farming practices like cultivation on steep slopes and need to politically appease the population hence failing to enforce certain regulations," the 74-year-old president elaborated.
The three-day,  Sh800 million conference kicked off on Monday with 17,600 participants sourced from 183 countries, as well as various of organizations and agencies.
Kenyan President Uhuru Kenyatta was at hand to welcome foreign heads of state and pledged his administration will adopt appropriate policies, strategies and mechanisms to harness the blue economy, confront, head-on, the challenge of waste management and plastic pollution, ensure responsible and sustainable fishing, and ensure safety and security in the high seas.
ece-auto-gen
JOIN OUR PULSE COMMUNITY!
Recommended articles
Biography: Kenya's youngest Interior PS Dr Raymond Ojwang' Omollo
Ruto's daily routine and strategies to avoid fallout in Kenya Kwanza
Prince William awards Sh150M to 29-year-old Charlot Magayi
Ruto responds to Raila's calls for protests with warning to Kenyans
4 dead, scores rushed to hospital in grisly Saturday dawn accident
Photos: 9 of KDF's most lethal sniper and assault rifles
At 40 years, I began studying law - Interesting story of Danstan Omari
Ruto decides fate of 1.27 million Junior Secondary students
Treasury bows to MPs' demand to disburse NGCDF funds