Raila challenges entire continent on Africa Day 2021
Africa Day 2021 was marked on May 25, 2021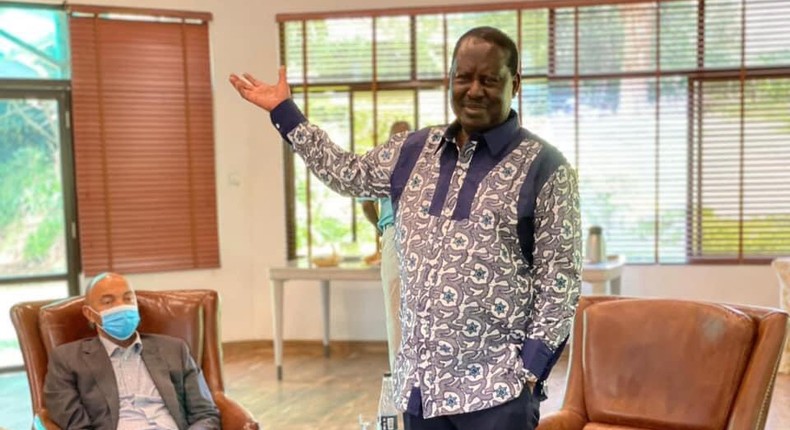 Special Africa Union (AU) envoy Raila Odinga on Tuesday joined the continent in commemorating Africa Day 2021.
The Orange Democratic Movement (ODM) party leader issued a brief statement highlighting what he considered important wins for the continent.
Mr Odinga went on to challenge Africans to rethink the mass migration of skilled labour in search of better opportunities abroad.
"In an earlier century, our ancestors were forcefully taken through the 'doors of no return' to start a journey of slavery and shame in distant lands. In the 21st Century, the irony of our people now willfully walking through those gates to the same destinations in search of opportunities should pain and push us into action," he lamented.
The former Prime Minister further challenged Africans to demand dignity, decency and respect.
"Africans helped to shape many countries around the globe that proceeded to become great nations. It's time we apply our thoughts and energies and resources towards making our continent greater than those we helped build.
"Our youth are our greatest resource and they are growing up in a better Africa than their ancestors, we must mold them so that they may achieve their full potential. Finally, fellow Africans, wherever we are, whatever our circumstances, we must be unbowed. We must demand dignity and respect. We must give decency and expect decency in return. After all, we are the cradle of mankind," he stated.
JOIN OUR PULSE COMMUNITY!
Recommended articles
UDA MP Silvanus Osoro suffers the wrath of angry MPs [Video]
Gov't to increase gamblers from 9% to 37% with creation of national lottery
Israel plans to flood Gaza strip tunnels with seawater
Controller of Budget Margaret Nyakango arrested in Mombasa
4 suspects arrested over kidnapping of 2 car dealers in Juja
VIDEO: Cab driver narrates how he rescued 2 victims from armed kidnappers
Islamic resistance vows retaliation after US airstrike killed 5 Iraqi militants
State House throws governors, MPs under the bus on 765 COP28 attendee list
8-month-old baby thrown into the Indian Ocean by mother at Likoni Ferry rescued