Emmanuel and his rise as an elite mould-breaker
Macron obtained his first degree from the elite Institutes of Political Studies in Paris and a master's in philosophy from the equally prestigious Paris X Nanterre.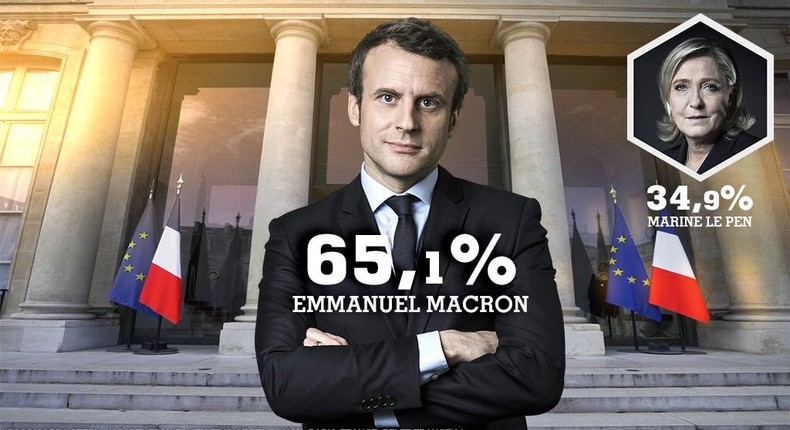 Throughout his campaign, the former economy minister cast himself as a political outsider despite an elite CV.
Pointing to what he called an outdated left-right divide that has dominated French politics for years, Macron last year formed his own new political movement, called En Marche! (Forward!).
He went on to study public administration at the Ecole Nationale d'Administration (ENA) which trains France's top bureaucrats.
He worked at the Economics Ministry as an inspector between 2004 and 2008, and then spent four years at the Rothschild merchant bank.
In 2012, Macron joined socialist President Francois Hollande's team. During his tenure as Hollande's economy minister from 2014-2016, he pushed through a law containing a number of liberalizing measures relating to the transport sector, Sunday working hours and other issues.
As campaigning came to an end on the Friday before the election, he objected to what he said were attempts to "pigeonhole" him due to his career.
"I won't be anyone but myself," he told leftwing news site Mediapart. "I was free to become a merchant banker even though I came from a family that hadn't seen a merchant banker for centuries… and I was free to leave that world, which thought I was mad, to join a left-wing team…"
The end-of-campaign debate with Mediapart editors was typical of Macron's campaign: He has never shied away from engaging with hostile voters or political opponents, all while remaining calm and pointing out what they have in common.
His support for liberalization of labour laws has attracted hostility from the left and trade unions and has been repeatedly cited by Le Pen as she attempted to consolidated her working-class vote.
But on the campaign trail, he took the time to argue that out with trade union activists, telling one: "I know this is not necessarily what you want to hear."
At a Whirlpool factory in the northern city of Amiens whose business is due to move to Poland next year, he plunged into an angry crowd of picketing workers who greeted him with boos and whistles, but talked to them for over an hour, winning grudging respect from several even if none seemed prepared to vote for him.
Macron's programme includes a wealth tax and social insurance cuts to incentivize employment, and abolition of the residency tax paid by most citizens.
He wants to cut public spending by 60 billion euros (64.5 billion dollars), mainly by adjusting health and social insurance programmes.
That would be countered by investments of 50 billion euros focused mainly on workforce training and green energy.
Macron is strongly pro-European, but says France should work with Germany for a more socially protective EU.
His personal life has been the subject of much commentary during the campaign: his wife, Brigitte, is his former high school drama teacher, 24 years his senior.
There, too, he has made no apologies: at a rally after his first round victory, thanking "Brigitte, always present and even more so now, without whom I would not be me."
JOIN OUR PULSE COMMUNITY!
Recommended articles
Live
Treasury CS explains why KRA Service Revenue Assistants need paramilitary skills
DCI flushes out prime suspect in Eric Maigo's murder
Nairobi clubs rush to prevent fines for using clients' photos on social media
How Secret Service handled Nairobi tour of U.S. Defence Secretary Austin [Video]
MCA arrested in connection to defilement of 14-year-old
Preliminary investigation reveals why 10-storey Mirema building collapsed
Fear grips congregation after gunmen invade church, rob cash & phones
Duties Ahmednasir wants Ruto to remove from Gachagua's office
Outcomes of Ruto's meeting with U.S. Defence Secretary Lloyd J. Austin III