Racist to the bone. Consider the mandible
After instructing four women of color in the House of Representatives to "go back" where they came from, President Donald Trump now claims, "I don't have a Racist bone in my body!"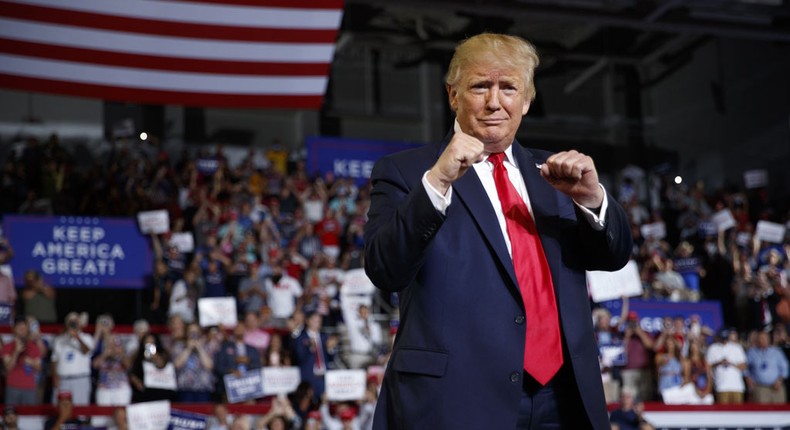 That appears incorrect. I have identified the following racist bones in Trump's body:
Phalanges and metacarpals: These are bones of the fingers and hands that Trump has used to tweet tirades against black and brown people and to retweet Nazi sympathizers, including, twice, an account called @WhiteGenocideTM with a photo of the founder of the American Nazi Party.
Mandible and maxilla: These are the jawbones that Trump has used to denounce Mexican immigrants as "criminals, drug dealers, rapists," not to mention to refuse to criticize the Ku Klux Klan.
Femurs, fibulas, tibias, metatarsals: These foot and leg bones carried Trump into his casinos, where black staff members would be rushed off the floor so he couldn't see them, according to a former employee, Kip Brown.
Virtually every remaining bone was implicated in Trump's early refusal to rent apartments in his buildings to blacks, leading the Nixon administration Justice Department (not exactly a pillar of liberalism) to sue him for housing discrimination in the 1970s. A former building superintendent working for Trump explained that any rent application from a black person was coded "C," for "colored," apparently so that the office would know to reject it.
"Racist" is an explosive term that should never be lightly flung as an epithet, and it is more likely to end a conversation than clarify it. For a single tweet or action there is a possibility of misunderstanding or ambiguity.
Yet for more than 45 years, since that housing discrimination, Trump has engaged in a consistent pattern of racist behavior and speech. His latest controversial tweets are not an aberration but a culmination. This isn't a matter of a single tweet; it's a lifetime with a narrative arc of bigotry.
America's history is a tapestry of innumerable threads, many of them triumphant and inspiring that we should be deeply proud of, but Trump goes out of his way to weave together two of the most shameful strands.
One is the racism and nativism that go back to the 18th century, to the Philadelphia speaker who in 1844 denounced Irish immigrants as "scum unloaded on American wharves" and helped provoke anti-Catholic riots, to the waves of hysteria against African Americans, Italians, Chinese, Jews, Japanese Americans, Latinos and other immigrants. There is another strain of American hospitality highlighted by the Statue of Liberty and the admission of hundreds of thousands of Vietnamese refugees beginning in the 1970s, but the nativism is real — it's why Trump's family, alarmed by anti-German bigotry, pretended to be Swedish.
The other thread that Trump pulls is more political: what we now call McCarthyism, although it, too, goes back to our nation's earliest days. It vilifies opponents as enemies of the state.
More than two centuries ago, opponents of Thomas Jefferson warned that he was a Jacobin who if elected would unleash a French-style reign of terror upon America. As one commentator put it, "The Bible would be cast into a bonfire, our holy worship changed into a dance of Jacobin phrensy, our wives and daughters dishonored." Sen. Joseph McCarthy updated that in the 20th century with reckless accusations that leftists were communists — and now Trump picks up that mantle by suggesting that his four progressive targets in Congress "might be" communists, not to mention that they "hate our Country" and are "pro Al-Qaeda."
I'm not sure whether this new McCarthyism is instinctive and unthinking, or these bilious rants represent a shrewd effort to manipulate voters into seeing the 2020 presidential campaign through the prism not of issues but of racial identity, in hopes of winning Trump an edge with white voters.
I do know that Trump has taken two of the most ignominious threads in American history — nativism and McCarthyism — and woven them together in an outburst that is an affront to democratic norms.
If anyone doubts that Trump's statements were despicable, note that the U.S. Equal Employment Opportunity Commission specifically bars employers from using "ethnic epithets, such as making fun of a person's foreign accent or comments like, 'Go back to where you came from.'"
Frankly, I'm even more troubled by Trump's policies than by his tweets, and I wish the reaction to Trump focused more on practical initiatives to reduce child poverty, treat drug addiction or end mass incarceration. But the question put to Congress this week was a resolution properly condemning the presidential tirade. It was grotesque to see Republicans who had been mute at presidential bigotry suddenly protest that the backers of the resolution violated rules of decorum.
Really? We're left again with the question: How can members of the party of Lincoln today protest the label of racism, but not the racism itself — in a man who for 45 years has shown himself to be a racist from his mandible to his metatarsals?
Our newsletter gives you access to a curated selection of the most important stories daily.
Recommended articles
Africa's richest man Aliko Dangote poised to overtake another Russian billionaire Vladimir Lisin on Bloomberg billionaires list
Mzee Kibor's will made public, revealing how vast wealth and millions will be distributed
Ini Edo posts new photos amid reports of welcoming a baby through surrogacy
Mathias Pogba brands Paul Pogba 'a so-called Muslim steeped in witchcraft' amid fetish claims about Kylian Mbappe
Referee behind chaos at AFCON was rushed to hospital after match
Ne-Yo speaks out after wife Crystal announced end of their 8-year marriage
Eddie Butita speaks on his fallout with Miss Mandi, offers her a job
Sadio Mane the odd one out as Bayern Munich stars take team photo with glasses of beer
Africa's richest man, Aliko Dangote, adds extra $915 million to his vast wealth in Q1 2022