Breaking digital barriers - Nairobi hosts Digital Rights & Inclusion Forum (DRIF23)
#FeatureByParadigmInitiative - Building a sustainable Internet for all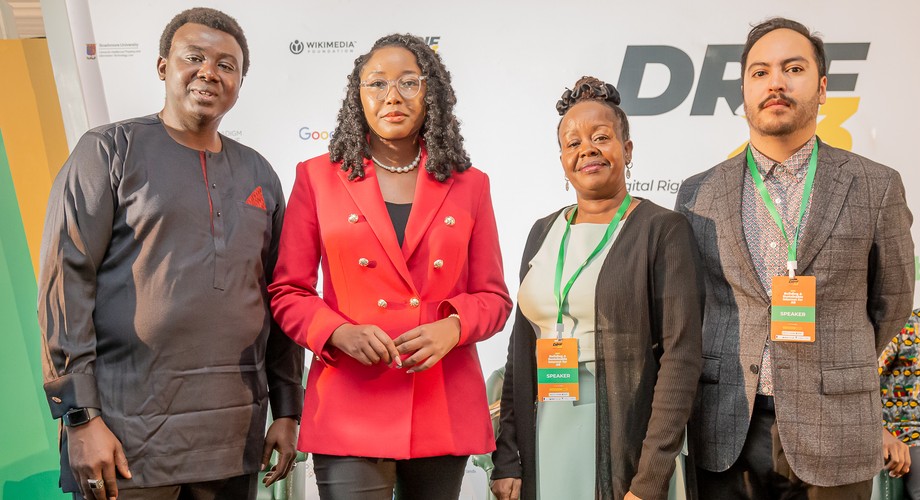 DRIF23 kicked off on Wednesday, April 12, and is today in its final day as organisers shed a spotlight on advancing digital inclusion and protecting digital rights in Africa.
In the first two days of the forum, various topics have been discussed and one of the interesting revelations was that female journalists are often targeted online, particularly after covering political news.
Nompilo Simanje, of International Press Institute from Zimbabwe, highlighted incidents of online abuse against female journalists in her country, with some perpetrators even involving the journalists' children and spouses.
Silas Owiti from Berdicom supported her statement by citing similar occurrences in Kenya, where Twitter users have gone to the extent of photoshopping images to attack female journalists.
Winnie Kamau, a journalist, and editor at Talk Africa emphasized the need for policies to be put in place to safeguard the well-being of female journalists, as incidents such as harassment and abuse can negatively impact their output and mental health at work.
However, she also pointed out that journalists should report such cases and not simply let them pass, as they may be suffering internally.
While some may choose to distance themselves from social media platforms, this may not always be the best approach, as journalists rely on these apps to gather information for their audience.
DRIF23 speakers discuss safety of journalists in Africa
Vitus-Gregory Gondwe, an investigative journalist from Malawi, shared a story about the brutal treatment that journalists face in his country. He recounted an incident where the police seized the tools that he and his team were using to cover an investigative story.
Although the devices were eventually returned, they were later hacked, and Gregory believes that the state was behind the attack. He suspects that the incident occurred because they were exposing corrupt dealings by a senior government official.
Angela Onyegbuna, an IT Officer at Paradigm Initiative, emphasized the importance of journalists using strong passwords on their devices to avoid experiencing situations like Gregory's.
She revealed that she and her team are currently working on an App that will function to remind people to regularly change their passwords on various services they use.
DRIF23 highlights the role of internet access in promoting human rights
Vladimir Garay, Advocacy Director at Derechos Digitales - a platform that serves Latin America, emphasized the vital role of internet access in promoting human rights. He stated that people demand high-quality, secure, and affordable internet connectivity, which is currently limited and costly.
You can still catch the final day of the forum live on Paradigm Initiative's YouTube channel.
DRIF is organised annually by the Paradigm Initiative (PIN). An organisation that connects underserved young Africans with digital opportunities and ensures the protection of their rights.
After operating in Nigeria from 2007 PIN went continental and now has regional offices across West, East, South and Central Africa including Nairobi.
As a leading social enterprise in ICT for development & digital rights PIN endeavours to build experience, community trust, and a strategic organisational culture.
#FeatureByParadigmInitiative
JOIN OUR PULSE COMMUNITY!
Recommended articles
Top 10 most magnificent places for tourists to visit in Africa during the 2023 summer
Nigeria swears in Bola Tinubu as new president
Here's how Nigeria's presidential inauguration will unfold
Tanzania and India explore local currency trade to reduce dependency on dollars
Nigeria's internet subscriptions soar by 2.7 million in Q1 2023
Africa's richest woman Isabel Dos Santos finds herself deep in another financial scandal
The IMF has identified areas of focus for Nigeria's incoming president
60,000 homes to benefit from the joint project of the Tanzanian and Ugandan government
CS Njuguna Ndung'u secures top position in African Development Bank
Thika Sports Club, next stop for NCBA golf series
Big Ted's inspiring message to Kenya's rugby community
Fitness influencer Shiv Simani joins fight against sports neglect by gov't
Kipchoge wins Sh7.4M prize in Spain
Ombachi shares how career-threatening injury pushed him into content creation
Ruto donates millions after AFC Leopards beats Gor Mahia for 1st time in 7 Years
Ulinzi Stars midfielder returns from four-month injury layoff
Kenya's thriving sports culture: A deep dive into the country's passion for sports betting
The 8 largest events in Las Vegas 2023