Shado Mado release: The truth behind Alaine blocking Willy Paul
Your silence is killing Pozze, you know who ur legit king is – Wrote Willy Paul.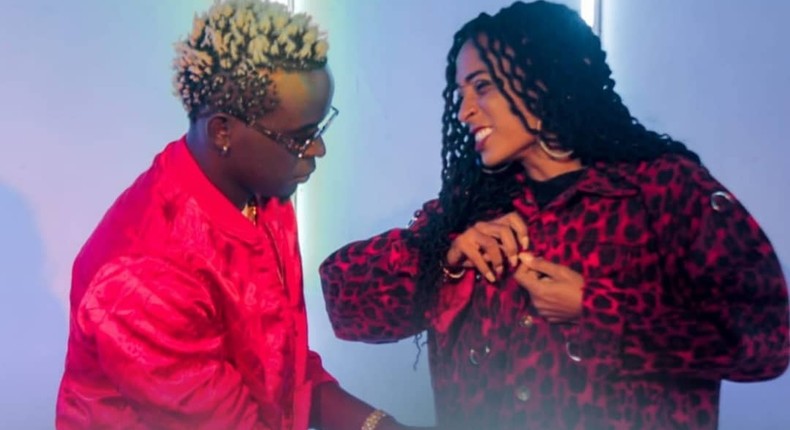 A few days ago, Willy Paul caused a tumult on social media after revealing that his close friend Alaine had blocked him.
Willy Paul claimed that he suspected that the reason for the said block was that Alaine thought he was having steamy affair with Tanzanian songbird Nandy Mfinanga.
"You blocked me... mmmmh the reason I'm writing this here is for the world to at least help me get this message to you. My mum keeps asking me where you disappeared to. But I'm glad you liked one of my posts the other day… Maybe that's a sign. Plus one more thing, there's a female artist from Tanzania by the name Nandy. Me and her are just friends.... nothing more... that shouldn't even worry you dear. Madam boss please talk, unblock me, this silence is killing POZZE, you know who ur legit king is. Help me fam. Get this message to her @alainesinga," wrote Willy Paul.
Last night, we came to find the truth behind Alaine 'blocking' Willy Paul. The two have not actually fallen out but were generating a buzz around their new jam 'Shado Mado' which was released on Friday morning at 10 am.
"Get ur bundles ready for tomorrow coz @alainesinga and I have something special for you on YouTube. #hadomado Willy Paul and Alaine dropping tomorrow, get ur dancing-self ready for this. If you are in favor of this just say yes below!! 10 am Friday we bring you a big thing!" announced Pozze.
This is not the first time the two have created a story to generate a buzz around their release.
In 2017, Willy Paul almost broke the internet when he shared a photo 'marrying' the Jamaican sweetheart.
But as we later came to learn, he had flown in the Jamaican stunner for a project they were working on together. The project being the song 'I do'.
Pulse Live Kenya
Many were surprised that Willy had gotten a celebrity of Alaine's calibre in studio. Responding to their astonishment, Willy later came to explain how he got the Jamaican collabo.
"I had never met Alaine in person before this collabo, but I use to follow up on her. When I expressed my interest in working with her, she googled me and liked my work, she is a big fan of my work. She later followed me on Instagram without my knowledge. So when I asked her to follow me, she revealed that she had already followed me," he disclosed on NTV Sasa.
"It's something I will treasure since I managed to do that with no one's help, getting these kinds of connections was not easy, that why I treasure this collabo much. I bought her plane ticket and paid for her hotel room, I took care of everything," Pozze revealed on the show.
Recommended articles
I thought it'd get easier, but it doesn't - Martin Kasavuli posts on late mom's account
Daddy Owen drops new music video after 1-year hiatus [Watch]
Amber Ray excites fans with video of growing baby bump
Shaffie Weru makes media comeback with new show [Video]
Actress Jacky Vike lands brand ambassadorial job
Kevin Mboya reveals details of Kwale trip that left him heartbroken
Photo of Wema Sepetu & bae Whozu sparks debates after fans noticed slight bulge
Emma Jalamo drops collabo with Nicah the Queen after week-long stunts [Watch]
NTV's Zainab Ismail pays touching tribute to late father on 1st anniversary