I'm not your MP- Khaligraph Jones on claims remaining silent on recent killings
Blogger Nyakundi had accused Khali of ignoring his Kayole people after a Man was killed in the area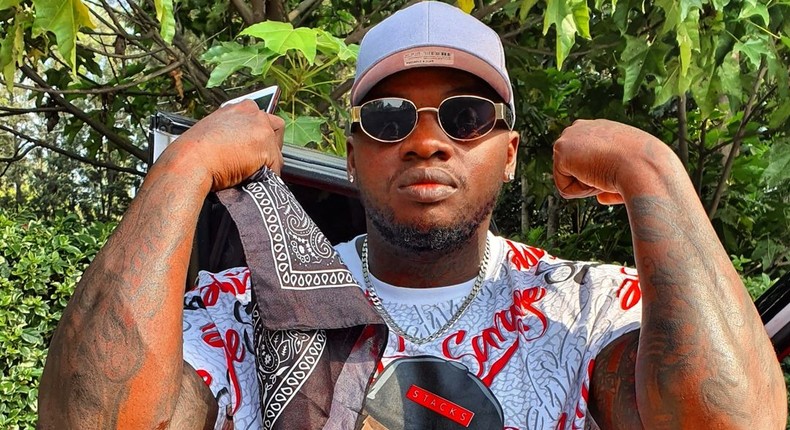 In a post, Papa Jones made it clear that he is not a Member of Parliament and therefore he can only push for change through his huge Influence.
He added that he doesn't hold any public office for Netizens to mount unnecessary pressure on him.
Rapper Katapilla Wins Sh1 Million in the Khaligraph Jones Rap Challenge
"OG is not Your Member of Parliament, I can only influence and push for Change but I am no politician, I hold no public office, as we head to the Elections Kindly Remember to vote wisely, I will not be there with you as you cast your vote but you will have the power to change everything meanwhile we will Continue Being Activists condemning everything that is wrong with That said, End police Brutality and End the Curfew, Respect The Ogs" said Khaligraph Jones.
The statement come hours after Blogger Cyprian Nyakundi alleged that Khaligraph had ignored his Kayole People. On Thursday, Kayole residents held demonstrations, protesting the killing of a 38-year-old man by police officers reinforcing curfew in the area.
Rapper Khaligraph Jones Pulse Live Kenya
"Today Kayole has been burning with chaos after police arrested a 38-year old man for violating curfew.
Khaligraph who derives his street cred from affiliation with Kayole, did not say a word.
In essence, Khaligraph no longer represents the streets but is a promoter of vanity, consumerism and partisan politics. We all knew he's a sell-out when literally begged for a meeting with Ruto, only to be handed a paltry 40K together with his fellow sell-outs.
He has lost his identity in pursuit of clout and fame. Sad to see" wrote Nyakundi.
In a quick rejoinder, Papa Jones acknowledged that he has been away for some time, but that does not stop him from condemning Police Brutality.
"Just Too Much Bana, sorry been absent for a minute but shit maze, its Messed up out Here, polisi Wanatumia Curfew Kama excuse ya Kuumiza Raiyaa. Watu wanakufa Kila siku, sai Imefika mpaka Mtaa Yangu Kayole Maze, Serikali ya Kenya Imelala, ama Watu wakuje warushe Mawe uko statehouse ndio Mujue ni ukweli Raiyaa Inaumia? Cause vile kunaenda Uko ndio ni kama watu wanakuja Next. #endpolicebrutalityinkenya" said Papa Jones.
Get our Top Stories delivered to your inbox
Recommended articles
Vera Sidika drops Part 1 of reverse surgery video [WATCH]
Diamond reveals how much he paid for his royal blue Rolls Royce
Brown Mauzo finally speaks after wife Vera Sidika removed implants
'Tazama' - Guardian releases new jam featuring an upcoming artist [Video]
Eve Mungai fires warning shots after continuous attacks on her brand
Fans react to socialite Vera Sidika's new look after removing implants [Reactions]
Tekno embarks on 30 days non-smoking challenge in an effort to quit his addiction
'Ombi Langu' - Ringtone features Zabron Singers in a new song [Video]
Truth about man who claimed being behind Eve Mungai's success [Videos]