Larry Madowo weeps during granmother's funeral [Video]
Madowo's family rushed to his side for support as he struggled to find the strength to address the mourners.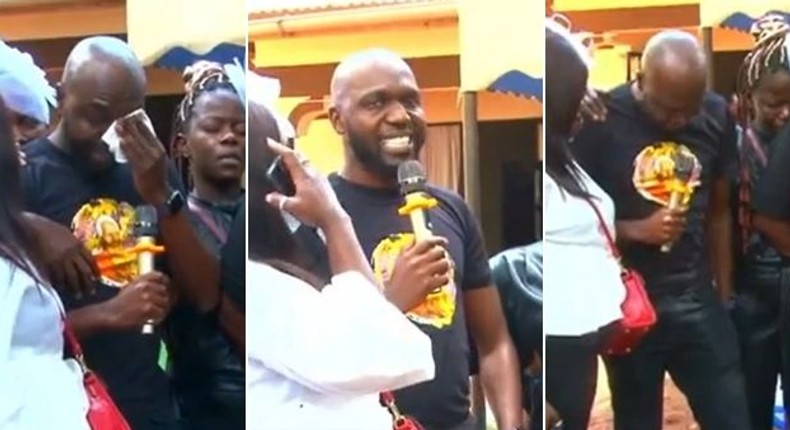 CNN International correspondent Larry Madowo broke down in tears during the burial ceremony of his grandmother the late Francisca Madowo.
In a caption on Instagram, Madowo described the funeral as the saddest day of his adult life.
"The saddest day of my adult life 💔 Burying my grandmother broke me. This was my tribute to her," he said.
His family rushed to his side to support the journalist as he struggled to find the strength to continue addressing the mourners.
After losing his parents at 14 years old, Madowo and his siblings were under the care of their grandmother with whom they shared a strong bond.
"She knew I worked in the TV industry and would wave at the screen and wonder why I was not responding. We would meet physically and I would laugh it off," Madowo recalled fun times with his grandmother.
When she passed on on August 27, Madowo said that he felt as though his heart had been ripped from his chest.
"My grandmother, the family matriarch, our heartbeat, my comedy partner, the dearly loved Francesca Madowo has joined the ancestors.
"I am numb. My heart has been ripped from my chest. Light has gone out of my life. Nind gi kwe, min Omollo," read the post.
He had expressed fears about his granny's illness during a feature for CNN about the Covid-19 situation in Kenya.
"Every time I see a call from home, my heart sinks. I always fear that they're ringing to say that my grandmother has died. She has been on a ventilator for four weeks and my anxiety is near breaking point. The dreaded call could come at any time: Covid-19. Again," he wrote.
Jahmbykoikai - Poleni sana and may she rest in eternal perfect peace.
Loulou_hassan - It is well bro …. Pole 🙏🏽🙏🏽🙏🏽
Evedsouza - My heartfelt condolences @larrymadowo ❤️ so sorry for this terrible pain and loss you and your family are feeling, may she rest in peace 🙏🏻
Recommended articles
Eric Omondi secures release for 22 petty offenders from Nairobi West Prison [Video]
Terence Creative & Milly Chebby speak out after shocking act of vandalism
Former Aziza actor Luwi Capello narrates life-altering accident that affected brain & erased memories
From sin to salvation: Brendah Jons finds peace in Jesus
Anita Nderu takes on new challenge as she heads back to class, reveals future plans
4 professionals you should avoid in a partner, according to Oga Obinna
Vivian in mourning after losing her sister
New details emerge on pastor's death in singer Dishon Mirugi's house
Akothee opens up on escaping reality with sleeping tablets