Video: Shakib puts a ring on Zari's ring finger
It appears Zari Hassan and Shakib Lutaaya are now husband and wife.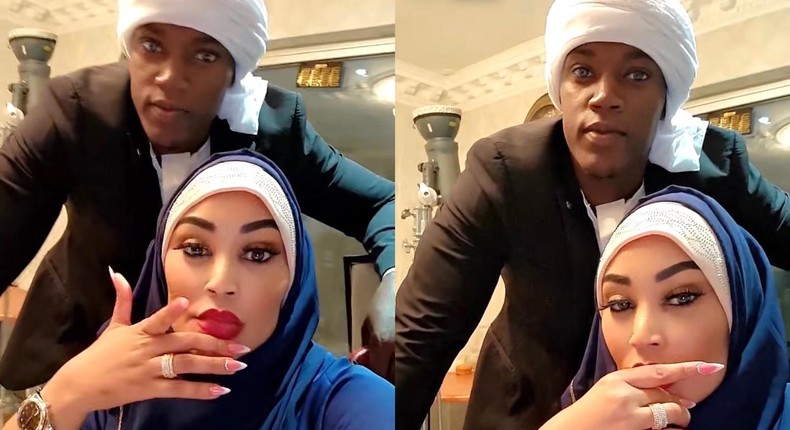 "Happy is the man who finds a true friend congs the lutayas," Lutaaya posted on social media.
A video shared on social media shows Shakib Lutaaya putting a ring on Zari Hassan's ring finger.
Some have said that it was a Nikkah, a ceremony that validates marriage in Islam.
In December 2022, Zari revealed that she had met the parents of Shakib Lutaaya.
"I've met his parents. He took me to literally [sic] meet his parents and they were so nice, [and I don't remember them complaining about the relationship]," she said.
She also noted that she would have children with Lutaaya, but at her own pace.
"I will give birth to more children, but not because of public pressure," said the socialite, who already has five children.
Zari made the revelation while defending her relationship with Lutaaya, who is 12 years her junior.
She wondered why society doesn't rebuke men who date younger girls but women are always admonished for doing it.
"How come you don't talk when old men date 15-year-old girls?... Old men date 15-year-old girls and you don't talk, so you cannot tell me 42 and 30... Shakib is not a child... I don't see a problem with it. But when it comes to women, you turn into a problem," she said.
"How come you don't talk about men? Society has double standards... Honestly speaking, he is not a child. He has been above 18 long time ago [sic], so I don't find a problem in it."
In September 2022, Lutaaya told Zari that he wanted to meet her father, Nasur Hassan.
Zari has five children from two marriages. With the late Ivan Ssemwanga, whom she divorced in 2013, she sired Pinto Semwanga, George Semwanga and Dido Semwanga.
Latifah Dangote and Prince Nillan are the children she had while dating the Tanzanian crooner, Diamond Platinumz.
Recommended articles
'Sound of Freedom': Jim Caviesel's new movie is inspired by real-life experiences of an activist
Story behind Dennis Ombachi's tag name 'Roaming Chef'
King Kalala opens up about marriage & dreams of having 7 kids
Nicki Bigfish saves the day for man he intended to prank
Please be thorough with investigation into Mohbad's death - Banky W
YY Comedian's mum shares untold story of how he suffered burns 7 times
Diamond pleads with Chege to release songs after unexpected reunion on stage
Mercy Masika expresses concern about modern pastors' fashion & modesty
Philosophy Fena Gitu applies in bold fashion choices