Gay scenes in children's cartoon causes outrage on social media
Gay scenes have become the norm in TV content, especially adult content.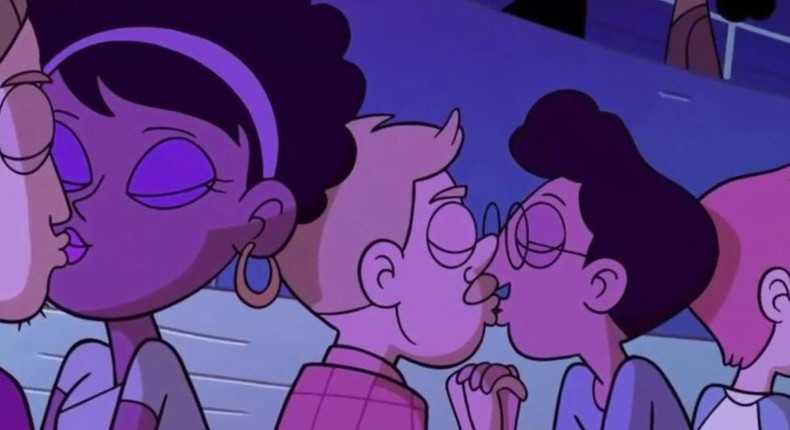 But perhaps the game changer is a few gay scenes in Disney content. In the latest Disney movie "Beauty and the Beast", set for release on March 17,  Josh Gad as Le Fou struggles with his feelings for Luke Evans as Gaston.
"LeFou is somebody who on one day wants to be Gaston and on another day wants to kiss Gaston. He's confused about what he wants. It's somebody who's just realising that he has these feelings. It is a nice, exclusively gay moment in a Disney movie."  Director Bill Condon told British gay magazine Attitude.
A scene that has been described a 'wonderful step forward' when it comes to giving a fair representation of LGBT people in the media..
But that is not all; Disney recently featured a gay kissing scene in "Star vs. Forces of Evil" where the main character Star and a friend are surrounded by couples kissing including two men and two women.
Expectedly, these scenes in childrens' content has caused quite a furore as scenes that can be interpreted as  homosexual in nature are usually reserved for the adult swim of Ricky and Morty and the sexually innuendo-laden Family Guy show.
Some applauded Disney's decisions while others thought that these kinds of scenes were just too hot for kids' TV and children should not be exposed to such content.
With some even complaining that 'gayism' has become too much on TV, a theatre in Alabama has even refused to screen the upcoming "Beauty and the Beast Movie" because they claim that they will not go against the bible.
In a statement, the theatre management wrote,
"We will not compromise on what the Bible teaches. We will continue to show family oriented films so you can feel free to come watch wholesome movies without worrying about sex, nudity, homosexuality and foul language". After adding that "If I can't sit through a movie with God or Jesus sitting by me then we have no business showing it."
What are your thoughts on Disney's new move?Is it a Yay or a Nay? Sound off on the comment section below.
JOIN OUR PULSE COMMUNITY!
Recommended articles
Diana Marua in jubilation as she celebrates new milestone [Photo]
Is the world ready for another album from Octopizzo? [Pulse Contributor's Opinion]
'Now I know why some ladies don't show off their husbands on social media - IG dancer Janemena
'My mum hates it when I tell her I'm never getting married' - Burna Boy
Singer Arrow Bwoy in Mourning
Sonko's reaction as daughter Sandra Mbuvi goes international
We didn't build brands to be role models to your children - Akothee tells parents
Sylvester Stallone is exiting 'The Expendables' franchise!
Davido announces his 2022 show at the O2 Arena in London