Unbelievable photos of the woman with the biggest 'Nyash' in Africa
She has the kind of butt that makes even the most 'blessed' socialites look like they are carrying a pimple as a backside. Because her but its literally larger than life.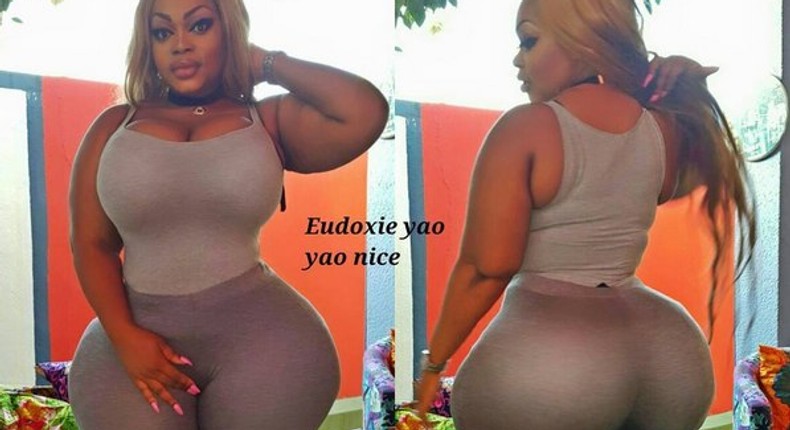 Her name is Eduoxia Yao and she hails from Abidjan in Côte d'Ivoire formerly known as Ivory Coast.
Using her ginormous booty, Eudoxia just like most socialites of this age promotes events and promotes products to her 140,000+ followers.
But followers on her Instagram page do not seem to care about the products but are more enthralled by the perky posterior that is said to be the biggest natural booty in the continent and her bulbous boobs.
Her fans are certainly not shy about their feelings towards her on the comment section. The comments range from compliments like "Baby girl u look so sexy in ur outfit" to some outright lustful comments like "i wanna suck these big boobs" to "I'LL F**K THE SH*T OUT OF YOU DAILY" and "can I see you in a thong please?"
Others offered 'helpful' advice on make up with by writing "Fix your whacky eyebrows and strange makeup, maybe hair too and then you could be quite attractive." To "Why you look plastic sweety?? You very pretty but that make up dent suit you...you need a new make-up artist."
Others offered themselves to her by commenting "Call for big cassava" and asking if they could date her  "Plss if you don't have a bf, am desperately available ,wow will b lovely to be with you."
Here is a video of the booty that has driven African men crazy:
Eudoxia Yao:Biggest Booty In Africa
Recommended articles
Actor Sandra Dacha commemorates parents' demise in a sombre message
Diana & Bahati blasted for sidelining Mueni in birthday celebrations
Sh25M monthly payments & other details of Kanye and Kim's divorce settlement
Bahati pens heartfelt message to daughter Mueni as she turns 7
Kambua reveals face of her newborn, confirms she gave birth months ago
Why Karen residents want Betty Kyallo's restaurant shut down
Down to the bodyguards, Oga Obinna's take on Eric Omondi [Video]
'Gaslighting' is the most searched word of 2022, according to Merriam-Webster Dictionary
This video of Zari and Shakib will inspire you to spice up your relationship