K24 news anchor in mourning
K24's Ahmed Bhalo is in mourning.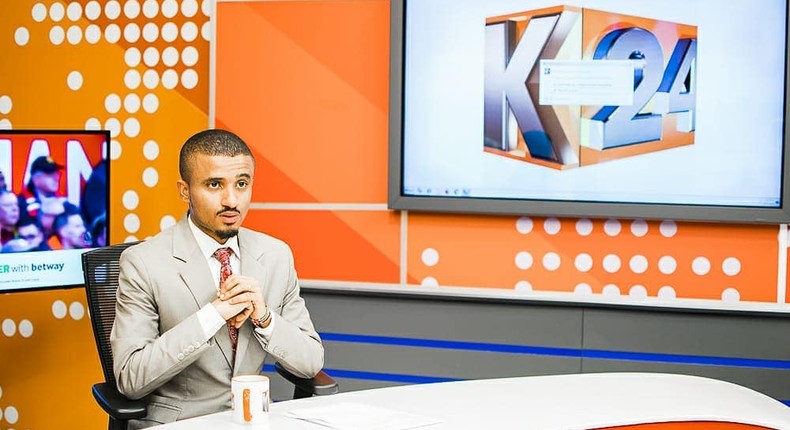 The soft-spoken news anchor disclosed that he lost Ahmad Juma Bhalo, a man who was his friend, father and namesake.
Bhalo disclosed that the late Ahmad who gave him the name Ahmad passed on after being ill for a while. The late Ahmad Juma Bhalo was laid to rest at Wakilindini area in Ganjoni, Mombasa.
"Nasikitika kutangaza kifo cha ami yangu, babangu na somo yangu (yeye ndiye aliyenipa jina Ahmad), Ustadh Ahmad Nassir Juma Bhalo maarufu Malenga wa Mvita kilichotokea mapema leo mtaani Kuze, Mombasa. Ustadh Juma Bhalo aliaga dunia baada ya kuugua maradhi ya mapafu kwa muda. Atakumbukwa na wapenzi wa lugha teule ya Kiswahili kutokana na mchango wake kupitia tasnia ya utunzi wa mashairi uliyompelekea kutwikwa vyeo vya Ustadh na Malenga. Mwendazake ataswaliwa kesho (Alhamisi) msikiti TSS Ganjoni baada ya swala ya alasiri na kuzikwa katika maziara ya Wakilindini eneo la Ganjoni, Mombasa. Allah amuweke pahali pema peponi. Ameen," read the emotional post.
Get our Top Stories delivered to your inbox
Recommended articles
Youthful MP Peter Salasya searching for a wife with these qualities
Ed Sheeran may have to pay $100m, if found guilty of plagiarising a song
Size 8 casts out demons from possessed girl in Kibwezi [Video]
Bahati is battling depression, Diana has called me twice-Ringtone
Jamal Rohosafi throws shade at ex-wife Amira with cryptic message
My twin - Diamond gushes over look-alike son[Photo]
Crossing boundaries! Diamond working on a song with Indian star [Details]
Nick Cannon welcomes his 10th child, weeks before his 11th is due
Abel Mutua 'fried' as Roast House closes curtains for Season 1