Khaligraph Jones publicly humiliates Vera Sidika (Video)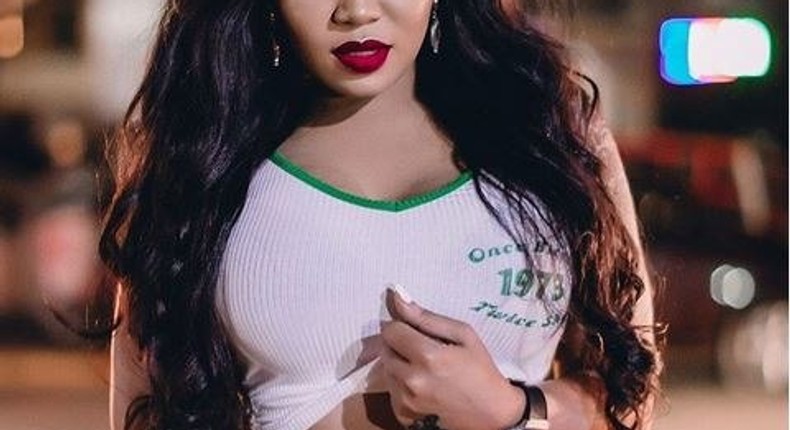 They say that one shouldn't throw stones when you live in a glass house.
Something that Vera Sidika must have learnt during her Insta beef with Khaligraph after he tore at her implants and rumors that she is a high-end prostitute.
The beef between Vera and Khaligraph seems to have emanated from this post by Khaligraph where he said that he and Vera were the OGSs who bleached their skin.
Late TBT hahahahahaha, watu walitoa Tint. With #verasidika Raaahhh
#KingKingKing #respectheogs
A post that Vera did not approve of and told Khaligraph to stay on his lane in a post that gave a new and cruel twist to their insta-beef.
"Everyone has been sending me screenshots of this boy posting a photoshopped pic claiming 'tulitoa tint pamoja' first things first; My dear hujatoa tint bado! TINT yako bado imeacha ma traces nyuma coz ulitoa manually badala ya automatically What kind of man bleaches? Bleaching and skin lightening is for women. Not men. Cause it's like make up. Men don't apply make up. Oh Plus we ain't same bro! Skin lightening and bleaching are totally different things…Stay on your lane prissss!" She wrote before pulling the post down.
In reiteration, Khaligraph chose to revive the story of Vera's international prostitution and implants before getting extra with it and taking shots at Vera's humble beginnings and claimed that Vera used to be a man.
This was in a video on social media that has been watched by thousands, in the video, Khaligraph raps"Ukimess na OG sikufichi ni drastic apologies to the fans manze mi ni sarcastic. Leta upuzi hapa nitakuingiza kwa casket with your silicon a** na matiti za plastic. Juzi ulikua mboch ukituuzia kahawa now you're famous of the fact that umekuanga ukigawa. A lot of things these people don't understand but rumour had it that this shaure used to be a man. Khaligraph I was blessed with friends the only thing you were blessed is breast implants…"
Recommended articles
'Sound of Freedom': Jim Caviesel's new movie is inspired by real-life experiences of an activist
Story behind Dennis Ombachi's tag name 'Roaming Chef'
King Kalala opens up about marriage & dreams of having 7 kids
Nicki Bigfish saves the day for man he intended to prank
Please be thorough with investigation into Mohbad's death - Banky W
YY Comedian's mum shares untold story of how he suffered burns 7 times
Diamond pleads with Chege to release songs after unexpected reunion on stage
Mercy Masika expresses concern about modern pastors' fashion & modesty
Philosophy Fena Gitu applies in bold fashion choices