8 Guinness World Records broken by Kenya
In the vast landscapes of Kenya, a land brimming with natural beauty and cultural diversity, remarkable achievements have etched their way into the annals of the Guinness World Records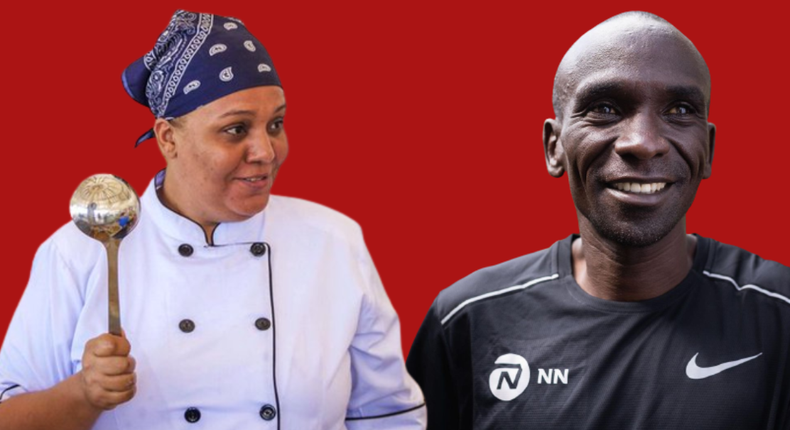 From awe-inspiring athletic feats to extraordinary talents, Kenya has cemented its place on the global stage of record-breaking accomplishments.
Kenya's Record-Breaking Bird Count in 24 Hours
In a remarkable feat of birdwatching prowess, Kenya proudly holds the prestigious Guinness World Record for the highest number of bird species spotted within a single day.
This extraordinary achievement took place in November 1986 during the renowned Birdwatch Kenya 86 event.
To this day, Kenya proudly holds the Guinness World Record, a testament to the country's rich natural heritage and the remarkable dedication of its birdwatching community.
The record serves as an inspiration for future generations of bird enthusiasts and underscores the importance of preserving Kenya's diverse ecosystems for the countless bird species that call it home.
Kimani Ng'ang'a Maruge
In a remarkable chapter of human perseverance and lifelong learning, Kimani Ng'ang'a Maruge etched his name into the prestigious Guinness Book of Records in 2004.
At the astounding age of 84 years, Maruge became the oldest person to ever embark on the journey of primary education.
Undeterred by the passing years, Maruge fearlessly walked through the doors of Kapkenduiyo Primary School in Eldoret, Kenya, ready to embrace the transformative power of knowledge.
Pulse Live Kenya
With an unwavering determination, he enrolled in Class 1, igniting a journey that would inspire generations to come.
Tragically, Maruge's dream of completing Class 8 was cut short when he passed away in 2009.
Maliha Mohammed
In the world of gastronomy, where flavors dance and dishes delight, Maliha Mohammed stands tall as a remarkable chef who has etched her name into the prestigious Guinness Book of Records.
With an unwavering passion for the culinary arts, she embarked on a remarkable journey, breaking the record for the longest continuous cooking session—a staggering 75 hours.
Pulse Live Kenya
Throughout the marathon cooking session, Maliha demonstrated her versatility, creativity, and mastery of diverse cuisines.
Eliud Kipchoge: Fastest marathon distance
In the realm of marathon running, one name shines brighter than the rest - Eliud Kipchoge.
With unparalleled speed, unwavering determination, and an unyielding spirit, Kipchoge has etched his name in the annals of sporting greatness.
His astonishing achievements have pushed the boundaries of human potential and redefined what was once thought impossible.
On that momentous day of September 16, 2018, at the Berlin Marathon, Kipchoge shattered records and propelled himself into the realm of legends.
With every stride, he propelled himself closer to immortality, crossing the finish line in a mind-boggling time of 2:01:39, earning him the title of the fastest marathoner in history.
Eliud Kipchoge Pulse Live Kenya
But Kipchoge's relentless pursuit of greatness did not stop there. On October 12, 2019, in the beautiful city of Vienna, Austria, he embarked on a quest that would forever change the course of marathon history.
In a breathtaking display of determination and sheer human resilience, Kipchoge accomplished what was once deemed impossible, he became the first human to run a sub-2 hour marathon.
As the clock ticked, Kipchoge defied the limits of human endurance, covering the 26.2-mile distance in an astonishing time of 1:59:40.
AFP
Although his remarkable achievement did not qualify as an official IAAF record due to certain criteria, his sub-2 hour marathon will forever stand as a testament to human potential and the indomitable spirit of a true champion.
Largest desert lake
Nestled in the captivating landscapes of Northwest Kenya, Lake Turkana stands as a true marvel of nature, proudly claiming the title of the largest desert lake in the world.
Lake Turkana, in the Great Rift Valley, Kenya, has a surface area of 6,405 km2 and an average depth of 30.2 m.
It is the fourth largest salt lake in the world and is fed by the Omo, Turkwel and Kerio rivers. There is no outflow from Lake Turkana and the only method of water loss is by evaporation.
Alikhan Kazia
Alikhan Kazia holds three Guinness Book of World Records titles.
Notably, he holds the record for the most ping pong balls successfully bounced into a cup within a single minute, showcasing exceptional hand-eye coordination and precision.
Additionally, his agility and speed have propelled him to set the record for the fastest time in bouncing ping pong balls into five cups as an individual.
Pulse Live Kenya
This accomplishment demonstrates his ability to swiftly navigate the playing field and achieve impressive results.
Furthermore, Alikhan has showcased his finesse in table tennis by setting the record for the most table tennis serves accurately landing into a cup within one minute.
This record not only highlights his accuracy and control but also reveals his dedication to pushing the boundaries of his abilities.
Most consecutive wins of the IAAF World Cross Country Championships by a country
Kenyan runners have achieved remarkable success in the realm of cross-country championships, holding notable Guinness World Records and leaving an indelible mark on the sport.
One particularly outstanding feat is the title for the most consecutive wins of the senior women's title at the IAAF World Cross Country Championships, an impressive record held by Kenyan athletes between 2009 and 2019.
During this period, a talented group of Kenyan runners showcased their exceptional skills and endurance, contributing to the remarkable streak.
The title was secured by remarkable individuals such as Florence Jebet Kiplagat in 2009, Emily Chebet in 2010 and 2013, Vivian Jepkemoi Cheruiyot in 2011, Agnes Jebet Tirop in 2015, Irene Cheptai in 2017, and Hellen Obiri in 2019.
Pulse Live Kenya
In addition to the consecutive wins of the senior women's title, Kenya boasts other notable Guinness World Records in the field of athletics.
One such record is the most female team wins at the IAAF World Cross Country Championships, highlighting the country's dominance in the sport.
Joseph Love
In 1992, Joseph Love, a remarkable individual associated with Kilifi Plantations Limited, accomplished an extraordinary feat by setting a world record as the first man to hand-milk an exceptionally high amount of milk.
During a grueling 24-hour period, Mr Love demonstrated his remarkable skill and dedication by hand-milking an astounding 531 liters of milk from a herd of 30 cows.
JOIN OUR PULSE COMMUNITY!
Recommended articles
Alikiba's WRC Safari Rally concert to kick off Kenyan tour
Uhuru graces Crown Prince's one-of-a-kind royal wedding [Photos]
Pastor Gachagua opens up about past battle with mental health
9 practical money management tips every young person should know
Menstrual hygiene: Here's how to wash your period panties properly
For women: 4 simple tricks to make a man fall in love with you
Study shows men have been peeing wrong; they ought to sit and not stand
Here are the number of times you need to try to get pregnant, according to research
For men: 7 everyday foods that help fight low sperm count
Faith Kipyegon makes special dedication after shattering world record in Italy
Fred Arocho, Eric Njiru thrill fans as football season concludes [Photos]
Unleashing the power of M-PESA & its impact on mobile banking and sports betting
Comedian Arap Uria received by Senator Mandago after cycling from Eldoret to Nairobi
Thika Sports Club, next stop for NCBA golf series
Big Ted's inspiring message to Kenya's rugby community
Fitness influencer Shiv Simani joins fight against sports neglect by gov't
Kipchoge wins Sh7.4M prize in Spain
Ombachi shares how career-threatening injury pushed him into content creation