Here's a simple method to lighten dark lips naturally
Dark lips can be caused by smoking cigarettes or weed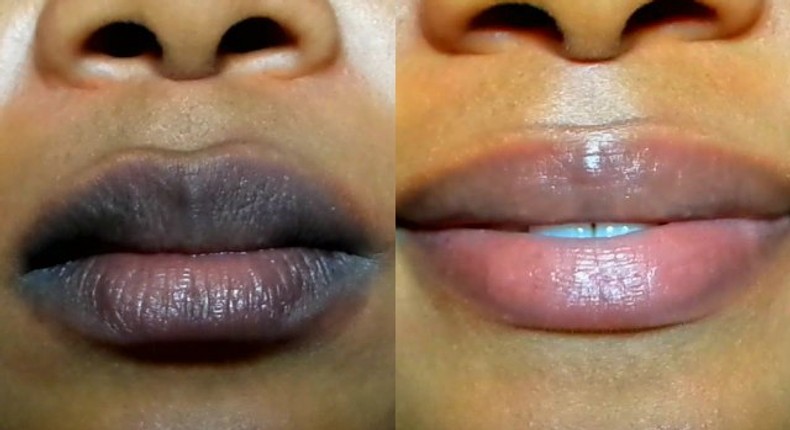 Different people have different lip colors.
Caucasians, for instance, mostly have pink lips while some black and Asian people have two-toned or black lips. It's important to note that having black lips is natural in some cases and it should not be a reason for concern. However, your lips can get darker with time due to a number of factors, such as hyperpigmentation – a harmless condition caused by an excess of melanin. Dark lips can also be caused by:
-Excessive exposure to the sun
-Cigarette and weed smoking
-Allergic reactions to toothpaste, lipsticks etc.
-Sucking and licking your lips too much
These can be addressed by making slight changes in your life such as not taking too much caffeine, or changing your lipstick and lip gloss brands.
If you want to naturally lighten your lips at home, there are possible ways you can do that, with natural ingredients that you already have at home. Simply mix a small amount of sugar with pure honey and gently rub it on your lips in a circular motion for about 5 minutes, you can either use a soft toothbrush or your clean fingers. Once you're done, take half a piece of lemon and gently rub it on your lips in a circular motion for five more minutes. Lemon has lightening properties and it's also considered to be a melanin inhibitor. Leave the juice on your lips for a few minutes, before rinsing off and applying a moisturizer or even Vaseline.
ece-auto-gen
You can also apply lemon juice on your lips before sleeping, and washing it off the next morning.
Repeat this often till you start seeing desirable results.
JOIN OUR PULSE COMMUNITY!
Recommended articles
A guide on How to Simp, and why it's necessary
Ben Cyco, Wanjiru Njiru finally married, stunning photos from the couple's wedding
Can you stomach rejection? 8 tips to help when she says 'No' to you
5 activities every adult should know how to do
8 signs your guy really wants to marry you
10 irritating Kenyans on WhatsApp
8 Cars that defined Kenyan drivers [Photos]
Cucumber: The health benefits of this fruit will leave you speechless
Here are signs that you're not the main chick in your relationship