Drug addicted snake checks into rehab (Photos)
Crystal Methamphetamine, crystal meth, shabu or ice, has been described as the most potent drug in the world and for good reasons.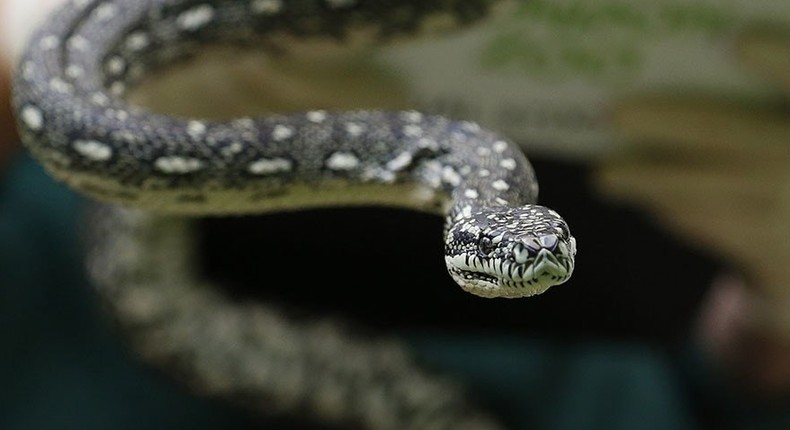 This is because of the debilitating effect it has on those who smoke, inject or snort it.
Though it initially gives you the highest of the highs, once it gets ugly it gets really ugly. This is because some of the effects include delusions of power, increased aggressiveness, hallucinations, paranoia and confusion.
Now some of these effects have been noted in a 6-foot python that lived a meth lab where it absorbed the drug fumes and particles through its skin. After the authorities seized the reptile during a raid in the meth lab, they learnt that the snake was hooked to meth and so they checked it into a prison rehab facility in Australia where it has spent the last 7 months.
Ian Mitchell, a senior overseer at the John Morony Correctional Complex that hosts the Wildlife Care Centre told the Daily Telegraph that the snake was the worst admission they had due to its highly aggressive and erratic behaviour.
"He was totally on edge, jittery, slithering and wanting to strike." Ian said of the snake who is in a much better condition thanks to the care of minimum security prisoner Minas Kassiotis, one of the prisoner that works for the Wildlife Care Centre.
Though it's a very scary job the snake caretaker said that the work "makes me proud to know that I am repaying my debt to society by doing something to sustain our wildlife".
Snakes are favoured by illegal drug manufactures as they stash guns and drugs into the snake tank, something that will deter anyone from going into areas where they store the drugs and weapons.
JOIN OUR PULSE COMMUNITY!
Recommended articles
8 signs your guy really wants to marry you
10 irritating Kenyans on WhatsApp
8 Cars that defined Kenyan drivers [Photos]
Cucumber: The health benefits of this fruit will leave you speechless
Here are signs that you're not the main chick in your relationship
6 reasons why your nipples hurt
5 reassurances your girlfriend needs to hear regularly
7 ways to deal with sexual urges in a celibate relationship
7 weird things men find attractive in women