10 worst foods Kenyans made in 2018
They got a PhD in spoiling the broth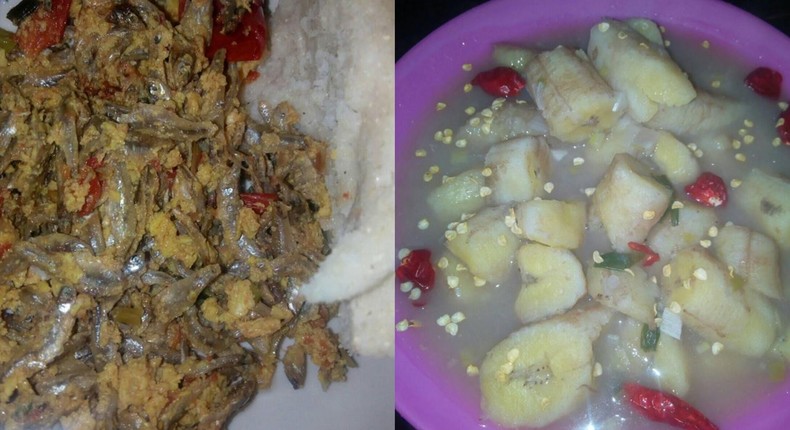 Kenyans are very creative when it comes to cooking. And all in the effort of cooking, new dishes are discovered.
2018 was no different and most Kenyans were busy trying to learn new skills in the kitchen and later showcase their prowess on social media. In fact, one Facebook group by the name Let's Cook Kenyan Meals was nominated for the 2018 Facebook Community Leadership Program.
Some of the foods Kenyans made were rather hilarious, others were simply disgusting while others were palatable if their look was anything to go by. But it was the hilarious and the 'yuck' kind of dishes that created memories.
So, we have compiled a list of the top ten dishes that made it to the list of worst foods made by Kenyans in 2018;
1. Rice and raw sausages? Well, told you Kenyans are creative and hilarious. You could give it a try as well. Lol.
2. Omena and beans. This is probably the best definition of mashakura.
ece-auto-gen
3. We do not know what the 'chef' was trying to know but we can tell from the look that this meal can't pass the throat without throwing up. Just a waste of fish and matoke.
ece-auto-gen
4. Honestly speaking, who soaks fish in peas stew? Anyway, we already warned you that Kenyans are full of surprises.
ece-auto-gen
5. This should have qualified as the worst meal of the year but anyways, one's man's trash is another man's treasure. So long as they enjoyed it, who are we to judge? Must have been literally sweet. Hahaa!
ece-auto-gen
6. Wait a minute, Did I mention to you that in kenya it's possible to cook pumpkins, green bananas and beans all in one pot? Karibu Kenya!
ece-auto-gen
7. And that when it comes to baptism of water, Kenyans do it literally with their food? Heavens know what meal this was supposed to be and whether those who ate it are still alive.
ece-auto-gen
8. I don't know if this is hilarious or disgusting. But at least we all agree that it's not something you would want to pass down your gut, don't we?
ece-auto-gen
9. Let's just agree that Kenyans need prayers. Or is it cooking lessons?
ece-auto-gen
10. Omena and eggs? Well, your food your choice.
ece-auto-gen
Thanks to all who cracked our ribs with their 'exemplary' cooking skills in 2018. Looking forward to crazier foods in 2019. Just make sure your meal won't make it to this list next year. Keep learning.
JOIN OUR PULSE COMMUNITY!
Recommended articles
Here's why sleeping with your phone in bed can affect your health
6 ways to be an amazing boyfriend when your girl is on her period
7 weird things men find attractive in women
9 feminine hygiene tips every girl should know
10 outdated gadgets that will make you nostalgic
Fashion designer Diman Mkare announces expecting first child [Photos]
6 tips to enjoy rest when struggling to slow down
These are 5 top signs of fake love in a relationship
How to Deal With Carpal Tunnel