What it's like to use the Madaraka Express for the first time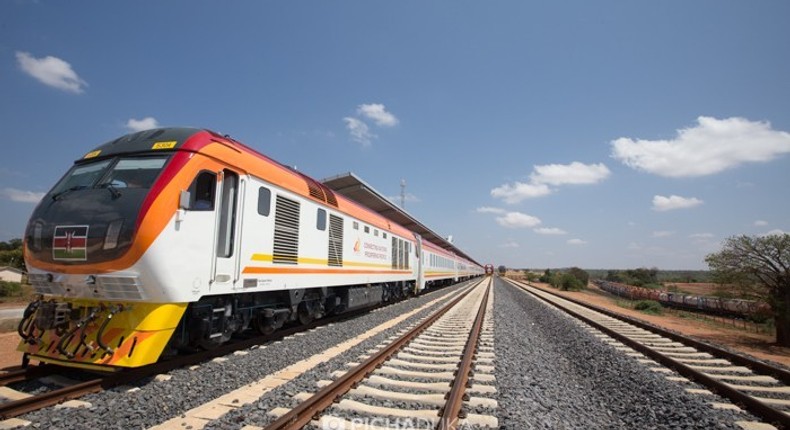 So, I used the SGR for the first time!
I had no plans of ever using the Madaraka Express if I'm being honest. Normally, a weekend at the coast is quite short – traveling on Friday and returning on Sunday requires you to maximize the little time you have to the fullest. That said, I always prefer to dig deep into my pockets on a flight to save time. This time round however, a girls trip was planned and when travelling in a group, you definitely wanna do everything as a group. That's the whole point of group travel. It's always an exciting experience when you're doing something for the first time; even using the Madaraka Express. Wondering what it's like to travel on it? I'll give you my experience so read on.
So, there are two trains, the morning train departs at 08.20 am and the afternoon train leaves at 3.15 pm. The train has two classes – first class and second class (Economy). First class tickets are Kes 3,000/ for adults and Kes 1,500 for kids 3-11 years. Second class tickets are Kes 1,000/ for adults and Kes 500 for kids between 3-11 years. We opted for the morning train so as to get to Mombasa Terminus in good time. Seeing as Syokimau, where the Nairobi Terminus is located is not a stone's throw away, you have to wake up early to beat Nairobi morning traffic snarl up.
I was surprised that Syokimau is actually not that far away as I assumed. In fact, I hailed an Uber from Kilimani and it was around Kes 800/- so yeah, depending on where you live, you can hail a taxi to the Syokimau Train Station. Once you get there, the driver pays Kes 100/ if it's a small car and 150/ for a van and then goes ahead to drop you, but prior to that, there's a mini inspection, where you get out of the car, the sniffer dogs and police inspect the car and the driver proceeds to drop you off. Do note that the entrance parking fee is on you and not the driver.
Pulse Live Kenya
At the drop off zone, women queue on one side, the men on another, then one by one, a body search is done by a guard and you proceed on to a zone where you place all your belongings (including your handbag) on a platform, then step back and sniffer dogs check all the bags, guided by a police. Once the search is through, the police on standby asks you all to collect your bags and you proceed to put your bags into a scanning machine and at this point, you may be asked to open your bag if they saw something suspicious like a liquid. Once you're done with the bag search you head to the ticketing zone to get your ticket by keying in details of your ticket purchase into a machine and you get the ticket which has your name, date, ticket number, your seat number, coach number and departure date and time.
Pulse Live Kenya
Now, with your ticket, you proceed to the lounge area if you're early, or straight to boarding if you're on time. It's important to note that you cannot be allowed in without your ID or passport. Even with a digital DL (driving license), the guards may give you trouble so do ensure you carry an original ID as it will be needed to travel. The directions inside the terminus are pretty straight forward it's just like an airport. Simply follow the signage then go and board the train. There are crew members standing outside each coach, and all of them are numbered. If you're on coach 11, simply walk till coach 11, then hand the crew your ticket, and walk into the coach and look for your seat number – it's indicated at the top, near the luggage rack. Place your bag on the luggage rack above or under the seat and take your seat. The luggage rack is a bit high so if you cannot reach, take off your shoes, step on the seat and place the bag there. You could also ask for assistance from someone. The train almost always leaves on time and no, they do not wait, so if you're late, be assured that you're going to be left behind and the ticket is non-refundable.
Pulse Live Kenya
This is where the experience comes in.
The seats are not super comfortable, albeit, they're not bad either. If you have a neck pillow, it may be wise to carry it. Do carry your own snacks and water as it's a 5-hour journey. If you have no time to buy snacks, fret not; there is a service crew per cabin and he/she comes round serving refreshments. It's not easy to sneak in alcohol so if I were you, I'd just skip that whole trouble. Alcohol inside the train is not cheap - a beer will cost you Kes 350/ a small water, soda, coffee and tea Kes 100/ each, and mandazi Kes 50/. They do have other biting and snacks too such as sandwiches, crisps, croissants and other soft drinks. I also learned that they can warm food for you if you request, but the queue to warm the food is quite long. If you carry food, pack it in a foil paper to keep it warm.
Pulse Live Kenya
If you're traveling as group, carry games like cards, you could also carry your tablet or laptop (There's a small shared tray) and you could watch movies, or a book to read and keep yourself busy – basically, a form of entertainment. The train has no charging sockets though, so carry a power bank or fully charged gadgets. Be mindful of others because you may be sharing seats with strangers and it's rude to start making noise and shouting. You may also be unlucky and find yourself in a coach with crying kids or a man who has drunk one too many Tusker baridis and the noise is too much so, you may wanna carry earphones for that. The morning train is not express per say as it stops at several stations for some people to alight, though, it only stops for 4 minutes. It also stops at the interchange, to wait for the other train. The speed is around 120 Km per hour, but it picks and drops at intervals. I was impressed by the fact that the AC works perfectly, there are sun shades and in the event you're on the side of the sun, you can open them up. It's also impressively clean. In fact, there is a cleaner who keeps coming up to collect the trash and gently mop the floor with a floor mop. It's fair to say that it's well maintained. That also goes to the toilet situation – there's signage showing you how to use the toilet and the flush button is right there as well as a small tap to wash your hands thereafter.
Pulse Live Kenya
The five hours go by so fast if you're entertaining yourself and you don't even notice. Plus, you get to enjoy some picturesque views of the Kilimanjaro, and also animals lazily grazing when you pass by Tsavo National Park. If you take the morning train, you get to Mombasa Terminus at around 2.30 pm – here, you simply alight the train once the crew announces, and you follow the exit directions. You will not have to put your bags through screening during exit so it's seamless. It's important to make prior taxi arrangements to get better prices, but there are also matatus at the terminus that charge only approx. Ksh 100 (price may vary) to Mombasa town.
Pulse Live Kenya
All in all, it's actually a great experience, I only wished that it was slightly faster to get to the beach ASAP and enjoy some triple S - sun, sand, sea!
*Prices and details are as per the time of publishing, March 2019*
JOIN OUR PULSE COMMUNITY!
Recommended articles
8 Well-clarified tips for preventing Pneumonia during the rainy season, according to AI
7 self-care activities for the weekend
10 safety tips to protect social media accounts from hackers, according to ChatGPT
Dos and don'ts of supporting Muslims during Ramadan
5 foods that help wounds heal faster
5 ways drinking water significantly improves your dental health
Signs people think mean he's in love when he isn't
5 best romantic gestures when you want to apologise
Tear gas safety guide: 9 ways to protect yourself, others, according to AI