How to make crispy, golden bhajia
It is so easy to make tasty bhajia at home.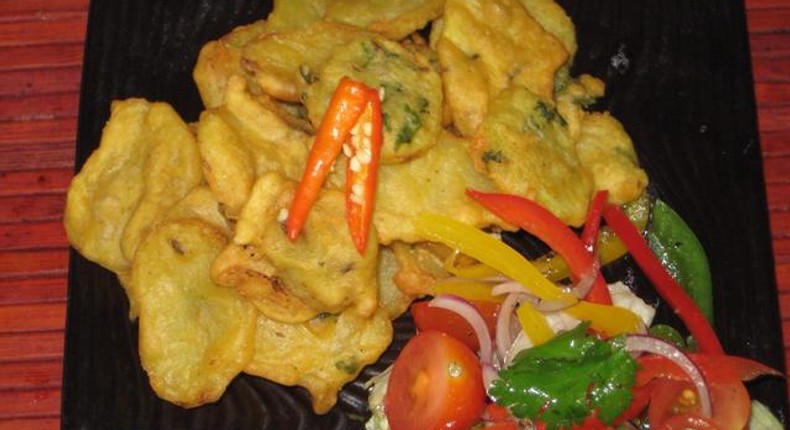 Recipe for making potato bhajia in Kenya
Fat: 19.4g, Carbs: 32.34g, Protein: 6.07g
There are 314 calories in 1 serving of Potato Onion Bhajia
Calorie breakdown: 51% fat, 41% carbs, 8% protein.
1 lb potato(500 g)
3 ¼ cups chickpea flour(300 g)
½ teaspoon turmeric
1 teaspoon chili powder
1 teaspoon salt
1 teaspoon pepper
1 teaspoon bicarbonate of soda
2 green chilies, chopped and deseeded
½ cup fresh coriander(20 g), chopped
2 cups water(500 mL)
Peel and chop the potatoes very finely.
Place in a bowl, cover with cold water, and leave until ready to fry.
To make the batter, mix the chickpea flour, turmeric, chili powder, pepper, salt bicarbonate of soda, chilies, and coriander.
Gradually add the water while whisking to form a smooth batter.
Heat a pot of oil to 320°F (160˚C.)
Drain the potato slices and dip in the batter.
Fry in vegetable oil until golden brown (around 3-4 minutes).
Serve with spicy ketchup.
Enjoy!
Bhajia originated from the Kenyan Coast and is a popular food there. It is commonly sold in the streets of the coastal areas. However its popularity has spread all over Kenya since hotels have now taken up the dish and are selling it.
Except potato, bhajia can also be made with spinach, onion and vegetables.
Tips for making successful bhajia
try adding diced onions, garlic and ginger to the batter for more flavour and aroma
I rate the bhajia 3 out of 4
JOIN OUR PULSE COMMUNITY!
Recommended articles
5 activities every adult should know how to do
8 signs your guy really wants to marry you
10 irritating Kenyans on WhatsApp
8 Cars that defined Kenyan drivers [Photos]
Cucumber: The health benefits of this fruit will leave you speechless
Here are signs that you're not the main chick in your relationship
6 reasons why your nipples hurt
5 reassurances your girlfriend needs to hear regularly
7 ways to deal with sexual urges in a celibate relationship