How innovative Kenyans are building homes without excavating the soil
As the housing industry in Kenya continues to grow, more and more developers are turning to suspended foundations as a way to build houses without excavating the soil.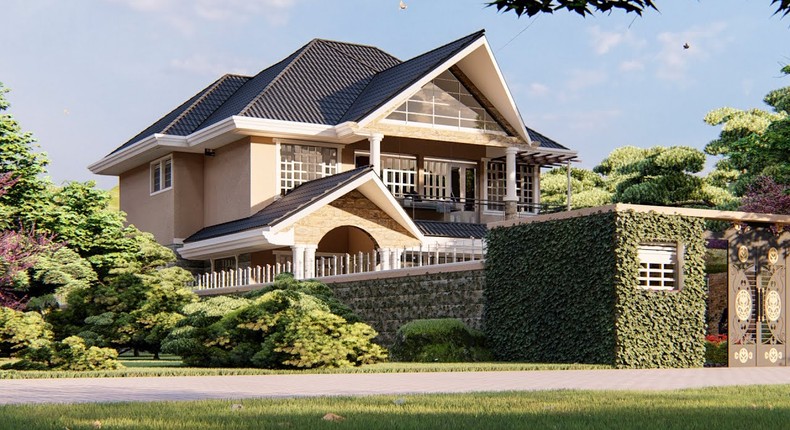 This innovative technique offers many benefits over traditional foundations and is changing the way houses are built in Kenya.
Suspended foundations, also known as raised foundations, elevate buildings above the ground level using piers or columns to provide stability and support.
How do suspended foundations work?
The system relies on pre-stressed beams that are customized to fit the project's drawings.
The installation of this system is relatively easy and can be done by unskilled labourers with the help of one trained fundi who can read the project's drawings.
To begin, the columns are dug till solid rock and protrude slightly above the ground level. Footing is done from there.
The pre-stressed beams are then introduced on top of the columns. The installation process requires care and attention to prevent accidents, as the beams can be heavy and potentially dangerous if not handled properly.
After the pre-stressed beams are laid out, the plumbing and electrical work can be done by directing where the piping and cables will go under the ground beams.
The blocks used in the system have a locking flange at the end, which connects with the T-beam specially.
The blocks also have a compressed strength of seven-newton meters squared, which is enough to carry any load that will be borne by people passing through or anything placed on them.
Pulse Live Kenya
Pulse Live Kenya
The platform created by the interlocked blocks provides a foundation for the next process of construction.
It becomes easy to lay the next layer of construction because the workers are standing on the platform. The next step is the grouting of the surface with sand before pouring the concrete.
The concrete acts as a binder, holding everything together, and ensures that it does not go beyond the perimeter of the slab.
Advantages and disavantages of suspended foundations
This method offers many advantages over traditional foundations, including preventing damage caused by flooding or soil erosion.
In a country where heavy rainfall and floods are a common occurrence, this can be a game-changer for those looking to build in areas that are prone to flooding.
According to Amos Kibaru the manufacturer of precast products, suspended foundations can are also beneficial in that they can be used to construct a house where the land is composed of black cotton soil.
Black cotton soil has a low load-bearing capacity, which means it is unable to support heavy structures. This can result in structural instability, foundation settlement, and even building collapse.
Pulse Live Kenya
"If you're building on black cotton soil you need to excavate it and go dump it somewhere else and bring back suitable soil or favourable soil for your foundation. So what happens with black cotton soil it is very expensive it heaves up and down when it rains it expands when it's dry," he says.
The use of innovative materials, such as precast concrete blocks and reinforced steel, has also made suspended foundations even more durable and resilient.
However, there are still some challenges associated with using suspended foundations.
Developers must work with experienced engineers and architects who have a deep understanding of suspended foundation design and construction.
Additionally, specialized knowledge and expertise are required to ensure that the suspended foundation is designed and constructed correctly.
JOIN OUR PULSE COMMUNITY!
Recommended articles
What kind of parents are millennials? 5 ways they differ from their own parents
5 types of people you should never date
Dear women, here are 5 things you do that men find confusing
Africa Day 2023 Nairobi celebrations illuminate Africa's remarkable journey [Photos]
5 African countries where snow falls
Data reveals Nairobians' obsession with burgers
Africa Day: Some cultural & traditional practices that make the continent unique
13 ways to celebrate Africa Day
UnKut Day Party: A fusion of beats, breaks, & culture
Thika Sports Club, next stop for NCBA golf series
Big Ted's inspiring message to Kenya's rugby community
Fitness influencer Shiv Simani joins fight against sports neglect by gov't
Kipchoge wins Sh7.4M prize in Spain
Ombachi shares how career-threatening injury pushed him into content creation
Ruto donates millions after AFC Leopards beats Gor Mahia for 1st time in 7 Years
Ulinzi Stars midfielder returns from four-month injury layoff
Kenya's thriving sports culture: A deep dive into the country's passion for sports betting
The 8 largest events in Las Vegas 2023