10 things that make your office job bearable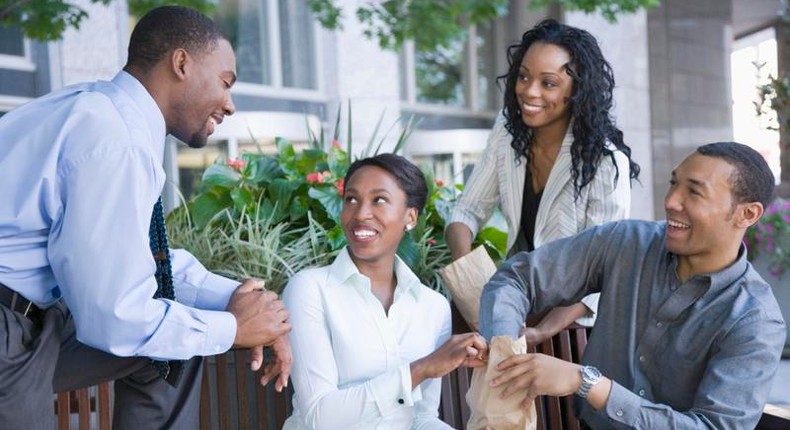 Raise your hand if you enjoy going to the office.
Guys, if you think about it, our 9-5 lives aren't thaaaaaat bad. Some people have it worse. You should appreciate what you have, even that boring and annoying job, as you wait and look for something better. If you work in a toxic work environment, it can be depressing to wake up everyday, ready to ace the day. You'd rather be sipping mojitos in Bali. But then, you have bills to pay and a life to survive so you gotta make that dough. What if I told you that work life isn't as terrible as you think? No, seriously. There are things we all love about the office and no this is not one of those LinkedIn articles about growth, bla bla bla. This is for those who don't take themselves too seriously but still get shit done at work. So, here's what we love about the office.
1. Free tea and coffee. You can even put 5 spoons of sugar. After all, you're not the one paying for it.
2. All the awesome work colleagues who have become family.
3. Lunch time breaks. You can barely wait for those.
4. When a colleague has a birthday and you get free cake.
5. When you have a day full of meetings which means you're basically out of the office all day.
6. Daily office gossip which is juicier than an episode of Wendy Williams.
7. Free WiFi, which you can use to your advantage.
8. End month means it's time to ball hard!
9. Team building day. Simply because we are away from the office all day and we get free food and drinks.
10. Perks like health insurance and some freebies like when your office gets free tickets to attend an event.
See, it's not hell after all. Don't worry, be happy.
JOIN OUR PULSE COMMUNITY!
Recommended articles
Kambua shares her biggest lesson in motherhood
DIY Recipes: How to make sweet potato fries
South African star Ami Faku delivers rousing performance at Drip Fest [Photos]
Bed-time routine hack to help you fall asleep faster
5 traditional qualities money has replaced in modern relationships
Is love transactional? - First episode of Pulse LSL premiers [Video]
5 things you can do if you are stuck in a queue for hours
5 reasons you should consider having a court wedding
The perfect nail color to wear when your boyfriend proposes