Secret ingredient to Pulselive's quick mini-samosas
How about you treat yourself to Samosas?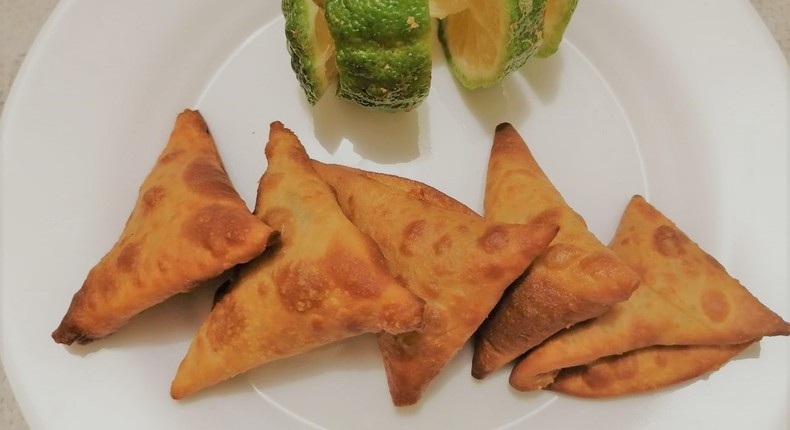 Samosas have got to be the most elegant of snacks to ever have been invented.
Everyone loves to bite into a soft, tasty, meaty Samosa over a cup of tea at breakfast or some cold juice on a hot afternoon.
But have you ever enjoyed a Samosa and afterwards suffered a super uncomfortable heartburn?
The Pulselive.co.ke Quick Beefy Mini-samosas will not make you regret having them and it's all because of one little spice.
Pulse Live Kenya
1 bunch of cilantro (Dania)
The Pulselive.co.ke secret ingredient
Pulse Live Kenya
2 cups all-purpose wheat flour
2 Tablespoons cooking oil
About 1 litre cooking oil for deep frying
Pulse Live Kenya
Start with the filling so that it has some time to cool as you prepare the shells.
In a saucepan mix the minced beef, onion and salt. Cover with a lid and cook over medium heat for 10 minutes before you stir it.
Next add the Pulselive secret ingredient, which is Ginger. We used powdered ginger but crushing or chopping fresh ginger will work as well. Ginger is great for preventing nausea and heartburn. In addition, it is a well-known antioxidant so it's perfect to add to any meats, soups and stews you make at home.
Pulse Live Kenya
Cover the filling and let it cook for another 10 minutes before removing it from the fire. Sprinkle on your chopped cilantro and leave it to cool as you prepare the shells.
Pulse Live Kenya
In a medium-sized bowl mix 1 cup of the all-purpose flour, salt and 2 tablespoons of cooking oil then add three-quarters of the hot water. Use your hands to knead the work the flour into a dough. Set it aside to rest for 15 minutes.
Divide the dough into 20g balls, our dough produced 7 balls. Using a rolling pin, dust a clean flat surface with some of the leftover flour and spread each ball into a thin circle or near-circle shape. Heat up a flat pan and place the circle dough to cook for 30sec on each side to reduce stickiness.
Pulse Live Kenya
Pulse Live Kenya
When all the shells are cooked, use a knife to cut each in quarters.
Pulse Live Kenya
Add 3 tablespoons of water to the remaining flour to make a thick paste that will be used as glue for the samosa shells.
Pulse Live Kenya
Pulse Live Kenya
When all shells are folded into triangles and filled with the cooled stuffing made earlier, deep fry the samosas. Serve with a slice of lemon because the lemon juice pairs beautifully with ginger!
Pulse Live Kenya
Pulse Live Kenya
This recipe took just 3 hours to get done and yielded 28 mini-samosas, which can comfortably serve up to 7 people as a snack.
We hope you'll give this recipe a try. With the Pulslive twist, It is well worth it!
Pulse Live Kenya
JOIN OUR PULSE COMMUNITY!
Recommended articles
5 problematic beauty standards created by celebrities and influencers
Influencers who turned side hustles into successful businesses
Brown Mauzo pens beautiful message celebrating fiancé's birthday
I still want to be the Chebet he married three decades ago - Rachel Ruto
Vanessa Mdee and Rotimi celebrate baby Seven's 1st birthday in style [Photos]
Push or C-section: Felicity Shiru makes ultimate decision as her due date nears
Hii story ya kufanya vitu last minute - Wahu takes Nameless shopping for baby stuff
Hair: Natural ways to stimulate growth and thickness
9 items you don't want to share with even your shadow