Here is what you must know before marrying a Kikuyu girl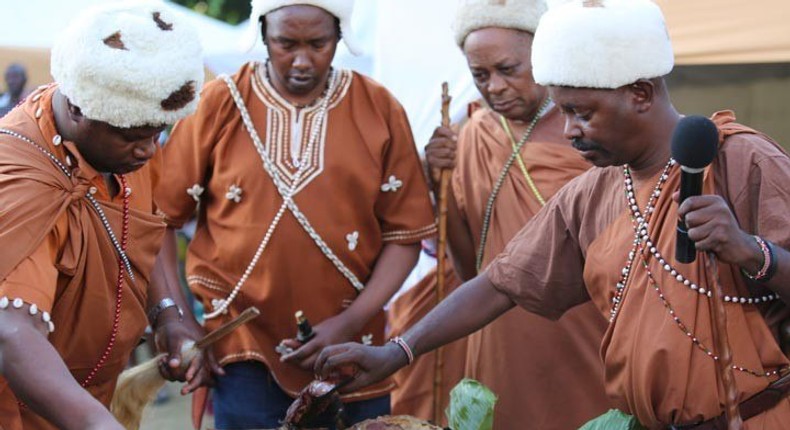 Like any other Kenyan ethnic community, Kikuyus have a set of rules and traditions that must be followed before marriage.
If you are ever planning to marry a Kikuyu woman, be prepared to follow all the traditions without missing a single step since that would result to misfortunes.
If you are dating a Kikuyu woman and are sure that you want to marry her, the first thing you do is take her to your parents. Your parents are the one to approve of your decision to marry her and give you blessings if there are no issues to stop you.
Traditionally, some clans cannot marry from certain clans hence the importance of taking the girl to your parents first so that they can figure out if there are any hinderances.
Once your parents have given you go the ahead to get married, it is time to make plans to visit the girl's parents. Usually, you cannot go to meet the girl's parents alone and empty-handed.
You can either choose some of your friends and elderly men to accompany you. The purpose of this visitation is for both families to meet and to get marriage approval from the girl's family. The elders in this case will speak on your behalf and ask for permission to marry the girl. This ceremony is commonly referred to as "Kuhanda ithigi" which literally translates to planting a twig.
"Planting a twig" means that that you have all the rights to marry that girl and no other man can woo her. Worthwhile noting, however, is the fact that you must take a goat and a sheep on that very day. Also, this is the day you get to know how much dowry you are supposed to gift for that girl. So, you just can't go with the sheep and goat alone but will have to carry some money so that the dowry gift records are be opened for you.
By the time you are leaving, you will have the blessings of the girl's family to go ahead and marry each other and you will also know how much dowry you are supposed to gift. The amount of dowry gifted varies from one clan to another and can sometimes be negotiable.
Under normal circumstances, the girl's worth is equivalent to that of her mother. Therefore, if a hundred cows were gifted as her mother's bride price, you will be expected to do the same.
The remaining gifts for dowry are settled slowly by slowly until the final, mega ceremony known as the "rurario". The ceremony marks the end of your dowry payment and it gives you all the rights to marry the woman.
JOIN OUR PULSE COMMUNITY!
Recommended articles
NTV anchors Ben Kitili & Lofty Matambo promoted to senior roles
15 of the wildest animal specimens I saw hidden underneath one of the world's largest natural history museums
Cucumber: The health benefits of this fruit will leave you speechless
KTN anchor holds dreamy beach wedding ceremony on her birthday [Photos]
Fairytale bride: The 3 dresses Rita Dominic wore on her wedding day in detail
Check out how Rita Dominic and her husband looked at their white wedding
The way of men - How the 1st inaugural men's event went down
DIY Recipes: How to make Sausage salad
5 things people don't consider as cheating but actually is