Curator Raphael Chikukwa has a mission to lift local art and design from a "zone of silence"
Yet it was only after the exhibition by Sibanda and Saki that he fully appreciated them as masterpiece design concepts.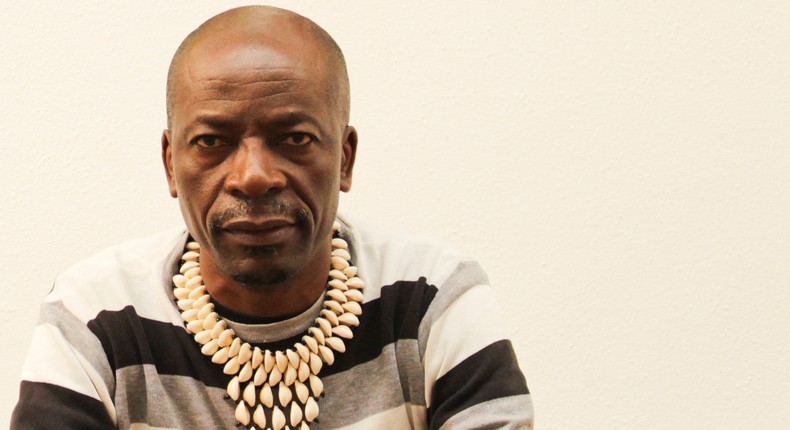 Images by Kresiah Mukwazhi
As a rural boy, round mud huts, hand-woven reed baskets and other artefacts formed part of Chikukwa's everyday life.
Yet it was only after the exhibition by Sibanda and Saki that he fully appreciated them as masterpiece design concepts.
"Design by our rural mothers and fathers is genuine, and yet we ignore it. These two curators surprised me when they started talking about the traditional kitchen as a design show, and now I can see it from a different perspective," he says. "We always want to look at the West, yet the West is looking at Africa for influence because they have realised the generosity and simplicity of design in Africa." Chikukwa and art historian and critic Christine Eyene co- curated the Basket Case project in 2014, highlighting clay pottery, hand-woven baskets and other items made from local fibres.
"The project is an example of promoting design. The basket makers are the maker cultures of today – these designers are de ning culture," says Chikukwa.
Many of the designers were rural women and craftsmen. By bringing them together with top designers such as Matali Crasset of France and Sebastian Herkner from Germany, Chikukwa was determined to take their designs from the village to world stardom.
Indeed, some of the rural designers ended up at the Ambiente Fair in Frankfurt in 2015 after being spotted by Herkner during the Basket Case project. Chikukwa is also excited about the design school opened by the national gallery in 2012."We are going through transformation. Design is one of the new areas and we hope to see more coming out of this school.
"Funding is our major problem, at the school and in the gallery too, but we have to soldier on
– otherwise our story will be told by others." Just getting the roof of the national gallery fixed took a US$500 000 intervention from the Norwegian embassy. Western embassies bankroll most exhibitions and events at the gallery.
Soldiering on for little or no pay is nothing new to Chikukwa. The last- born in a family rich in the arts – two brothers are also sculptors – Chikukwa took to sculpting at a tender age.
He moved to the city as a teenager after his impoverished parents agreed to pay for painting classes at the Harare Art Centre, a rundown institution in the capital's oldest and poorest suburb of Mbare. "It's sad that place was not and is still not taken seriously yet it can change people's lives," he says.
From Mbare, Chikukwa began knocking on international doors. The second Johannesburg Biennale in 1997, which he fondly describes as a free university, was his first break. Working as a volunteer, he met and was inspired by the event's curator, the famed Nigerian-born Okwui Enwezor. "It introduced me to the global art scene and also provided me with a huge network," he says with a twinge of nostalgia. "I said to myself, curating is what I want."
Two years later, he was back home working on a UNDP anti-poverty campaign. As an independent curator for 10 years, he did a lot of work for free just to get noticed. A curatorial residency in Switzerland at the Centre Pas Qart in 2001 included a visit to the Venice Biennale and the Basel Art Fair, and opened new doors for Chikukwa. It is an experience that has come in handy for Zimbabwe.
"I promised to bring my international network to Zimbabwe, to promote Zimbabwean contemporary art globally, when I arrived at the National Gallery," he says. But first he had to secure funding. "It's a journey of educating people around you, patience, resilience, courage and knocking at several doors to realise a national dream."
Eventually European donors and the Zimbabwe Culture Fund came to the party and in 2011 Chikukwa created the first Zimbabwe pavilion at the Venice Biennale. "We should not remain passengers on our own ship," he says. "Zimbabwe's story has been told many times by others."
Chikukwa has never shied away from using art to tell the stories that no-one else is talking about.
African Heroes, one of his acclaimed exhibitions, was born of a desire to tell the story of Africa's World War heroes. Sadness shows when he talks about the project, which was driven by personal experiences.
His father fought in the war as part of the Rhodesian contingent under the British. After the war ended, he received £10 and was shipped back to the village, where he bombarded the family, including young Chikukwa, with war stories. Yet, while visiting Manchester in 2002, at an Imperial War Museum North exhibit on Commonwealth countries' heroics in the World Wars, Chikukwa found no art telling the story of African soldiers.
Remember, these men fought a war which was not theirs, and in return they were given £10 each. My father died a year ago without his pension, yet he and many others risked their lives for the so-called Commonwealth – which is not common," says Chikukwa.
With support from the Imperial War Museum and others, Chikukwa travelled Africa in search of World War II African heroes, culminating in the African Heroes exhibition at the Imperial War Museum North in 2006 and 2007.
When Robert Mugabe's government clamped down on art viewed as anti-establishment, Chikukwa curated Visions of Zimbabwe in the UK in 2004. "We are artists and the story needs to be told," he says. Yet even without censorship, such work was likely to be appreciated more abroad than at home. Many Zimbabweans think of art as products for white customers from overseas.
"Our biggest challenge is creating a local art market for African art. Our local business tycoons, who think art is for white people, need to ask themselves why banks and Western business communities invest in art," says Chikukwa, quickly reminding me that the lack of taste for art is not stopping new talent.
"Many young Zimbabwean artists are working towards being exhibited at the Venice Biennale, and that's a big sign." Emerging artists, according to Chikukwa, include Chiurai, Gerald Machona, Gina Maxim, Admire Kamudzengerere, Charles Bhebhe, Richard Mudariki, Franklyn Dzingai, Moffat Takadiwa, Nancy Mteki and Lovemore Kambudzi.
"Keep watching the space. I don't want to be predictable as a curator, but Venice and the Basel Art Fair have opened new possibilities," Chikukwa says.
JOIN OUR PULSE COMMUNITY!
Recommended articles
Body count: Stop asking your girl for it, you don't need to know
25 top designers to showcase at Nairobi Fashion Week
Kelvin Kinuthia and mum step out with matching outfits on birthday[Photos]
Barbie tattooing my face on her back boosted my self-esteem - Bobi Wine
5 problematic beauty standards created by celebrities and influencers
Influencers who turned side hustles into successful businesses
Brown Mauzo pens beautiful message celebrating fiancé's birthday
I still want to be the Chebet he married three decades ago - Rachel Ruto
Vanessa Mdee and Rotimi celebrate baby Seven's 1st birthday in style [Photos]