Deputy President William Ruto has cautioned news publishers to refrain from constantly using his name in order to make sales and spread fake news.
Dp Ruto's plea comes in reference to a headline used by "The Star" newspaper that he termed as Fake news.
"This is what constitutes FAKE NEWS. I know it is difficult but newspapers should try selling without the 'Ruto' mention. Please! Tafadhali woiye!" reads DP Ruto's tweet.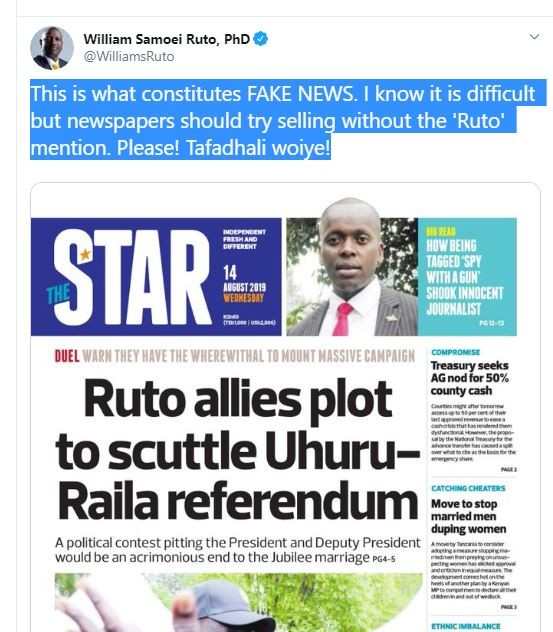 His tweet elicited mixed reactions from KOT (Kenyans on Twitter) who also joined the conversation to comment on his concerns.
Reactions for Netizens
"Just be ready to shake hand we are supporting you in 2022 elections.. after being our legitimately elect president.." Juma Sylvester.
"Ruto hata wewe...hii inakaa real kweli ?....usistress statehouse ni yako, usiexaggerate pia saaana...hii kitu tumekupea bana" Mahlon.
"You name does not sell newspaper..I can't buy a newspaper with you as the heading my frend...you are a bad person I fear you" Given Motoki.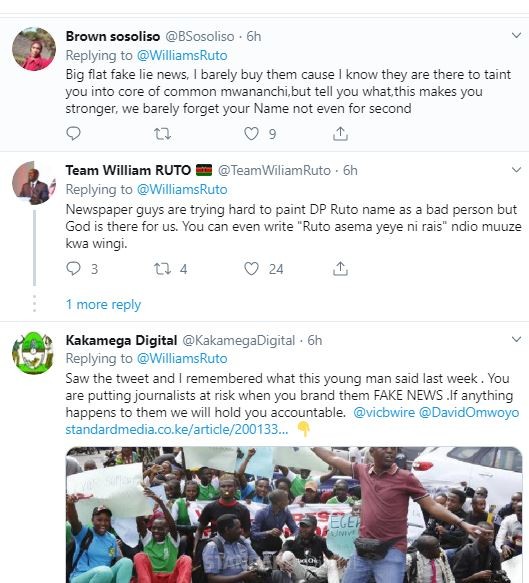 "You started the politics immediately after the elections,that's the consequence. disruption, confusion and fake news.the challenge is such that you enjoy and love being part of each and every conversation,the spotlight too.otherwise you wouldn't be commenting on fake news." Charles Karis.
"Show me a government project where money has been well utilized and I will show you a magazine/newspaper that sells without a mention of your name" Rashid Raph.
"But they are out there fighting the BBI initiative, now who should we believe? Your footsoldiers or you? And who are they speaking for?" Jeph Wenami.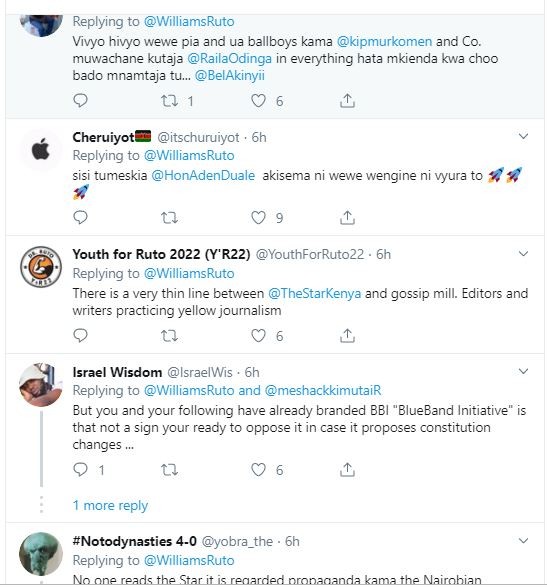 Not the first time
This is not the first time, Ruto is lashing out at Kenyan media. A few months ago, he stated that newspapers are obsessed with his name and they can't make sells without mentioning him.
"Newspapers cannot sell these days without my name in the headlines. They are obsessed with my name and they need it to make profits. Our competitors are hiding in them to sustain their agenda," said DP Ruto.